"Day Job was formed in 2014 and features the comedic stylings of Caitie Auld, Kara O'Connor, and Molly Tellers. They are a sketch comedy trio known for their use of physical comedy, heart warmingly bizarre interactions, and pigeons." I recently caught their act at Panel Jumper Live IV and wanted to learn more about them before their next show on April 28th: That Time of the Month (held at the Ballard Underground theater space at 2220 Market Street in beautiful downtown Ballard. As the name indicates, this is a basement level theater underneath Bop Street Records; the entrance is a door next to the Bop Street Records door and then you descend a flight of steps!)

---
Craig: Hello, everyone!  I was going to start this interview by screaming "NO!" but you're a sketch group, not improv. Do you get that a lot? Actually, let's meet each of you really quick: Who are you and what's your performance background?
Caitie: Ha ha we do get that fairly often! I think people often don't realize there's a different between improv and sketch. Improv is all made up on the spot whereas with sketch we are writing and rehearsing everything ahead of time. But as long as people like what we're doing we don't really care what they call it! As for performance background, I majored in Theatre in college and received my BA from the University of Puget Sound. I've taught at The Seattle Children's Theatre and have performed locally with Ghost Light Theatricals and The Libertinis. I've been performing, producing, and writing work with Day Job for 3 years now! It is my most favorite accomplishment.
Molly: I received my BA in theatre from Seattle Pacific University, and in addition to synching my cycle with Caitie and Kara through Day Job, I've performed locally with Ghost Light Theatricals, The Libertinis, 14/48, and Copious Love Productions. I also worked as a teaching artist at Seattle Children's Theater.  You can catch me this summer in Cafe Nordo's Pressure Cooker, Please Open Your Mouth.
Kara: I've been interested in sketch comedy from childhood and often annoyed family members with impressions and accents. In my 20s I worked in radio in New York as both a DJ and producer. I've been a member of the sketch groups Chocolate Cake City, WTF and have performed stand-up and studied improv with legends such as Gary Austin. I searched for a long time to find a sketch group that felt committed and dedicated to taking it to the next level and thankfully I found that in Day Job…. cause I ain't getting any younger.
Craig: I really enjoyed your purse snatching super hero skit I saw the other night at Panel Jumper.  Tell me about that insane accent the super heroine had and how this sketch came about.
Kara: When Cole Hornaday asked us to do a sketch for Panel Jumper he asked it we could write something superhero themed and I was all about that because I love comic books. When I was writing the sketch I thought of tropey things that could happen and then when I went to name the superhero I thought…"The Daring Lass!" I was listening to Scottish music… mayyyyybe I watched a couple of Braveheart clips, whatever. Then I sent it to Caitie, and she edited it and punched up the game so that the joke of the sketch was us not being able to understand the superhero through her thick accent.
Molly: Yeah the accent came about as a result of the game that was created within the sketch. It also just so happened that this past summer we were all in a show with The Libertinis where I created a character that was a near-sighted Scottish knight. That character found new life in this superhero sketch.
Craig: You have donated part of the proceeds from your shows to charities.  Which ones have you helped out and do you know which one you'll be donating to for the new show?
Molly: We've donated to ACLU and Black Lives Matter and we're going to donate a portion of the proceeds to The Trevor Project for our third show! There are so many amazing causes and organizations that need our help now more than ever.
Caitie: #fucktrump
Molly: #fucktrumpliterallytilforever
Caitie: Some of the organizations we have in mind for future shows are Planned Parenthood, The Syrian American Medical Society, The White Helmets, National Center for Transgender Equality, and The Humane Society. The list keeps growing!
Craig: So, you are three female sketch performers, doing a series of three shows called That Time of the Month, and you've been together for three years.  What's up with the number three?
Kara: "Three is the magic number"
Molly: What is that?
Kara: Seriously? God I'm old.
Caitie: The rule of three!
Molly: Ménage à Trois!
Kara: The magic number!
Caitie: Haven't you ever seen Charmed???
Molly: …We don't know, it's just a thing.
Craig: OK, what's up with the pigeons?
Molly: Pigeons is one of the first sketches we ever wrote, and ever LOVED, therefore it has a really dear place in our hearts.
Caitie: It's essentially a sketch about 3 British pigeons doing performance art in the street, which they take very seriously. This is all to the horror of an older gentleman named Gerald who's just trying to enjoy his lunchtime sandwich in the park without having to watch gross pigeons scuttle about.
Kara: We identify with pigeons because they rarely shower-
Molly: -they love to eat things off the street
Caitie: and they are BEAUTIFUL singers.
Craig: I love that part of your writing process is drinking wine.  I totally get that.  If wine weren't available for some reason, what would be your substitute writing aid?
Molly: We're too drunk on wine to answer that question right now.
Craig: Let's do something really Meta: you're in a sketch about sketch artists!  Who do you each play and what is the punch line?
Molly: If we're talking about big-league celebrity sketch idols, Kara is Tina Fey (amazing writer, old), Caitie is Kate McKinnon (character-driven, googly-eyed), and Molly is Melissa McCarthy (physical comedy, breaks things onstage). The punch line would be "who drank all the wine????" (re: see above question)
Craig: You're known as "Seattle's favorite bandana wearing comedians".  Gay men have, for decades now, used bandanas as a way to signal to each other the sex acts they're into.  The color or pattern tells you what they're up for and the placement of the bandana in the back pockets (left or right) tells you which position they prefer.  If you could create a brand new bandana kink signal, what would it be?
Molly: Yellow and tucked in at the neck (like an ascot) means we just want cheese. Burgundy tied around the head like a sad, withered Bette Davis after her prime means can we just go to sleep?
Kara: Bedazzled purple rhinestones means "whatever but I'm UP for unicorns-
Caitie: -preferably lying on a bed of wildflowers next to a babbling brook"
Craig: As a female impersonator, I think it would be great to be the drag queen in a sketch or improv group, but don't know how I'd convince anyone of that.  How do you think I could make this happen?  How would I fit in with, say, Day Job?
Molly:
Get a bandana
Show up to rehearsal and bring some chardonnay
YOU'RE IN
Caitie: Alternatively (or if you don't drink chardonnay) the Pocket Theatre is a great place to get involved with the sketch community!
Craig: If there were a sketch that called for you to play an LGBTQ or drag character, what would be your dream role? Or has it happened already for each of you?
Kara: I would really love to play Nathan Lane playing the drag queen in The Birdcage. Him or Hank Azaria as the maid.
Caitie: I would love to play Buster from Arrested Development in a Motherboy Pageant.
Molly: My LITERAL dream role is Gaston. I totally did not sob through the live action version because I know I would have done a much better job than Luke Evans…even though he was pretty good.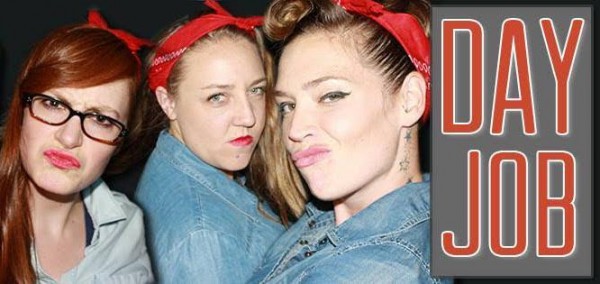 Craig: And finally, let's play Fuck, Marry, Kill: Saturday Night Live Edition!  And you can only pick from the current cast!  Go!
Caitie/Kara/Molly: FUN FUN FUN!!!
Molly:
Fuck: Michael Che (he can update my weekend anytime)
Marry: Kate McKinnon
Kill: Kenan (mercy kill, he's just been there way too long)
Kara:
Fuck: Kate McKinnon
Marry: Aidy Bryant
Kill: Cecily Strong (if I hear Girl You Don't Want to Talk to At a Party one more time… #HATESIT)
Caitie:
Fuck: Colin Jost
Marry: Leslie Jones
Kill: Mikey Day (#notanotherciswhiteguy)
---
Day Job will be performing the Daring Lass sketch at their Friday 4/28/17 That Time of the Month show!
Craig Trolli was in "Ian Schuelke Wants a T.V. Show" with Caitie Auld.  They played terminally ill children on a telethon and Craig's favorite line to say was "Mommy says God loves me sooooo much, that's why he's killing me!" And that pretty much sums up his career in sketch comedy!
More about Day Job and That Time of the Month Show:
WE'RE BRINGING YOU A WHOLE NEW LINEUP FOR APRIL 28th!!!!! Legendary Seattle sketch comedy group DAY JOB is taking over Late Night Happy Hour YET AGAIN for their third instalment of That Time of the Month! Come ride the crimson wave of comedy with Day Job and their fabulous, funny, feminist friends! You'll laugh, you'll cry, you'll drink lots of cheap beer!

Check out the SUPER FRESH LINEUP for our APRIL SET!!!!!:

All the way from New York City & HOST of SiriusXM, Raw Dog Comedy, and the Jay Thomas Show…Cristina Palumbo

Sketch/improv group and podcast SENSATION Tell Me I'm Pretty w/ Brit and Mo!!

Hip-Hop Queen SHUBZILLA!! "Woman. Dinosaur. LEGEND. Self-deprecating pizzazz never looked so swag". YESSSSSSS

SSSS.

And yours truly Day Job!!!

As always, tickets are pay what you can, available at the door. There are no presales. A protion of the proceeds will benefit The Trevor Project ♥

$2 Rainier! $3 Fat Tire & Sierra Nevada! $4 Seattle Cider! $5 cocktails!

Who/what is Day Job? GLAD YOU ASKED:
Day Job was formed in 2014 and features the comedic stylings of Caitie Auld, Kara O'Connor, and Molly Tellers. They are a sketch comedy trio known for their use of physical comedy, heartwarmingly bizarre interactions, and pigeons. They've graced the stage as salmon, bros, Waldo, eligible murderers, QFC employees, mimes, and embarrassing dads. They have performed at The Chicago Women's Funny Festival, Macefield Music Festival, headlined SketchFest Seattle 3 years in a row (where this past year they were named Best of the Fest 2016 Favorite Local Performer), and traversed the boards of The Ballard Underground, The Comedy Underground, The Pocket Theatre, The Annex Theatre, and much more! Come take a delightfully weird journey with Seattle's favorite bandana wearing comedians as they tickle your funniest bone. "You do not want to miss this!" -said Everyone Ever.

–Instagram is: dayjobcomedy

–Twitter is: @dayjobcomedy

 
(Visited 2 times, 1 visits today)