On Friday, April 21, 2017, Louise Chernin, the executive director of the Greater Seattle Business Association sent out a statement signed by herself and eleven other executive directors of Seattle area LGBTQ organizations including Gay City's Fred Swanson, PrideFest's Egan Orion and Lifelong's Barbara Ebert. The statement addressed the recent allegations against Ed Murray, the out gay mayor of Seattle who has been accused of "Child Sex Abuse and Illegal Child Prostitution" by a 46 year old man living in Kent, Washington who filed suit in King County Superior Court on April 6, 2017 against the mayor claiming that Murray raped the man, identified as "D.H." in the filing, in 1986 when the alleged victim was only 15 years old. Then, as now, the legal age of consent for sex in Washington State is 16 years of age. The lawsuit intimately described the sex acts as well as explicit details about Murray's body including the placement of moles. Mayor Murray, who is running for a second term in this year's November mayoral election, has denied all charges and had his physician issue a statement that Murray's body does not match the description found in the lawsuit.
Angered by Murray's denials, the man known as "D.H." willingly stepped forward last Wednesday, April 19th in new court documents and in media interviews and identified himself as Delvonn Heckard telling the Seattle Times:
"I have nothing to hide."
He added: "It's not a big secret … and I didn't do anything wrong anyway…"
Mayor Murray responded after Heckard's identity and photo were revealed: "I can state categorically that I have never had a sexual relationship with this individual, Delvonn Heckard, of any kind or at any time."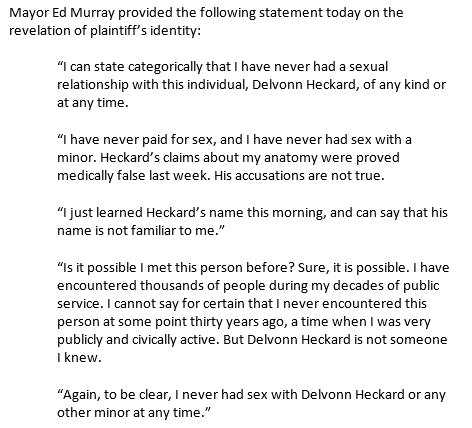 After these statements were made last week, several of Seattle's LGBTQ community leaders responded with this statement which carefully takes a view that…there are two sides to any question of sexual assault. Many LGBTQ community members have been the victims of sexual violence but there have also been cases where LGBTQ people have been accused of such crimes to portray individuals or queer people in general as sexual deviants and prone to committing acts of sexual violence.
The statement:
Our community has had a painful and difficult week as it tries to sort out the ramifications of allegations made against Mayor Murray. Public accusations of sexual assault bring to the surface past and current fears and distress for community members who have lived under the long shadow of sexual abuse and rape. Given the current climate of threats against our hard fought civil rights protections, most especially against our transgender community, we may all be feeling especially vulnerable. 

There is no one correct response to the recent news and, while we may feel external or internal pressures to take a "side," we know that our community members are simultaneously at greater risk for both sexual assault and exploitation AND stigma and vilification. We know that both 'sides' of these harms are on the same coin of homophobia, transphobia, racism, and sexism.

As a community, we stand in solidarity with all survivors of domestic and sexual violence including LGBTQ survivors, as we know they are incredibly marginalized, and often ridiculed and targeted for speaking out. We can simultaneously hold this truth alongside another truth that, independent of these specific allegations, the tactic to cast LGBTQ people as pedophiles and predators has been used against us for decades, as a means to garner fear and hatred that would justify limiting our rights. The timing of this situation reinforces this common refrain, raising doubts about our moral standards, making us further targets for violence, and forcing us back into the closet.

This is not new to anyone who is LGBTQ, but we are a resilient community, proud of our achievements, determined to protect each other from harm, and united in our commitment to retain our hard fought civil rights laws.

As the Executive Directors of agencies serving the LGBTQ community, we encourage you to reach out to one of our agencies whether you are an adult or a youth, for services, support, and safety or to connect with your community. Our organizations support the arts, provide support for LGBTQ small business owners, fight for LGBTQ civil protections and human rights for all people, provide mental health and chemical dependency services, as well as offer information, advocacy and support for those who are dealing with HIV and AIDS, and provide LGBTQ survivors of sexual and domestic violence culturally-specific services and advocacy.

Seattle has one of the largest LGBTQ communities in the United States with a broad range of organizations that are proud to serve our community and are committed to continuing to build a vibrant LGBTQ community for our children, youth, adults and elders. We welcome you to reach out to us and get involved.

For equality,

Louise Chernin, Executive Director
Greater Seattle Business Association

Danni Askini, Executive Director
Gender Justice League
Karter Booher, Executive Director
Ingersoll Gender Center
Connie Burk, Executive Director
The Northwest Network
Louise Chernin, Executive Director
Greater Seattle Business Association
Gary Davis, Executive Director
Companis
Barbara Ebert, Executive Director
Lifelong
Kris Hermanns, Executive Director
Pride Foundation
Rebecca Lane, Executive Director
Generations Aging With Pride
Ann McGettigan, Executive Director
Seattle Counseling Service
Egan Orion, Executive Director
PrideFest
Fred Swanson, Executive Director
Gay City
Joshua Wallace, Executive Director
Seattle Area Support Groups
(Visited 1 times, 1 visits today)