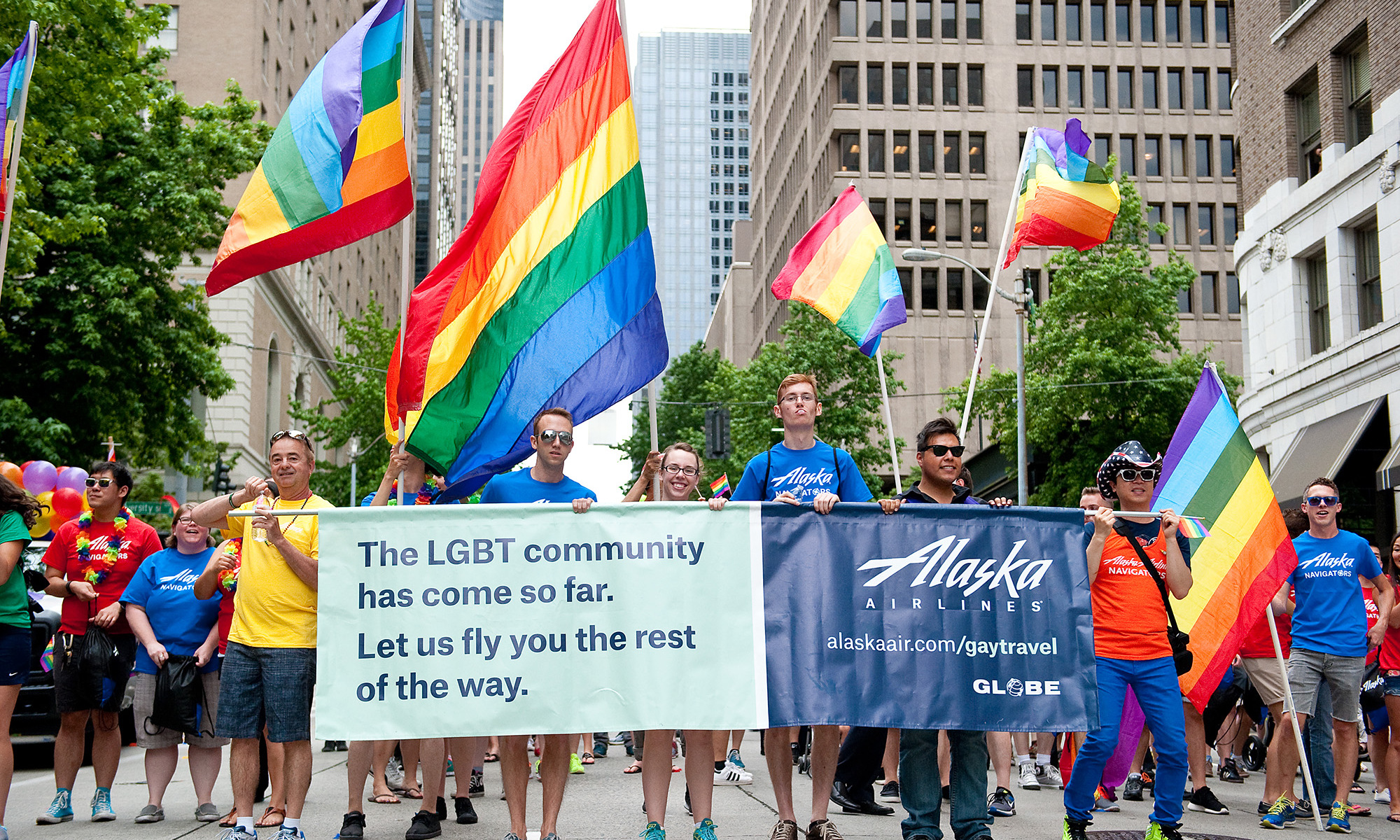 Today, Louise Chernin, the president and CEO of the Greater Seattle Business Association, issued a statement about the recent controversy over Alaska Airlines reseating a gay couple to allow a straight couple to sit together. The weekend incident has garnered considerable coverage via social media and LGBTQ media. 
Alaska Airlines, based out of Seattle, is a member of the GSBA. Chernin has reached out to the highest levels of Alaska's leadership team to address the concerns raised by the incident. 
As a member of the GSBA family, it is likely that you heard 
recent news
 about the experience of an LGBTQ couple on an Alaska Airlines flight.
At GSBA we hold our sponsors and members, small or large, to our 
Standards and Ethics
. When we hear reports about experiences of discrimination, bias, and bigotry, we reach out to have honest conversation about how businesses can, and must, do ongoing work to combat discrimination and promote equality.
GSBA has collaborated with Alaska Airlines for many years in the work for LGBTQ equality, and when we were notified about this experience of a member of the LGBTQ community, we were upset. We took swift action and reached out to our partners at Alaska Airlines.
We received an almost immediate response that they already had reached out to the couple involved to apologize, do their best to right any real or perceived wrong, and further investigate to understand what happened and why. Most of all, they strongly affirmed, with a statement from their CEO Brad Tilden, their long-term commitment to supporting the LGBTQ community as evidenced by their ongoing work to promote equality, speak out against discrimination, and strive to have an inclusive workplace environment wherever they do business.
The hurt experienced by the couple on this particular flight was and is real, no matter the logistical reasons or ticketing errors that contributed to the incident, as was revealed by internal investigations. Even if the employee had not meant to be intentionally discriminatory, their actions and decisions may be the result of implicit bias.
Alaska Airlines has worked to create excellent policies regarding the LGBTQ community, and GSBA is proud to have been part of that work over the years. This incident highlights that good policies are not the end of the work, but just the beginning.
Through our communication with Alaska Airlines, we learned that the company is working with their LGBTQ employee resource group, GLOBE, to re-affirm their commitment to creating a safe and welcoming environment for all employees and passengers. This commitment includes reviewing policies and continuing education and training for employees about unacceptable behavior, including training about the role of unconscious bias in behavior and decisions.
I believe Alaska Airline's response is genuine and sincere. The couple has also 
issued a statement
 accepting the apology offered by Alaska Airlines. I do believe that we all have the ability to change, learn, and grow. If I did not, I could not do the work I do to address discrimination, promote equality and, ultimately, to change hearts and minds—a journey GSBA has been on for over 37 years.
We will continue to defend vulnerable communities, hold members accountable to our Standards and Ethics, and have difficult but honest conversations with all of our members.
For Equality,
Louise Chernin
President and CEO
GSBA
(Visited 1 times, 1 visits today)