Sooooo, back to "GSBA Succession" the not super riveting show that's NOT on HBO but is playing out in local queer news media. It's the saga of the search to find a replacement for Louise Chernin, the former and very much longtime president and CEO of the Greater Seattle Business Association (aka "the LGBT Chamber of Commerce). Louise retired in 2020 and the GSBA did a big national search to find a new leader.
They thought they had found one with the hiring of Michael Soto, a gay civil rights advocate from Arizona in December of 2021 who assumed the reins of the GSBA only to suddenly announce he was leaving the non-profit in June of this year after only six months on the job.
I joked in a post that it must be our bland mushy weather or the so-called "Seattle Freeze" that scuttled Soto's interest in a Seattle based career…but, I was told on the "down low" that Soto wasn't a "very good fit" with the GSBA team and everyone involved was rather relieved to see that relationship end. So, current staff member Ilona Lohrey assumed temporary leadership of the GSBA and many were hoping that perhaps Lohrey might get the job permanently….Lohrey has been a valuable, popular, hard-working and well-liked part of the GSBA team since 2015.
Apparently, the Gods heard our cries, or, more probably, read Seattle Gay Scene, and decided that Lohrey was the right person for the job and the GSBA announced today that Ilona would became the permanent head of the organization that's probably best known in the community for GSBA Guide (listing all the local LGBTQ+ businesses) and for its wonderful scholarship program.
Press release is below but first, a big congratulations to the GSBA for making the right choice. We've known Ilona for years and we think she's not only the best person for the job but also our favorite choice for the job. We think she's terrific! A big hearty salud to Ilona who is living proof that (inserting cheesy "Hamilton" reference to be topical) "immigrants get the job done!"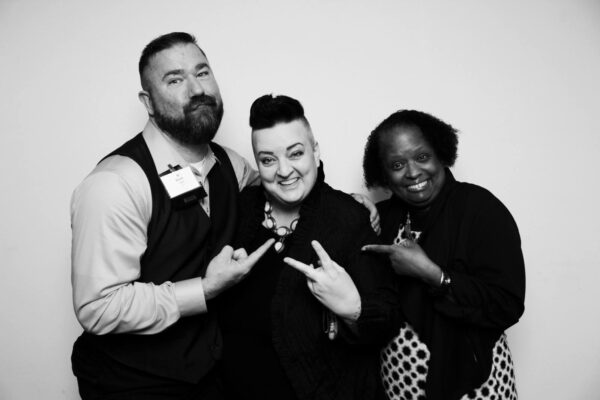 GSBA APPOINTS ILONA Y. LOHREY TO PRESIDENT & CEO
Advocate for small business owners is selected as leader of largest LGBTQ+ chamber of commerce in the country
GSBA, Washington's LGBTQ+ and allied chamber of commerce, is proud to announce Ilona Y. Lohrey as its newly appointed President and CEO, effective today. Previously serving as interim leader of the organization, she was selected as the ideal candidate to grow and further develop GSBA's mission to bring communities together through business while advocating for civil rights by supporting small businesses, promoting LGBTQ+ tourism, and investing in the next generation of leaders.
Lohrey joined GSBA in 2015, bringing expertise in economic and educational equity and the prosperity of small minority owned businesses in the state of Washington, along with business development, technical assistance, and supplier diversity. She launched GSBA's Ready for Business recovery grant, as well as GSBA's Business Academy to directly support entrepreneurs with a focus on LGBTQ-, BIPOC- and women-owned businesses. As a major donor herself, she has championed the GSBA Scholarship Fund that has invested over $5.5 million dollars in the educational advancement of our future leaders.
As a first-generation immigrant that was born in Munich, Germany and raised by a family of entrepreneurs, Ilona is passionate about and understands small business. She was the CEO of RBH, a family-owned business with 1,400 employees and $26MM in revenues in Germany. Prior to joining GSBA, she served as a Small Business Banking Manager at Wells Fargo Bank, managing a team of bankers and $980MM in deposits for the Seattle Metro area.
Ilona identifies as a queer, lesbian immigrant and dedicates her advocacy work and passion to the LGBTQ+ community to advance equity across the most vulnerable of populations. Ilona serves on the Cocoon House Governance Board, as well as a Commissioner for the City of Seattle's Labor Standards Advisory Commission. She obtained her US citizenship in 2020 right when the COVID-19 pandemic began. She lives with her wife of 25 years and their two Vizslas in Snohomish County and enjoys traveling, cooking dishes from around the world, and painting.
About GSBA
GSBA is Washington state's LGBTQ+ and allied chamber of commerce, and the largest LGBTQ+ chamber in North America. It represents over 1,300 small business, corporate and nonprofit members who share the values of promoting equality and diversity in the workplace. GSBA proudly serves as a connector across the state, bringing the community together through business while advocating for civil rights and small business, promoting LGBTQ+ tourism through Travel Out Seattle and investing in the next generation of leaders through the GSBA Scholarship Fund. For more information, please visit www.thegsba.org/about-us.
(Visited 28 times, 1 visits today)