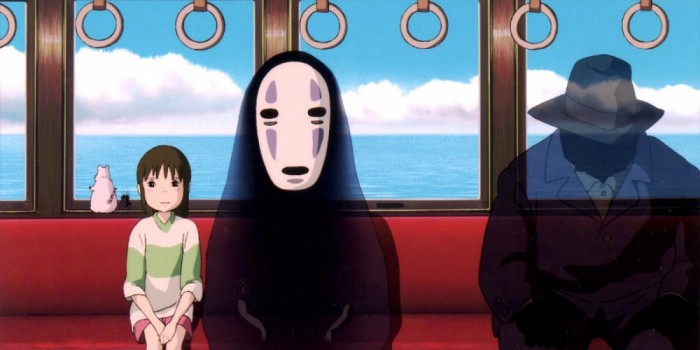 Swoon…so much anime.
And, all on the big Cinerama screen for the next 9 days.
Seattle's Cinerama is hosting their Anime Movie Festival starting today, (April 25th) through next Wednesday, May 3, 2017 at their divine cinema temple at 4th and Virginia in downtown Seattle. The festival kicks off with Miyazaki's final film "The Wind Rises" (which we admit is not one of our favorites…) at 7 pm followed by a screening of the late, great and much missed Satoshi Kon's 2003 comedy/drama "Tokyo Godfathers" which we admire quite a lot, at 9:45pm.
Screenings of several of the most popular films, like "Spirited Away", "My Neighbor Totoro" and "Ghost in the Shell" are already sold out and others like "Cowboy Bebop" are close to it.  But, several great movies have availability including "Castle in the Sky" on Sunday, April 30th and "Kiki's Delivery Service" on Wednesday, May 3rd. Snag those tickets NOW!
And, if you own them already or have only seen them on TV, it does behoove you to check them out on the huge Cinerama screen because all movies are better on a huge, REAL movie screen than on the tube in your house or that squinty cell phone/pad you use…just sayin'.
More info:
Cinerama is excited to announce its first Anime Movie Festival, featuring twenty-three genre favorites including Akira, Ghost in the Shell, Paprika and Cowboy Bebop. A large selection of titles from Studio Ghibli will be featured, including ten masterpieces from famed anime creator Hayao Miyazaki. Miyazaki titles in the Festival include Spirited Away, Princess Mononoke, Howl's Moving Castle and My Neighbor Totoro. Also included in the festival is 2017 Oscar-nominated The Red Turtle. All movies will be shown in Japanese with English subtitles. The exceptions being Ponyo, which will be dubbed in English, and The Red Turtle, which is dialogue free.

Tickets to Anime Movie Festival are $16 per movie with reserved seating available for all titles. View complete listing of movies and showtimes and purchase tickets HERE.
I will admit that I know you're supposed to prefer the "original Japanese language with English subtitles" version but…that also means you miss some great performances from the English language dubs…like Cloris Leachman's  hilarious sky pirate captain Dola in "Castle in the Sky" and Suzanne Pleshette's excellent work voicing those crafty witch sisters, Yubaba and Zeniba in "Spirited Away".
Of course it also means you get to miss Billy Bob Thornton's HORRIBLE performance as Jiko-bō in "Princess Mononoke"….it really sounds like he phoned in his performance and just couldn't be bothered to actually attempt any kind of characterization. (But, then you will also miss Minnie Driver, Clair Danes and Gillian Anderson's superb work in the same film, too.)
Tags: anime, Castle in the Sky, Cinerama, Cloris Leachman, Dola, Family Friendly Films, Japanese Animation, Miyazaki, Princess Mononoke, Satoshi Kon, Spirited Away, Studio Ghibli, Subtitled Films, Tokyo Godfathers