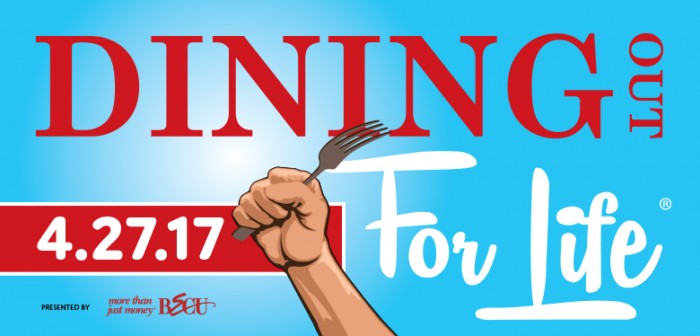 It's the end of April so it's time to go out to eat!
To support vital non-profits who aid in the fight to end AIDS/HIV and to help those who fight the disease on a daily basis…yes, it's time for DINING OUT FOR LIFE, the national fundraiser which raises funds for these non-profits with the assistance of participating restaurants, taverns and eateries who donate a portion of their proceeds to area AIDS/HIV support organizations.
This year, DINING OUT FOR LIFE is happening in most locales, including Seattle and the Sound Puget Sound metro area of Tacoma and Olympia, on Thursday, April 27, 2017. Sound Sound folks wishing to participate can go HERE for a full line-up of restaurants involved. For Seattle area residents, here's the press release from Lifelong with a list and a link of Seattle area venues:
Get Ready to Eat Your Generous Heart Out at Dining Out For Life on Thursday, April 27!

Seattle – Lifelong's Dining Out For Life presented by BECU returns for its 24th year, Thursday, April 27! On this day, around 80 restaurants in the Seattle area donate 30-50% of their proceeds to Lifelong's vital programs that support people facing serious illness and poverty in our community.

"Now is an especially important time to support the vulnerable in our community, with everything that's currently going on in our country," states Sage Fitzpatrick, Lifelong's Director of Development. "We truly appreciate all of the restaurants and the diners who go out of their way to participate in Dining Out For Life. Their generosity has a huge impact on the thousands of people that we serve, and we can't thank everyone enough."

During the day-long fundraiser, restaurant patrons have a chance to win two domestic round trip tickets courtesy of Delta Air Lines. Lifelong is also encouraging patrons to tweet photos of themselves using the hashtags #DOFLSeattle and #IGiveAFork.

Visit diningoutforlife.com/seattle for the most updated list of restaurants. The list below was last updated at 10 a.m. on Friday, April 21


Capitol Hill

Americana
Bar Melusine
Barrio Mexican Kitchen & Bar
Bimbo's Cantina
Blue Moon Burgers
Café Presse
Capitol Cider
Coastal Kitchen
DeLuxe Bar & Grill
Elysian
Fogón Cocina Mexicana
Garage Billiards
Hopvine
Jimmy's on Broadway
Kedai Makan
La Cocina & Cantina
Lionhead
Lost Lake Cafe & Lounge
Mamnoon
Marjorie
McMenamins Six Arms
Oddfellows Cafe + Bar
Palermo Pizza & Pasta
Pinto Thai Bistro & Sushi Bar
Poppy
Poquitos
Rhein Haus
Ristorante Machiavelli
Rooster's TEX-MEX-BBQ
Skillet Diner
Smith
Tallulah's
Terra Plata
The Tin Table
Via Tribunali – Capitol Hill


Ballard

Pasta Bella
Young American


Beacon Hill

Baja Bistro
Bar del Corso


Burien/Normandy Park

Archie's Mexican Restaurant
Smarty Pants Garage


Columbia City

Tutta Bella Neopolitan Pizzeria

Central District

Central Pizza
Two Doors Down


Downtown/Pike Place Market

Il Bistro
Lecosho
Le Pichet
Tulio Ristorante


Eastlake

14 Carrot Cafe
Cicchetti Kitchen + Bar
Pomodoro Ristorante
Serafina Osteria & Enoteca

Edmonds

Bar Dojo

Fremont

Agrodolce
El Camino Restaurant + Bar

Georgetown                          

Conscious Eatery
Hallava Falafel
Hudson
Jules Mae's Saloon


Greenwood/Phinney Ridge

Naked City Brewery and Taphouse
Red Mill Burgers
The Olive and Grape


Laurelhurst/University District

Ristorante Doria
Sand Point Grill


Madison Valley/Madrona

Cafe Flora
Hi Spot Café
Voila! Bistro


Maple Leaf

Mount Baker

That's Amore Italian Cafe


Queen Anne

LloydMartin
McMenamin's (Queen Anne)

Wallingford

Wedgewood

West Seattle

Buddha Ruksa
El Chupacapbra Alki
Locöl Barley & Vine
Mission Cantina

West Woodland

White Center

About Dining Out For Life
Dining Out For Life is an annual fundraising event involving the generous participation of volunteers, corporate sponsors and restaurants. The event is produced in 60 cities throughout the United States and Canada. Together, AIDS service organizations raise more than $3 million to fight illness and hunger across the country. National sponsors include Subaru. 


About Lifelong

Lifelong has been a leader in the fight against HIV since 1983, when they first passed a soup can around Volunteer Park and collected $42 to help feed, house, and stand by those who were fighting this disease. Building on their rich experience of caring for the most vulnerable and marginalized individuals, Lifelong now serves people in Western Washington with a wide diversity of other serious illnesses, especially those disproportionally affected by health disparities. Among their services is Chicken Soup Brigade (CSB), Lifelong's food and nutrition program, the only nonprofit kitchen in the Pacific Northwest that delivers nutritious, balanced, and medically appropriate meals to people living with debilitating conditions, free of charge. Lifelong also provides medical case management, prevention services, housing and healthcare access. For more information, visit lifelong.org.

 
(Visited 2 times, 1 visits today)