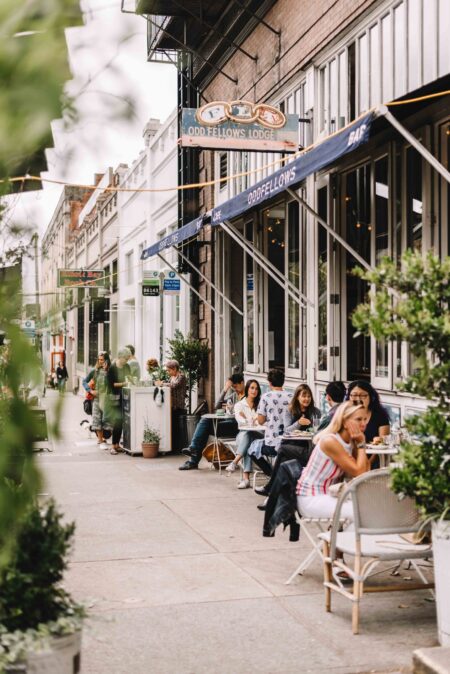 Joey Burgess and Murf Hall who already own LGBTQ+ venues Queer Bar and The Cuff Complex and co-own with Tracy Taylor, Elliott Bay Book Company and Big Little News all on Capitol Hill's Pike/Pine corridor have just added to their growing Monopoly Empire. The couple have just announced they are purchasing Oddfellows Café + Bar, 1525 10th Avenue and Little Oddfellowes, the café located inside Elliott Bay Book Company just down the block, from famed Seattle restaurateur Linda Derschang.
It's all a very friendly business transaction. The couple and Dershang have been friends for many years and Burgess worked for her early in his career.
Via press release:
"I worked for Linda more than a decade ago and to now have the good fortune to carry on her amazing work is a humbling moment for me," said Joey Burgess, co-founder of Burgess Hall Group.

"Joey and I first dined at Oddfellows on opening night fourteen years ago and have since enjoyed many, many meals there," said Murf Hall, co-founder of Burgess Hall Group. "We are honored to keep the spirit of Linda's wildly successful businesses alive in our ever-evolving neighborhood."
Burgess Hall will take over the two cafés at the end of August and plan no immediate changes to either business.
And while Derschang has made it clear she's downsizing her restaurant empire, she will continue to own the original tavern that started it all, Linda's Tavern on Pine Street, and King's Hardware located in Ballard.
She posted this on Instagram this weekend along with a photo of her with her dog, Jack:
Two weeks from today will be my last day as the owner of Oddfellows & Little Oddfellows. Jack was still a puppy when we opened and Obama had just been elected President. That seems like forever ago.


Selling Oddfellow's is bittersweet. Over the last 14 years it has been the most challenging of my businesses, mainly because it's open all day and night 7 days a week, but it's also been incredibly rewarding – sometimes in equal measures.


I've worked with so many amazing people over the years and I've made some great friends through Odds, as we call it. I'm so grateful for that. A HUGE thank you to all that have supported us. I am certain the new owners Joey & Murf will do a wonderful job and wish them the very best!
In 2016 she sold her nautical themed Broadway tavern Bait Shop and in 2019, she parted with her popular 15th Street bistro Smith.
As for Burgess/Hall, I reached out to Joey Burgess and asked what other popular Seattle businesses were on his Shopping List and suggested perhaps our local NFL franchise, the Seattle Seahawks might be a good fit for his empire.
He just chuckled.
(Visited 112 times, 1 visits today)