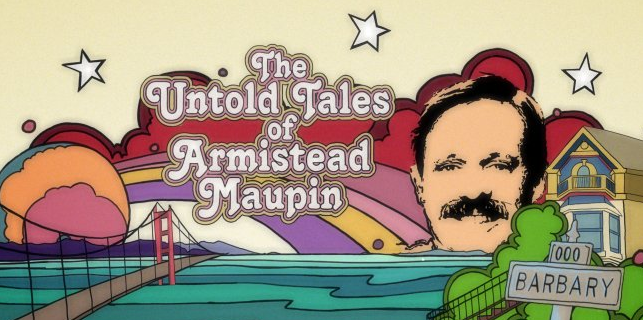 The 2nd annual TWIST: Seattle Queer Film Festival (which is actually just a rebranding of the old Seattle Lesbian & Gay Film Festival) is happening October 12 through 22nd and they just announced their Gala film events for this year's festival which will include the opener, "The Untold Tales of Armistead Maupin" the documentary about the popular gay author of the "Tales of the City" book series.
The festival, produced by Three Dollar Bill Cinema who also produce the Translations Film Festival in the spring and many other film events throughout the year, will also feature "Freak Show", based on the book by famed Club Kid James St. James and featuring cameos from Bette Midler and Laverne Cox as its Closing Gala.
Early bid passes are on sale NOW….go HERE to snag them.
The rest of the line up and general ticketing will go live on FRIDAY, September 15th. Snag your festival passes NOW before midnight to save $$$$$!!!!!
Here's some info on the opening and closing films plus the 3 centerpiece films:
OPENING NIGHT…The Untold Tales of Armistead Maupin
SIFF Cinema Uptown | Oct 12, 7:15pm

Co-directors Jennifer Kroot and Bill Weber (collaborators on TO BE TAKEI) open our festival with this delightful documentary about Armistead Maupin, one of the world's most beloved storytellers and creator of Tales of the City.

We've moved our opening night venue to the SIFF Cinema Uptown so that we can host the party at KEXP's Gathering Space. Director Bill Weber will be in attendance!

Click HERE to watch the trailer!

CLOSING NIGHT! Freak Show
AMC Pacific Place | Oct 22, 7pm

"Transvisionary gender obliviator" Billy Bloom decides to run for homecoming queen, despite hordes of conservative classmates at his high school devoted to football and Jesus.

This book-to-film adaptation of infamous clubkid, James St. James, boasts cameos by Bette Midler, Laverne Cox, and Abigail Breslin! Party to follow at Il Fornaio.

PRESENTING OUR THREE CENTERPIECE FILMS!

SATURDAY CHURCH | 10/15 | SIFF CINEMA EGYPTIAN, 7PM
In this Glee-ful coming-of-age musical, Ulysses struggles to come to terms with the reality of a dismal home life with his bigoted aunt Rose, after the unexpected death of his father.
* Party to follow at Capitol Hill's newest spot queer/bar!

APRICOT GROVES | 10/18 | SIFF CINEMA EGYPTIAN, 7PM
Aram sees many cultural, religious, and national differences on the one day trip back to Armenia from the US, but harder obstacles lay ahead.
* Party to follow at Optimism Brewery with food catered by St. Johns.

BPM | 10/20 | AMC PACIFIC PLACE, 6:45PM
Based on the personal relationships and experiences of ACT UP Paris activists in the early 90s, this film shows the fight against fear and indifference from the general public and government.
* Party to follow at a private event space within Pacific Place.

UPCOMING EVENTS

PIANO KARAOKE TWIST | September 19th | 12th Ave Arts, 8-10pm
Pianist Sean Barker is bringing his fantastic Piano Karaoke to Seattle all the way from Berlin for only one night! Join us for a night of singalongs and drinks. Pick up one of our brand new TWIST program books on the way out! FREE event but please RSVP on Facebook HERE.

TWIST SNEAK PEEK: 1st WEDNESDAY QUEER FILM SERIES
October 4th | NWFF, 7-10pm
Join us to watch trailers and short films at 1st Wednesday Queer Film Series to celebrate the return of TWIST: Seattle Queer Film Festival! This event is FREE, but please save your seat with an RSVP on Facebook HERE!
It also takes a village of volunteers to make a film festival run…if you want to earn free tickets to SEE the films, you can volunteer at TWIST. It's also a great way to network and make new friends! Check out their Volunteer Orientation on Sunday, September 24th!
(Visited 1 times, 1 visits today)