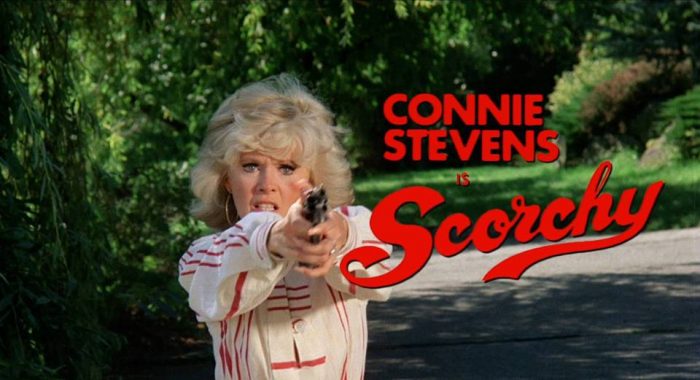 SCORCHY is comin' atcha, Seattle!
Yes, the hyper beloved (by those in the know) 1976 exploitation crime thriller starring Connie Stevens is a camptastic classic that its fans admire for its over the top violence, lurid sexual innuendo, bombastic acting and for its gorgeous setting….Seattle itself! It's about tough as nails undercover narc Jackie "Scorchy" Parker who might be a sex kitten on the outside, but on the inside she's a tough as nails ball breaker who has no qualms about killing men in cold blood or chasing them through the streets of 76 Seattle in a dune buggy while wearing a bell bottomed body suit. Scorchy ain't afraid to offer her boss a blow job or shoot a man in the head after he enjoyed some fried clams at Ivars..as long as she gets what she wants!
Quite a few folks in Seattle are familiar with SCORCHY largely due to Michael & Shane at Collide-O-Scope, the fantastic bi-weekly-ish wacky video clip show, who have shown clips from the film (usually the awesome dune buggy chase scene) at Re-bar for years. The boys actually own a very rare full cut of the film; there is a DVD you can track down but it's severely edited and is missing some of the most lurid scenes in the film! Michael & Shane's love of the film has led them to team up with Cinebago Events, the Dark Lodge cinema film series, and Columbia City's Ark Lodge Cinema for a VERY special uncut screening of the film, TONIGHT (Thursday, September 14th)  at the cinema at 4816 Rainier Avenue South.
The 8 pm screening has sold out but they've just added a 9:30 pm screening….go HERE to snag them before they are gone! (about 55 tickets left as we post this…)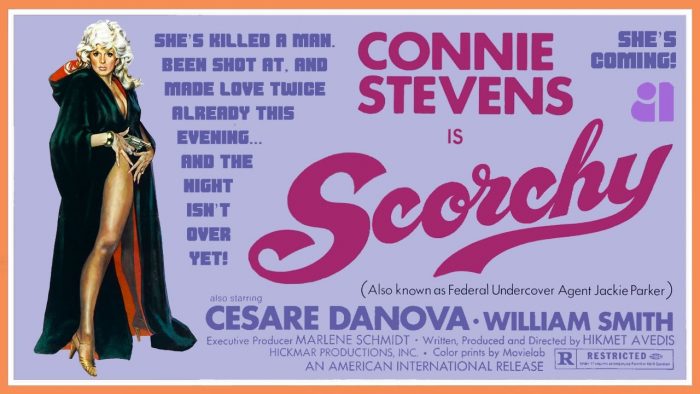 If you like trashy mid century films of the past, you will enjoy this film. (If you hate violence and trashy cinema…it's not for you.) Yes, it's exploitation cinema and a tad lurid but hey! The main character is a powerful, in charge woman who goes after what she wants and isn't afraid to use her power as a woman to get it!
She's a feminist role model!
Who wears AWESOME mid 70s outfits while piloting a helicopter and driving a dune buggy.
Check out the chase scene…if you're a Seattle native, this makes no geographic sense (one minute they're by the Space Needle then in SoDo then in Georgetown) which is why it's so devilishly fun to watch!
Tags: 1970s Films, Ark Lodge Cinema, Camp Cinema, Collide-O-Scope, Connie Stevens, Dark Lodge, Exploitation Films, Scorchy