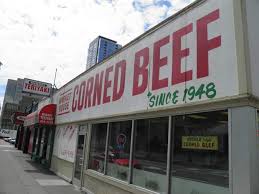 We need a cute name for the micro entertainment district at the corner of Howell & Minor.
Our beloved RE-BAR is at one end of the block (on Howell) and new hot queer club KREMWERK is just around the corner (on Minor) and the entire rest of the block is a monstrous construction project for some awful new complex of banality. There's the old skool Corned Beef shop on the corner in between each club. Maybe we call it "The Meat District™"?
I like it!
Anywhos, "The Meat District™" is where Seattle Pride is kinda kicking off because the two main events I care about for TONIGHT (Monday, June 22) happen right THERE!
First up: our pals Michael & Shane have a very special Pride Week edition for their twice monthly twisted video clip show, COLLIDE-O-SCOPE which features THREE hours of crazy clips found on the Intertubes and cleverly edited together for your over 21 pleasure. Slightly more info:
Put on your Monday best and get ready to kick off PRIDE WEEK with Collide-O-Scope: Pride-O-Scope! A not-exactly-reverent celebration full of fantastic found footage fun, fascinating historical moments, fabulous music montage and the kind of panty-searing video gold that you've come to expect from Collide-O-Scope!

Free Snacks and more fun than you ever thought you could fit into a Monday!

Doors open at 6:45 with great video already playing! Main show starts at 8 — hosted by Shane & Michael!

Bring your friends for a night dedicated to our history, full of laughs and knee-slapping fun!
Only $8 (cheap!)
Around the corner, Kremwerk has a fabulous show for tonight…in fact, it's "TRANSfabulous", the Queer/Trans Cabaret Dance Party hosted by the Lady B and DJ'd by General Meow with VERY special guests, BOOM BOOM L'ROUX, BRIQ HOUSE, EMPEROAR FABULOUS, and CUCCI BINACA.
It's also 21+ with doors opening at 7pm and show at 8pm.
It BEHOOVES you to head on down to "The Meat District™" to rev up your Pride engines!
(Visited 1 times, 1 visits today)