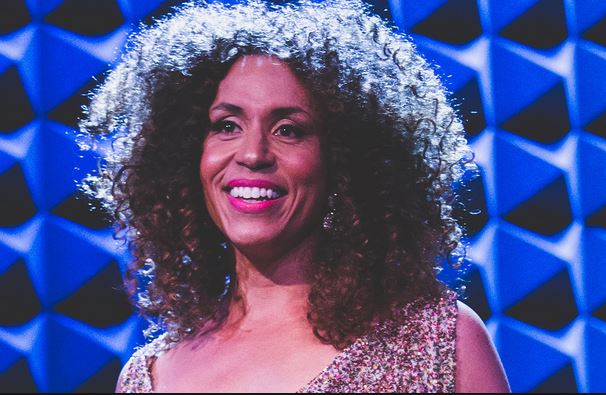 I'd never heard of the performance artist known as "Jomama Jones" until I received a press release from On The Boards about her upcoming one night only performance of NIGHT FLOWERS at the theater coming up next week, Thursday October 19th. And, then I actually READ the name out loud in my mind and…chuckled.
"Jomama"
Jo…..Mama.
What is THIS all about?
This, meaning "Jomama Jones" is the highly acclaimed cabaret artist created by Daniel Alexander Jones in 1995, an actor and singer who has created different characters and projects to showcase his talents. The Jomama project was revived in 2010 and led to four albums: Lone Star, Radiate, Six Ways Home, and, this year's double-album, Flowering. Jones has created shows for Jomama which have played at the Public in NYC and theaters across the country. He has also been named an inaugural Mellon Foundation Creative Research Fellow at the University of Washington for 2017-2019.
As part of that fellowship, Daniel Alexander Jones is also appearing at the University of Washington's Hughes Penthouse Theater on Wednesday, October 18th to read from his his book of essays, BLUE and share images and video from his career. This is a free event but please RSVP if you want to attend.
Creative Research Fellow Daniel Alexander Jones meditates on nearly 25 years in performance art and theatre with a collection of essays as distinctive as his body of artistic work. BLUE, subtitled "notes from the crossroads", marks the intersection of memoir, artistic history, spiritual journal, manifesto, and creative workbook. Jones is a celebrated artist who extends, through his work, an aesthetically daring and civically engaged lineage of art makers rooted in the Black American Avant-Garde and interdisciplinary traditions.

For BLUE NIGHT, Daniel will read excerpts from the book and share archival images and video. Renowned director and educator, Valerie Curtis-Newton, will then interview Daniel and lead a public Q&A session.

And, more on the Jomama Jones performance at On The Boards:

Jomama Jones invites you to join her to mark the lengthening nights and to explore the power of witness, of dream and of regeneration in our turbulent time. Night Flowers will feature Jomama's original songs taken from her albums Flowering, Six Ways Home, Radiate, and Lone Star. Dr. Bobby Halvorson, Jones' longtime collaborator will join her for this intimate event of music and storytelling. Jomama Jones has been called "a true theatrical original" by Backstage Magazine. Her show Radiate sold out Soho Rep and toured across the USA. Her new show Black Light was part of Under the Radar at Joe's Pub in the Public Theater and will return to the Public for a six-week run in 2018.

Daniel Alexander Jones makes theatre, music, and live performance. His wildflower body of work continues to grow in dialogue with a wide range of collaborators and audiences. Duat premiered at Soho Rep in 2016 to critical acclaim (including a five-star review from Time Out). His other performance pieces and plays include Phantasmatron, Phoenix Fabrik, Blood:Shock:Boogie, and Bel Canto. Daniel received a 2015 Doris Duke Artist Award in recognition of his risk-taking practice and a 2016 USA Artist Fellow; he was also named an inaugural Mellon Foundation Creative Research Fellow at the University of Washington in Seattle for 2017–2019.

Night Flowers: An Evening With Jomama Jones is presented in partnership with Meany Center for the Performing Arts and the UW School of Drama. Daniel Alexander Jones is a Fellow with the Creative Fellowships Initiative, an interdisciplinary pilot project at the University of Washington exploring the nature of creative research.
(Visited 1 times, 1 visits today)