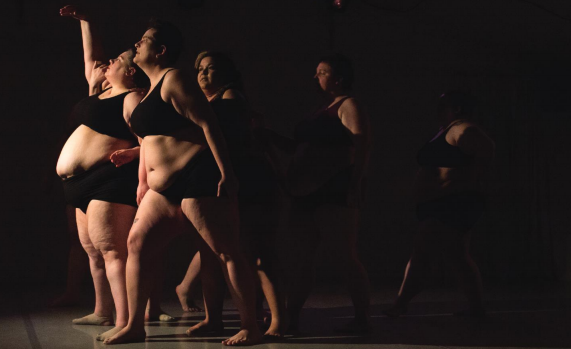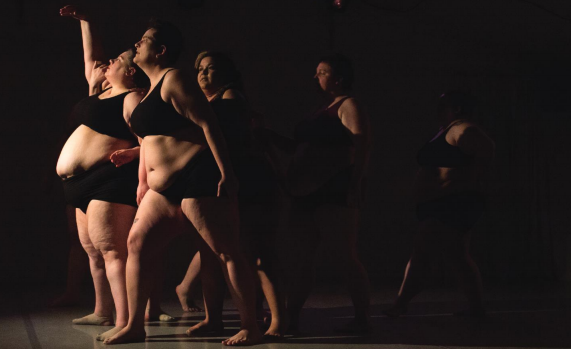 Last week, Seattle's On The Boards announced their 2019/2020 PERFORMANCE LAB season where local artists showcase works-in-progress from the the worlds of dance, theater, music, film, and many works that can feature elements from any of those expressions. The quarterly series will kick off on October 16th with queer performance artist/dancer/choreographer KT Kusmaul curating the evening of shorter works.
It continues in December with Matt Aguayo, also known as drag artist Angel Baby Kill Kill Kill as that installment's curator (go here to submit for that show) and queer writer, director, performer, and dramaturg HATLO (caps deliberate) will take the reins for the January installment.
Snag Tickets for the October 16 show HERE and more info on the 19/20 Lab series down below!
Performance Lab is a continuation of On the Boards longstanding commitment to showcasing works-in-progress by artists from the Pacific Northwest. What began as a dance program has shifted to include theater, music, film, installations, and much more. OtB relaunched this program in 2018, and titled it Performance Lab, a quarterly series co-curated by local artists and Performance Lab Producer Charles Smith. Each installment includes four works under 10 minutes each and facilitated artist feedback along with an opportunity for each artist to discuss their performance with the audience. Additionally, Performance Labs are presented in both the Merrill Theater and the Studio Theater.
"The talkback/feedback sessions have been a great way to connect audiences in a more meaningful way with the artists and their practices. It's great to see so many staying after the performances to contribute their thoughts." – Charles Smith, Performance Lab Producer
"My experience with Performance lab has given me enough structure to be accountable, enough freedom to take risks, and given me that crucial opportunity to get my work in front of an audience. In my roles as performer and co-curator, it has been an important opportunity for me to propel my creative process forward and connect with the creative community in the PNW." – KT Kusmaul, Artist/Co-curator 
Performance Lab: 10/16 – In the Round Co-curated with KT Kusmaul Wednesday, October 16, 2019, 7pm, Merrill Theater
KT Kusmaul is a fat, queer, genderqueer femme performance artist, dancer, choreographer, and community builder. She is the founder and Artistic Director of Body Home Fat Dance. With a history of creating radical gender performance in the underground queer art scene, now she is using her creative skills to bring fat liberation performance art to life. In 2018 she was awarded the year-long Alembic Artist Residency at Performance Works NW. Her work has recently been produced as part of PDX Dance Collective Choreographers Showcase, Knock Out, On The Boards' NW New Work Festival, and Risk/Reward.
Participating Artists: Shaun Keylock Keylock is a choreographer, director, teacher and dancer currently based in Portland, Oregon.
Michael Swaine Swaine is a core member of the collective Futurefarmers.
Lyra Butler-Denman Lyra is a dancer, choreographer, and actor based in Portland.
Fairygawdzad Fairygawdzad (Aaron Carr) is a singer/producer/community organizer hailing from Detroit, MI. 
Performance Lab: 12/11 Co-curated with Matt Aguayo Wednesday, December 11, 2019, 8pm, Studio Theater
Matt Aguayo, alternatively known as Angel Baby Kill Kill Kill in Seattle's thriving drag scene, believes in the myriad possibilities of dynamic gender expression. A graduate of Cornish College of the Arts, Matt's work seeks to unify both the professional theatrical and nightlife communities through investigating the limits and benefits of each space. Utilizing training in clown, burlesque, and biomechanics, they hope to blur the line between studied performance and irreverent entertainment.

Performance Lab: 1/15 Co-curated with HATLO Wednesday, January 15, 2020, 7pm, Merrill Theater
HATLO is a queer process babe, co-conspirator and wildcat who creates and facilitates new performance. They are a writer, director, performer, and dramaturg in collaborative relationships that develop unruly original performance experiments. Their performance and process work is a practice of love, survival and community that spans performance art, theater, dance, and community organizing. Recent and upcoming collaborations include: Markeith Wiley, Shontina Vernon, Timothy White Eagle, Brandon Simmons, stephanie lavon trotter & Fox Whitney/Gender Tender.
Performance Lab: 4/29 Co-curated with Dakota Camacho Wednesday, April 29, 2020, 7pm, Studio Theater
Ancestral Lineages: Matao/CHamoru, Ilokano, European Born and raised in Coast Salish Territory, Dakota Camacho creates activations of indigenous knowing, life ways, and spiritual connection. As a multi-disciplinary artist-researcher, the work spans the realms of ritual activation, performance art, installation, contemporary indigenous movement, traditional chant, culturally convergent music and ancestral responsibility. The work aims to proliferate inafa'maolek — unifying human consciousness with the natural world, restoring balance with the elements, and living with life force.
Tickets: 10/16: In the Round https://ontheboards.secure.force.com/ticket/#/instances/a0F2I00000Q7LCAUA3
12/11: Uncanny Cabaret Tickets are $10 and can be purchased here: https://ontheboards.submittable.com/submit/148306/performance-lab-12-11-uncanny-cabaret- open-call
Application Info: Performance Lab: 12/11 Application: https://ontheboards.submittable.com/submit/148306/performance-lab-12-11- uncanny-cabaret-open-call
Deadline: Oct 20, 2019 
Performance Lab: 1/15 Application available soon! Deadline: Dec 1, 2019
Performance Lab: 4/29 Application available soon! Deadline: Mar 11, 2020

(Visited 3 times, 1 visits today)