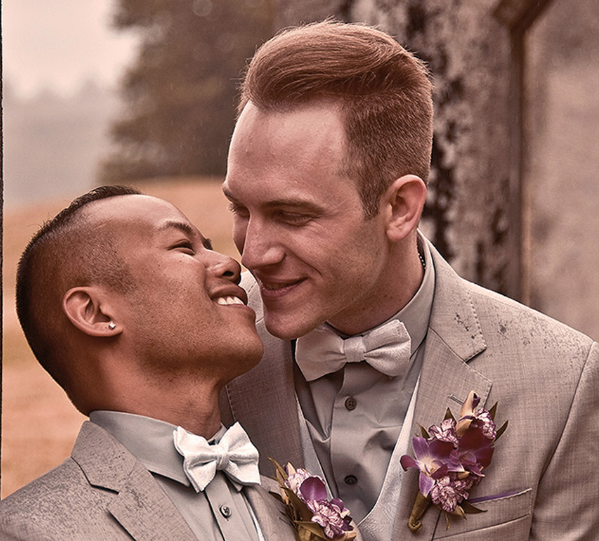 They're back. Your favorite Wedding Showcase Event!!!
One Love Wedding Showcase the annual showcase of everything you might possibly need to get hitched to your LGBTQ chosen one, returns on Sunday, October 20th. There, you'll find a bevy of folks peddling their queer friendly floral arrangements, hors d'oeuvres, venues, CAKES (to help you avoid the seemingly huge community of dumbass bigots who refuse to make wedding cakes for queer couples…) as well as honeymoon destinations. Oh, and obviously this isn't just for gay folks…for nice straight folks planning on getting hitched, why not plan your nuptials with gay friendly businesses instead of jerkwad bigots? EVERYONE (except for jerkwads) are welcome at One Love!
One Love will happen at AXIS event space (308 1st Avenue S. in Pioneer Square) from 2pm to 6pm. If you pre-register at oneloveseattle.bpt.me it's FREE to attend but if you don't, it's $10 at the door.
Oh…that's also the same time as a Seahawks home game so plan accordingly…parking will be tight in that area.
More poo on how you can can plan for your Big Day down below!
(Query: When does the Gay Divorce Expo happen? Divorce lawyers could have booths as well as resorts offering "Repair Your Shattered Heart" vacation packages!)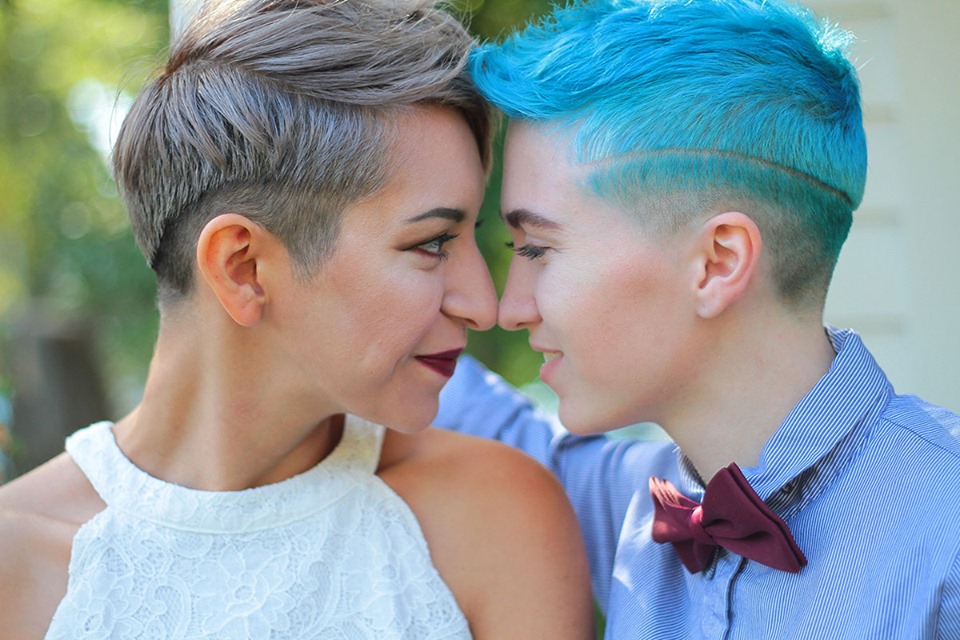 ONE LOVE WEDDING & LIFESTYLE SHOWCASE WILL HELP LGBTQ COUPLES PLAN THEIR SPECIAL DAY
Celebrate love and equality for all couples, engaged or married
SEATTLE, Wash.  — New Chapter Weddings & Events will present the One Love Wedding & Lifestyle Showcase, which will take place October 20, 2019, at AXIS Pioneer Square, 308 1st Ave. S., from 2:00 to 6:00 p.m. Couples newly engaged or married can meet with the best local wedding industry professionals and lifestyle experts to plan their big day or their life together.
Launched in 2012, the year same-sex marriage was legalized in Washington State, One Love has grown to become one of the longest-running LGBTQ-focused wedding shows in the country. It is locally produced by, in partnership with and for the LGBTQ and allied communities and creates a welcoming, safe and fun space for all couples in love to plan their big day. Attendees will meet and engage with a diverse range of LGBTQ-owned and allied businesses, from wedding planners, bakers, caterers and florists to venues, rental companies, DJs and other professionals. All vendors are hand-selected and fully vetted so that everyone in the room is a trusted resource for LGBTQ and allied couples.
"The vendor selection process is one aspect that sets One Love apart from other wedding shows," said One Love founder and wedding planner Jenny Harding. "Even though same-sex marriage has been federally legal for over four years and legal in Washington State for nearly seven, not all vendors understand the nuances and priorities of working with same-sex, same-gender or queer couples. I also focus on choosing experts that support and are actively engaged in the LGBTQ community."
"As a gay business owner, I've always looked for inclusive partners with whom to affiliate," said John Gardner, owner of Aria Style and a One Love vendor since 2012. "One Love has offered a great opportunity for all couples to connect with inclusive vendors, and we appreciate being a part of this event!"
One Love's experts can help couples forge their own marital path. Some embrace a more traditional wedding celebration, while others choose to create a unique experience that defies traditions. Whatever they choose, they can be assured that the One Love vendors will treat them with respect and professionalism.
Some couples still face obstacles when trying to plan their wedding. Regardless of state laws, couples have been discriminated against by businesses that refuse to serve them because of the owner's religious beliefs. One of the most well-known of these cases was in Washington State, where a flower shop refused to provide the flowers for a same-sex couple's wedding. LGBTQ rights are being threatened in many states across the country, including most recently in Arizona, where the state Supreme Court sided with a calligraphy small business that claimed it did not want to serve the LGBTQ community (with wedding invitations) despite Phoenix's anti-discrimination ordinance.
"Many people often ask me: This is Seattle—isn't everyone supportive?" said Harding. "But it's not only about being supportive but also understanding the details, such as how a DJ calls guests to the dance floor ('ladies and gentlemen' doesn't always fit), respecting the preferred pronouns of the couple and guests, filling out forms that may only have space for 'bride' and 'groom'and understanding the term 'chosen family.'"
According to Community Marketing's 2018 LGBTQ Wedding Survey:
43% of participants said that it was important to bring some element of LGBTQ culture into their wedding, far more than religious or wedding traditions.
67% used vendors known to be LGBTQ friendly.
71% stated that it was important to them to select a wedding vendor that is inclusive or provides services to all couples.
20% reported some type of discrimination or negative experience during their wedding planning process.
61% of transgender and nonbinary-identified couples and 44% of same-sex couples fear rejection from wedding vendors.
"A place of our own is what comes to mind when I think of Seattle's One Love Wedding & Lifestyle Showcase," said Louise Chernin, president and CEO of the Greater Seattle Business Association (GSBA). "It is a day when same-sex and same-gender couples get to unabashedly browse and dream about plans for celebrating their life's commitment to each other. Yes, members of the LGBTQ community can go to mainstream wedding shows, but at One Love, it is about us, our uniqueness, our culture and the very young recognition of our love. Whether to plan a wedding or simply a special occasion, it is a day that brings smiles and fills hearts of those who attend and get to meet the vendors who are there specifically to meet them."
One Love will be hosted by Seattle's own Gaysha Starr, who has been entertaining and captivating audiences with her quick wit, glamorous looks and memorable drag performances for over 25 years. Attendees will be treated to an array of delicious bites, creative cocktails, great music, giveaways, swag bags and plenty of inspiration.
Tickets to One Love are complimentary with pre-registration at oneloveseattle.bpt.me. Tickets are $10 at the door (without pre-registration).
About the One Love Wedding & Lifestyle Showcase
Founded in 2012, the One Love Wedding & Lifestyle Showcase, the Pacific Northwest's premier wedding and lifestyle showcase creates a welcoming, safe and fun space for all couples in love to plan their big day. Couples can get their questions answered, discover new trends and be inspired to plan their own unique celebration. In addition to showcasing wedding-industry experts, this event takes it a step further, featuring businesses in areas that many couples need help with before and after they merge their lives, such as real estate, banking, law and health & fitness, among others. For more information visit www.oneloveseattle.com and on Facebook at www.facebook.com/OneLoveSeattle.
(Visited 4 times, 1 visits today)