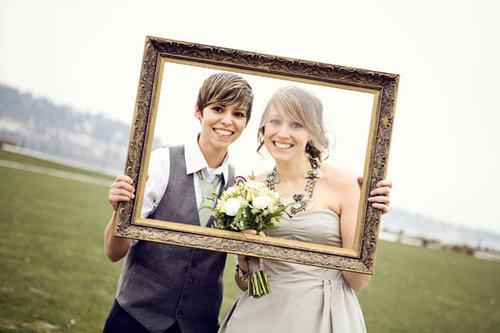 Hey Lovers, both young and old…are you planning on making it official with a lovely ceremony in front of friends and family? Regardless of the fate of Referendum 74, (and, knock wood that it passes), same sex couples in the State of Washington frequently want to declare their love with a ceremony. We have our fingers crossed that legal marriage equality WILL happen in our state this year but however it turns out, many couples still want and need the experience of throwing a beautiful ceremony/party in front of their loved ones.
If that's something that might be up your alley and you yearn to be a BrideZilla…or, a GroomZilla…then you might want to immediately head to the Seattle Renaissance Hotel for today's One Love Wedding Showcase which features dozens of vendors who cater to the needs of same sex couples. The informative fun is happening Saturday, October 27th from Noon to 5pm. Here's some skinny:
The Showcase will offer an opportunity to connect with the best in the industry, ask questions, gain insight  and discuss your wedding vision with our wide variety of exhibitors. You'll be greeted with a signature cocktail to sip while you gain knowledge and contacts to help you create your perfect celebration! You'll also see the hottest new trends and styles, gain access to special offers and taste delicious treats on display.
And, here's a list of the vendors scheduled to attend…check'em out!
David Kosar Insurance – American Family Insurance
Jonathan L. Bowman, Attorney at Law
Magnolia United Church of Christ
(Visited 1 times, 1 visits today)