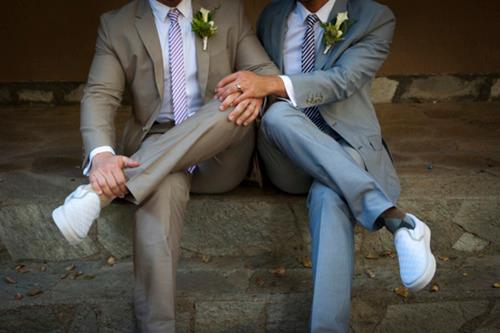 We've already talked about how crazy Saturday NIGHT, October 27th is gonna be…there are a butt load and a half major Halloween events happening that night including BUMP and Shake Your Ghoul Thing. But, it's gonna be delightfully crazy during the daytime as well as the Renaissance Seattle Hotel plays host for the "One Love Wedding Showcase" featuring 60 plus vendors who offer a full range of services for any kind of wedding or commitment service. Hopefully, Referendum 74 will pass and marriage equality will become law in the State of Washington, but regardless of the outcome, the freedom to express committed love will remain. This free to the public event will guide prospective bride/brides and groom/grooms on how to plan that very special event. Here's some more skinny on the event which is happening from Noon to 5pm on the 27th (giving you enough time to run home and start getting made up for that night's Halloween activities…)
One Love is a Wedding Show open to ALL couples planning their weddings!  Some couples have waited 10, 20, even 30+ years to be able to celebrate their love and commitment to each other while receiving equal rights as a married couple in the State of Washington.  One Love is offering all couples a safe place to come, get ideas, ask questions, and trust that they'll be handled with care and professionalism during this exciting time. 

The Showcase will offer an opportunity to connect with the best in the industry, ask questions, gain insight  and discuss your wedding vision with our wide variety of exhibitors. You'll be greeted with a signature cocktail to sip while you gain knowledge and contacts to help you create your perfect celebration! You'll also see the hottest new trends and styles, gain access to special offers and taste delicious treats on display.

More than 60 vendors will be in attendance representing 25 life categories. Couples will find help with every aspect of creating a life together—from planning a wedding, to legal and financial support, real estate advice, and more.
Yes, it's free to attend but registration is encouraged…go here to register!
(Visited 1 times, 1 visits today)