Review: Everything is Illuminated based on the novel by Jonathan Safran Foer. Adapted and Directed by Josh Aaseng. Produced by Book-It Repertory Theatre. Scenic Design by Catherine Cornell. Lighting Design by Andrew D. Smith. Costume Design by Chelsea Cook. Sound Design by Dominic CodyKramers. Props Design by Cedric Wright. Puppetry & Projections Design by Shannon Loys. Music Composed/Musical Direction by Michael Owcharuk. With Shannon Allman, Susanna Burney, Sean Lally, Peter Sakowicz, Michael Winters. Onstage at Seattle Center House Theater from September 11 to October 6, 2019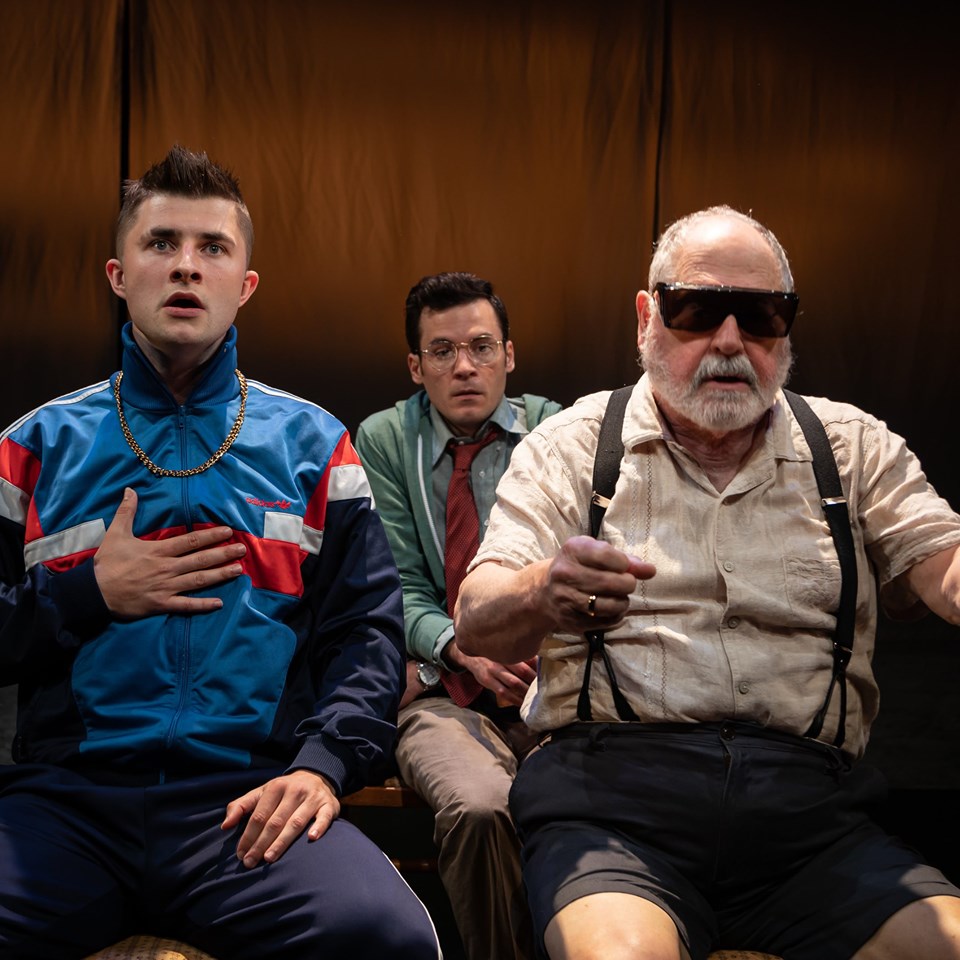 Another recent production is also centered on some wartime horror but in the case of Book-It Repertory Theatre's adaptation of Jonathan Safran Foer's autobiographical-ish novel, EVERYTHING IS ILLUMINATED, the war in question would be World War II and its consequences on the author's Ukrainian-Jewish family.
Now, I'm pressed for time and also hate writing synopsis so I'm going to totally cheat here and just give you the Wikipedia version of the plot, with some minor edits:
Jonathan Safran Foer (the author), a young American Jew and avid collector of his family's heritage, journeys to Ukraine in search of Augustine, the woman who saved his grandfather's life during the Nazi liquidation of Trachimbrod, his family shtetl (a small Jewish town). Armed with maps, cigarettes and many copies of an old photograph of Augustine and his grandfather, Jonathan begins his search with the help from Ukrainian native and soon-to-be good friend, Alexander "Alex" Perchov, who is Foer's age and very fond of American pop culture, albeit culture that is already out of date in the United States. Alexander studied English at his university, and even though his knowledge of the language is not "first-rate", he becomes Foer's translator. Alex's "blind" grandfather and his dog known as "deranged seeing-eye bitch," Sammy Davis, Jr., Jr., accompany them on their journey. Interspersed throughout the book is the story that Jonathan Safran Foer (the character) learns about his ancestors—namely, his great-times-five-or-six grandmother Brod and his grandfather Safran.
So, to tell both of those through lines; the "Jonathan Safran Foer searching for what happened to his grandfather in the Ukraine during WWII" and the far older family history involving (primarily) the story of Great, Great, Great, Great, Great, (maybe one more) Great Grandma Brod, director and adapter Josh Aaseng, uses a number of theatrical devices and styles to tell the different stories that make up the plot of Everything is Illuminated.
Some work, but some don't.
Much like the different ways that Jonathan Safran Foer tells his stories in his books, Aaseng chose to use different methods of theatrical storytelling to honor Safran Foer's style including the use of shadow puppetry and shadow acting to relay a large chunk of the Great Great Grandma Brod storyline. It's a clever way to recreate the original author's intent and the puppetry itself, created with Shannon Loys and Zane Exactly can be quite delightful.
But, it also didn't always integrate well into the structure of the play itself. There were many awkward transitions over the course of the play and frankly the puppetry/shadow work probably takes over too much of the overall production. A little shadow work goes a long way.
There's also the issue of the live music onstage during the shadow sequences. Michael Owcharuk composed music for these sequences, a vaguely appropriate-ish Mittel European score he performs with Brooke Haze but…it's REALLY loud and obtrusive during these sequences! To the point you can't hear the actors or concentrate on what the hell is going onstage with the characters and plot. I think the live music is a good idea…in theory…but maybe the two musicians need to be BACKSTAGE with their music mixed in via the sound board so it's better modulated. Right now, it's just…loud and distracting.
There's also the issue that the "Grandma Brod" storyline isn't really as compelling as the "Jonathan Safran Foer wandering around 1998 Ukraine with colorful local Ukrainians" plot. It's a lot more interesting largely due to those delightful locals; Alex, the brashly adorable young tour guide and his grumpy profane Grandfather.
Oh, and "the bitch, Sammy Davis Junior Junior".
The characters are colorful but so are the performances…Michael Winters is not surprisingly, excellent as the grumpy Gramps who has a secret or two to be revealed; he's hilarious early on in the play and poignant in its closing moments.
But, it's Peter Sakowicz who manages to steal the show as the endearing Alex who is both cocky yet a bit naive and unsure if he can actually pull off that level of cockiness. It's a character and a performance that are both full of bravado and the actor is very very good at capturing all the delightful nuances of the character.
The rest of the small ensemble is strong as well, though the actual lead of the show, Sean Lally as "Jonathan" is overshadowed by the supporting characters, a not uncommon occurrence when the "writer/narrator" centers the show, he still gives a fine performance. And, both Shanna Allman, as Great Grandma Brod among other characters, and Susanna Burney as an important piece of the story puzzle, provide strong support in a variety of the roles they play.
The design work is strong as well, with Andrew D. Smith's lighting design (which is an integral part of the shadow puppetry) and Chelsea Cook's vivid designs for a wide variety of the costumes needed for characters that range from fairy tales to the 20th century both important contributions to the production.
The charm of the characters and the quirky storytelling are the chief assets for Everything is Illuminated but it's a complex show that very much felt like it needed another two weeks of rehearsal and editing with a strong dramaturg to improve transitions and the flow of the storytelling. It's an interesting project that still feels a bit like a work in progress. That said, it's still very much worth checking out.
(Visited 16 times, 1 visits today)