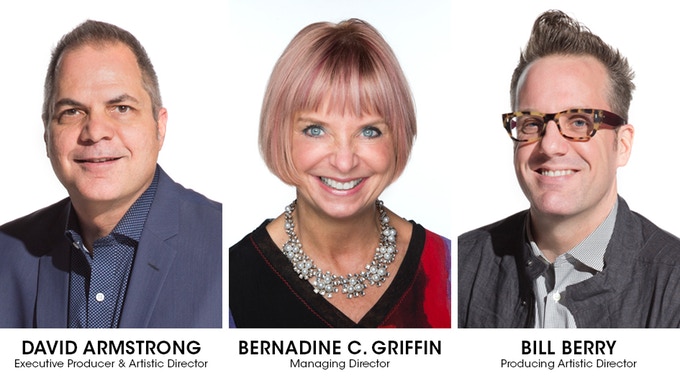 Wow! More big changes in Seattle's musical theater community as the 5th Avenue Theatre announces that long time Executive Producer and Artistic Director DAVID ARMSTRONG is stepping down from those roles at the end of the 2017/18 season after 18 years in the head artistic role with the nationally known musical theater company. Armstrong will continue to play a role at the 5th in the future as "Artistic Director Emeritus" where he will serve as an advisor, consultant and director of individual productions. Current Managing Director Bernadine C. Griffin and Producing Artistic Director Bill Berry will continue in their leadership roles with both Griffin and Berry apparently assuming much of Armstrong's former duties.
This follows the announcement from a month ago that the OTHER big musical theater company in the Puget Sound area, the Issaquah based Village Theatre was also losing its longtime artistic director, as the beloved Steve Tomkins announced his retirement after 25 years with the company he helped create. Longtime collaborator Jerry Dixon will step in as the new AD at Village beginning June 1, 2018.
Below is the official press release from the 5th Avenue. No overt official reason for the change is given but Armstrong did release a longer more personal statement on his Facebook page indicating he wanted to do more writing:
My only regret in taking in this job was that it quickly become apparent that I would have to put my writing career on hold. The work of running a major theater company and directing at least one production each season has been a thrilling, but all-consuming endeavor that made it impossible for me to find the time and focus necessary to devote to any significant writing projects. In my new position, I will have the opportunity to pursue other directing opportunities and resume my work as a playwright, and perhaps even write a history of the musical theater.
The best of luck to Mr. Armstrong in his future endeavors!
The 5th Avenue's release:
(Thursday, November 16, 2017—SEATTLE) It is with enormous gratitude and sorrow that The 5th Avenue Theatre, the nation's leading musical theater company, announces that following a remarkable tenure of nearly 18 years, David Armstrong, Executive Producer and Artistic Director, will step down as at the end of the 2017/18 season. Armstrong will assume the title of Artistic Director Emeritus and continue to work with The 5th as a consultant, advisor, and frequent director. Leadership of The 5th Avenue Theatre will transition to Managing Director Bernadine C. Griffin and Producing Artistic Director Bill Berry. Armstrong's position will not be replaced.

"The time that I have devoted to this theater company has truly been the highlight of my nearly 40 years of working in the American theater, and no other job has been nearly as meaningful or rewarding," Armstrong said. "I could not be more proud of what I have accomplished during my time at The 5th, first as Producing Artistic Director, working in partnership with Marilynn Sheldon; and then in my current role in collaboration with Bernie Griffin and Bill Berry. After nearly 18 amazing years leading this organization I have decided it is time to let go of the day-to-day responsibilities of running a large theater company so that I can focus more effectively on my creative work as a director and writer."

"We will always be grateful to David for his incredible vision and leadership over the years," said Managing Director Bernadine Griffin. "His guidance and stewardship has shaped The 5th as one of the nation's leading musical theater companies, producing visionary works from the canon and shaping the future of the art form."

"David set The 5th Avenue Theatre on an artistic journey when he started here nearly two decades ago," said Producing Artistic Director Bill Berry. "That journey has taken us through the on-stage development of Broadway blockbusters like Hairspray, Shrek, Memphis, and Catch Me If You Can; through the production of deeply artistic works like Candide, A Room with a View and Ragtime, the early development of new musicals like Come From Away and Persuasion; and the loving production of great works of the American musical like Rodgers and Hammerstein's Oklahoma! and West Side Story. I'm proud to guide The 5th as we continue along this path in pursuit of our mission—to nurture, advance and preserve all aspects of America's great original art form: the Musical."

Griffin and Berry have worked alongside Armstrong since his arrival at The 5th. As Director of Institutional Advancement and Development, Griffin was the creator and longtime director of the company's fundraising arm, taking over as Managing Director when Founding Managing Director Marilynn Sheldon's retired in 2010. In 2009, Berry transitioned from Director of Education and Outreach to Producing Artistic Director, working closely with Armstrong as the company continued on its phenomenal trajectory.

"While we are sad to see David depart, we also feel great joy and excitement as we imagine what the future holds for him," said Chairman of the Board Stephen P. Reynolds. "We are also excited to see what the next chapter of The 5th Avenue Theatre holds and feel confident in a smooth transition in leadership. We have worked closely with David, Bernie and Bill in the last two years to develop a succession plan, and feel that this will be a very natural transition."

When Armstrong began at The 5th in 2001, the theater was primarily a stop on the national tour circuit and a co-producer with Houston's TUTS (Theater Under the Stars), with few productions it could claim entirely its own. Armstrong saw the company's potential as a home for great musical theater in all its forms, and also recognized a need at the national level for a regional theater willing to produce new works on a large scale. Nearly two decades later, The 5th Avenue Theatre enjoys a national reputation for both new and vibrant productions of classic musicals, as well as extensive development and production of new work. The company has produced 18 new musicals on its stage, nine of which have gone on to Broadway garnering 14 Tony Awards including two for Best Musical (Hairspray and Memphis). Beyond their Broadway runs, seven of those shows have entered the standard repertoire of the American musical and now receive hundreds of amateur and professional productions around the world each year.

In addition to its exceptional level of artistic excellence, The 5th Avenue Theatre has also become a leader in theater and arts education. Since 2001, the organization has developed a number of arts education initiatives including Fridays at The 5th, Spotlight Nights, Show Talks and more. Now in its 16th year, The 5th Avenue Awards: Honoring High School Musical Theater see the participation of schools state-wide and sends the recipients of the awards for outstanding actor and actress to compete at the national level. The awards have enabled many schools to garner additional funding for drama programs due to the recognition they receive. Adventure Musical Theatre Touring Company, a program touring curriculum-based original musical theater to elementary and junior high schools, was purely a Puget Sound-based program when Armstrong arrived. Under his leadership, the program has grown by leaps and bounds, visiting 147 schools last season and directly impacting the lives of 65,000 students. Finally, the unique Rising Star Project debuted six years ago and has become the cornerstone of the company's remarkable education programs, giving students direct professional mentorship as they re-mount a 5th Avenue mainstage production and learn valuable career and life skills.

"School field trips to theatrical productions, along with music, dance and drama classes changed my life as a child so it was important to me that The 5th become a leader in arts education initiatives for both young people and adults," Armstrong said. "It has been particularly gratifying over the years to watch talented young people participate in one or more of our incredible programs, go off to college, and then come home and begin outstanding professional careers on our stage."

Armstrong has long been a champion of Seattle talent. During his tenure, The 5th Avenue Theatre transitioned from primarily importing talent from New York to investing in Seattle's vast and deep talent pool of theater artists and craftspeople, making it the largest arts employer in the Pacific Northwest. The 5th is deeply committed to Seattle's world-class community of actors, singers, dancers, musicians, directors, choreographers, designers, and backstage workers of all kinds, partnering them with the finest theater practitioners from New York, and placing them at the center of its brand and mission. The 5th Avenue Theatre has proved an integral part of the careers of a number of local and national musical theater stars including Greg Allen, Eric Ankrim, Josh Carter, Sarah Rose Davis, Taryn Darr, Laura Griffith, Rich Gray, Kirstin DeLohr Helland, Louis Hobson, Cayman Illyka, Cheyenne Jackson, Kendra Kassebaum, Brandon O'Neill, Matt Owen, Sarah Rudinoff, Billie Wildrick and so many more. "This virtual 'rep company' is an irreplaceable asset to this theater", Armstrong recently stated, "They have become my cherished friends and trusted colleagues, and it has been a joy and a privilege to work with every one of them."

Additionally, Armstrong has indicated his pride in partnering with and mentoring a large number of young artists and directors who are growing increasingly recognized as leading voices in their industry, including Benj Pasek and Justin Paul, Casey Nicolaw, David Bennett, Ian Eisendrath, Brandon Ivie, Adam Quinn, R.J. Tancioco, Mathew Wright and others. "I was entrusted with the opportunity to work professionally as a director at a very young age," he added. "So I am especially proud of the opportunities and nurturing that we have in turn provided to talented young people, both on and off the stage.  Many of them created significant work for The 5th, and have gone on to noteworthy positions with theaters and productions both in Seattle and New York."

Armstrong furthered The 5th as a valued member of Seattle's cultural landscape through its multitude of collaborations throughout the community. The company shares an unprecedented partnership with ACT – A Contemporary Theatre in that the two companies annually co-produce a musical shared by both companies subscribers. The partnership has enabled both companies to further their missions by producing shows that normally would not be possible to do. The 5th has collaborated with Donald Byrd's Spectrum Dance Theatre (West Side Story, Oklahoma!, Carousel), Seattle Men's Chorus (Hairspray in Concert, Gentlemen Prefer Blondes in Concert) as well as the Pacific Lutheran Chorus (Titanic in Concert and the upcoming The Hunchback of Notre Dame). Armstrong also spearheaded the citywide Seattle Celebrates Bernstein festival in 2010 as well as 2018's Seattle Celebrates Shakespeare festival.

About The 5th Avenue Theatre

The 5th Avenue Theatre is one of America's leading musical theater companies. We enrich the community we love with the art form we love—giving the Pacific Northwest a front-row seat to original powerhouse productions that go on to light up marquees and audiences all the way to Broadway. From the page to the stage, we bring passion and epic scale to every musical we create. With big talent. Bigger-than-life productions. And did we mention dazzle? As a nonprofit theatre company and our region's largest performing arts employer, we spread the joy of great musicals with people of all ages across our region and state. Each year, we reach more than 75,000 young people through our nationally acclaimed education programs. Programs designed to develop new musicals ensure that the next generation of great musicals will be there to tell the stories that captivate tomorrow's audiences. On the national stage, we are a leading voice for the power of this American art form to lift the human spirit.
Tags: Bill Berry, David Armstrong, New Musicals, Seattle Musical Theater, The 5th Avenue Theatre