World AIDS Day 2017 isn't that far away…it's Friday, December 1, 2017 and Seattle has at least two events honoring those with HIV/AIDS, those we've lost and the researchers who continue to seek out new treatments and cures.
The big event is the The 14th Annual Stronger Together World AIDS Day Breakfast a fundraiser/community gathering that raises funds AND awareness for HIV/AIDS. Organized by Seattle Counseling Service, Gay City: Seattle's LGBTQ Center, and CareTeams of Samaritan Center of Puget Sound – the event is co-hosted by Lifelong, Seattle Area Support Groups, POCAAN, and Entre Hermanos with proceeds going to support these agencies.
This event is a breakfast so it's VERY early running from 7:30am to 9am and it IS a fundraiser despite the breakfast being free. Register HERE to attend and bring your checkbook/credit card!
Here's more info on the event plus bios on Keynote Speaker Dr. Marjorie J. Hill and this year's honorees, community HIV/AIDS activists/advocates Kevin Patz and Kenny Joe McMullen .
It was not so long ago that the average lifespan of someone diagnosed with HIV was about 10 years; today – with access to uninterrupted healthcare, an HIV+ person can expect to have a close to normal lifespan. King County's progress in responding to HIV has been remarkable. But we're not done – The 14th Annual Stronger Together World AIDS Day Breakfast on December 1st is both a celebration of achievements and a rallying cry to end AIDS in Washington by 2020.

This Breakfast is being organized by three prominent King County organizations – Seattle Counseling Service, Gay City: Seattle's LGBTQ Center, and CareTeams of Samaritan Center of Puget Sound – and is co-hosted by Lifelong, Seattle Area Support Groups, POCAAN, and Entre Hermanos. Proceeds from this benefit go to supporting these agencies. Working together, we provide crucial HIV prevention, education, support and care in the Seattle area.

We are celebrating the success we have made in promoting HIV/AIDS diagnostic awareness, linking people to treatment, and suppressing transmission. We are the first metropolitan area in the country to reach what is known as the 90-90-90 goal: 90 percent of residents infected with HIV know their infection status; 90 percent are on HIV antiretroviral treatment; and 90 percent are virally suppressed. It has been hard work – whose progress has only been possible by activists and allies like you.

We are truly Stronger Together! This breakfast is an opportunity for you to make the strongest impact you can by supporting the network of AIDS service providers in Seattle. While there is no cost to attend, we are asking for donations at the event and hope to exceed last year's receipts of totaling nearly $120,000. Donations support the work of the agencies to provide those living with HIV/AIDS care, support and most importantly – hope.

While the breakfast is complementary and it is free to register – the breakfast is a fundraiser, and we invite and challenge each guest to make a gift or pledge of $150 which can be made during the time of the event.

There is a 2-step process to register for this event: After clicking onto the "Get Tickets" link, you will be invited to select one of our hosting agencies to join for breakfast; or choose an "All Agency" seating. Each hosting agency has an assigned Table Captain or breakfast host. After selecting a table to be seated at you will be directed on the next page to select a Table Captain. Don't worry if you don't already have a Table Captain's name; a Table Captain host will greet you at the event.

---

Dr. Marjorie J. Hill is the Chief Executive Officer of the Joseph Addabbo Health Center providing primary care and specialty services to poor and medically underserved communities. With over twenty years of executive leadership in the non-profit sector, Dr. Hill is a proven leader in the field of HIV/AIDS. She was the longest tenured CEO at GMHC, the oldest AIDS provider in the world. A licensed clinical psychologist and a former New York City Health and Hospitals Corporation administrator, Dr. Hill has extensive experience in organizational leadership and hospital management. Dr. Hill currently serves as Governor's designated Chair of the New York State (NYS) AIDS Advisory Council.

Dr. Hill has held a myriad of leadership positions including Vice Chair of the NYS) Workers' Compensation Board and Director of the NYC Mayor's Office for the Lesbian & Gay Community, and Assistant Commissioner for HIV/AIDS. She has extensive board and advocacy expertise, including the National Gay & Lesbian Task Force, the North Star Fund, the New York Civil Liberties Union, and Mothers2mothers. She is particularly proud of her tenure as first openly LGBT President of the Association of Black Psychologists and her contributions to Unity Fellowship Church Movement.

Kevin Patz's many years of experience as an advocate and activist has earned him the respect of the HIV/AIDS community across King County. He has been on the HIV Planning Council for over 8 years and has served as council co-chair twice during that time, a role he first had with them in the early 2000's. He has been a volunteer on a CareTeam since 2007 (formerly a program of Multifaith Works), and has volunteered for Statewide Health Insurance Benefit Advisors (SHIBA) since 2011. After spending the early part of his career supporting the re-settlement of Southeast Asian refugees into the U.S., Mr. Patz earned his MSW from the University of Washington and worked as an early HIV test counselor at Seattle Counseling Services and at the Seattle Gay Clinic. Mr. Patz tested positive in 1987. He has volunteered at the Seattle Aids Support Group (now Seattle Area Support Groups and Community Center), at the Northwest AIDS Foundation from the mid 1990's until 2007, and at Bailey Boushay. During the late 1980's, he worked as an ER Social Worker for Group Health, and at the time struggled with addiction issues. He has been sober since 2009 having participated in the SHIFT Program: A Peer Recovery Network at Multifaith Works.

Kenny Joe McMullen is a Birmingham, Alabama native and longtime advocate and activist of Seattle's African American community. He actively volunteers his talents for many faith, cultural and health organizations such as Central District Forum for Arts and Culture, Langston Hughes film festival, POCAAN, Mount Zion Baptist Church and NW Kidney Center's. Kenny Joe is a founding member of Brother to Brother, a group that gave cultural competent support to African American same gender loving men during the height of the AIDS epidemic.

Kenny Joe has worked in the field of HIV/AIDS prevention for over twenty five years. During this time he has been the coordinator and facilitator of POCAAN's CDC funded msm (men who have sex with men) program "For Every Man" and Neighborhood House Project HANDLE CDC prevention program Voices/Voces. Kenny Joe is presently the Supervisor for the Minority AIDS Initiative grant at Project HANDLE@Navos a program of Neighborhood House. Kenny Joe has a passion for floral arranging and making scrumptious concoctions.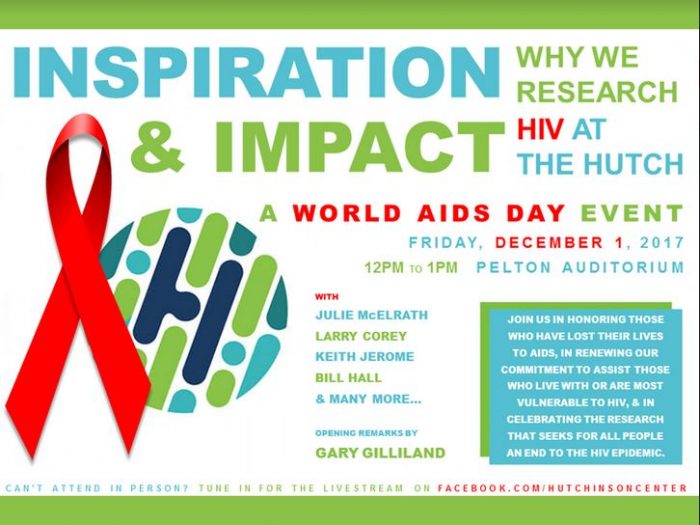 If 7:30am is a tad early for you (that's when I go to bed…) then the "WHY WE RESEARCH?" event at Fred Hutch, a leading research facility for HIV/AIDS might be the ticket for you. It's happening from Noon to 1pm where Dr. Gary Gilliland, the president and director of Fred Hutch, will speak with other researchers. More info:
Please join us on Friday, December 1st from 12PM to 1PM as we honor those who have lost their lives to AIDS, renew our commitment to assist those who live with or are most vulnerable to HIV, and celebrate the research that seeks for all people an end to the HIV epidemic.

Our event is a campus-wide effort to observe World AIDS Day 2017, featuring opening remarks by Dr. Gary Gilliland, president and director of Fred Hutch.

An event to observe World AIDS Day 2017, featuring opening remarks by Gary Gilliland, followed by a panel of Fred Hutch scientists and community members, who will speak to why they work in HIV and why they do this at the Hutch, and then answer questions from the audience.

Can't attend in person? Tune in to the Livestream on Facebook.com/HutchinsonCenter.

In conjunction with this event and in honor of World AIDS Day, the lights on Fred Hutch campus will be changed to red on the evening of Nov 30th through Dec 2.
(Visited 4 times, 1 visits today)