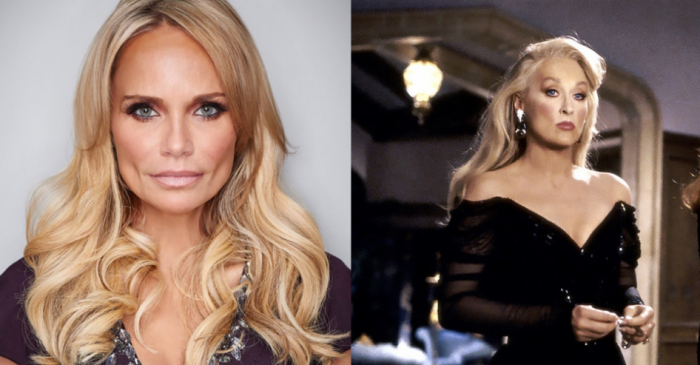 If you love the 1992 dark comedy DEATH BECOMES HER starring Meryl Streep, Goldie Hawn and Bruce Willis then we have all sorts of news for ya…
FIRST of all, it was just announced today that Broadway producers are working on a MUSICAL theater version of the film to star the very 'popular' musical theater actress Kristin Chenoweth.
Kristin Chenoweth has been tapped to take on one of Meryl Streep's most iconic comedic roles (aptly, a Broadway star) for the stage. The Tony and Emmy winner is attached to play Madeline in a musical adaptation of Death Becomes Her from Universal Theatrical Group.

A spokesperson for Universal Theatrical Group confirmed there is no creative team—including a composer, book writer, or director—attached to the project at this time.

The 1992 comedy, written by David Koepp and Martin Donovan, depicts the rivalry of Broadway star Madeline and writer Helen (played on screen by Goldie Hawn). What begins as a feud over a man (while backstage at an absurd musical adaptation of Sweet Bird of Youth titled Songbird!) turns into a nightmare filled with tumbles down stairs, a youth-preserving potion, and gaping stomachs.
Yeah…other than Ms Chenoweth, no other talent is attached yet so it probably won't be 2018 for a musical debut…at best, if a thousand things go right, you MIGHT see a stage musical in 2019. At best. But since Seattle is one of the major hubs for musical theater production, it's not unlikely that we could be an early home for the embryonic show.
Perhaps.
In much more likely news, Qurb Magazine, the Pacific NW producing partners for Peaches Christ Productions delicious drag parody shows let us in on the poo last night while attending "Sheetlejuice" at the Egyptian, that DRAG BECOMES HER will be the NEXT new Peaches Christ extravaganza to debut on stages along the West Coast next year. Even better, our own Jinkx Monsoon is attached to star and help create the parody of a movie that is near and dear to her own heart…after all, Jinkxie's love for the original film led to the creation of her short film series of "Drag Becomes Him" which in turn led to the documentary film of the same name detailing her rise to the top of the drag fame ladder. (Which you can STILL totally see/own by going HERE and I suppose it BEHOOVES me to state that widdle ole me is one of the producers of this little film so…you've been warned?)
The Peaches Christ parody, DRAG BECOMES HER  is scheduled for March 2018 and it's expected to play San Francisco, Seattle, and Portland. Stay tuned for more info soon, including exact tour dates/tickets on SGS and at Qurb.
Oh. And, BenDeLaCreme is attached to co-star with Major Scales playing the Bruce Willis role!
(Visited 7 times, 1 visits today)