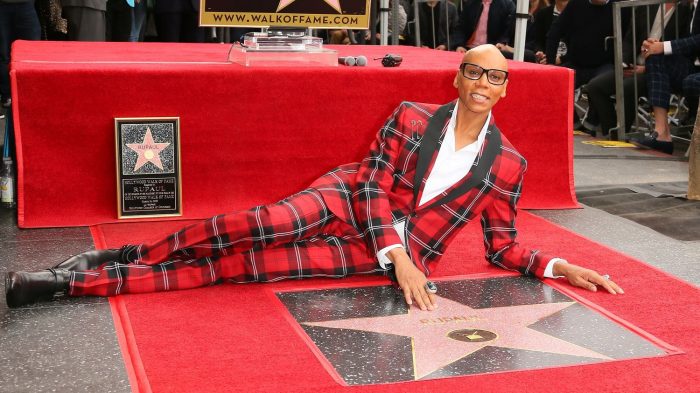 So much drag news to share!
The big one is the fact RuPaul got their star on the Hollywood Walk of Fame today in a splashy ceremony with huge crowds and Jane Fonda (???) presenting Ru with her 'star'.
Why Jane Fonda?
Does not compute.
Anywho, congrats to Mama Ru!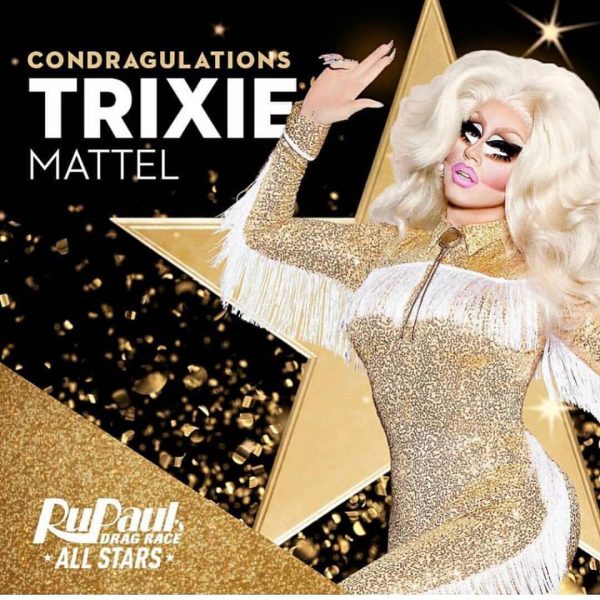 Also: one of RuPaul's cash cows, wrapped up its run last night in a controversial finale. "RuPaul's Drag Race: All-Stars 3, Electric Boogaloo" crowned its winner and many people are annoyed about it as TRIXIE MATTEL took the title as the third "All Star Queen" despite the fact the popular Wisconsin performer didn't particularly perform well over the course of the competition. The final two contestants, chosen by the other contestants already eliminated were both weak performers during the run of the show with the only remaining contestant who DID perform strongly, Shangela, not moving forward to the end.
The ending left Trixie's many fans ecstatic while others took to social media to complain that this wasn't a well produced season of the show from RuPaul, production company World of Wonder, or VH1 the cable network that now airs the series. Most were unhappy that the strongest competitors didn't actually get to compete for the final shot at the title.
And, obviously many Seattle fans of our own local star, BenDeLaCreme, who was not very arguably the best competitor during the run of the show, were unhappy that some magic RuPaul influenced miracle didn't occur to secure a win for their favorite. But, since DeLa removed herself from the competition two episodes back, that hardly seemed likely…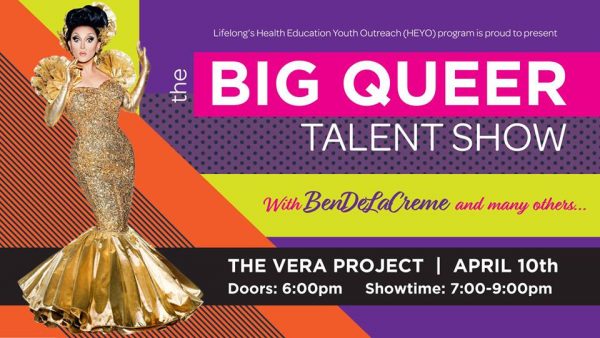 Meanwhile, Ms DeLa will make a very special appearance next month at an all ages show at Seattle's "The Vera Project" at Seattle Center created by Lifelong's Health Education Youth Outreach program. THE BIG QUEER TALENT SHOW is happening Tuesday, April 10th from 6pm to 9pm at The Vera Project.
More info below but I want to stress that while this is a free, open to the public event, it's REALLY meant for younger people. If' you're 28 or 35 or 44 or 102 and have a job and money, you can afford to go buy a ticket to see those folks in the bars they usually perform in and where people under the age of 21 can't go.
Let the Children have this moment!!!
AMEN!
The skinny:
Drag queens, comedians, singers, and BenDeLaCreme—oh my! Lifelong's Health Education Youth Outreach (HEYO) program is proud to present "The Big Queer Talent Show." This showcase of local Seattle talent—including RuPaul's Drag Race star BenDeLaCreme—will produce an evening of stunning performances and heartfelt conversations, as we center performers reflecting on their adolescence and growing up as queer men. Kicking off Lifelong's Health Education Youth Outreach programming and honoring Youth HIV Awareness Day, the event sheds light on the joys and struggles of queer adolescence, and what we, as a community, can do to address the needs of young queer people. Admission is free to the public. The first 50 young people (24 and younger) to attend receive a meet and greet experience with BenDeLaCreme. Light snacks will be provided. This is an all ages and alcohol free event.
Performing artists:
BenDeLaCreme (from RuPaul's Drag Race)
Arson Nicki
Betty Wetter
Woody Shticks
Kylie Mooncakes
Bobby Higley

Admission: FREE

Doors open:
6:00pm
Showtime:
7:00-9:00pm
(Visited 1 times, 1 visits today)