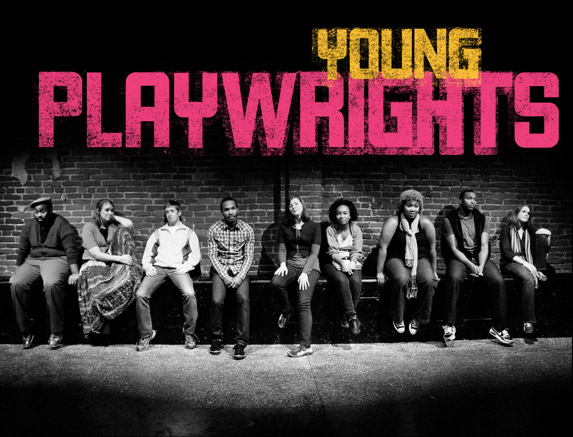 "The youth right now are the truth right now." That saying, lifted from Youth Speaks Seattle events and oft-host Nikkita Oliver, sounded pat and less than accurate when I first heard it. It didn't take long for its truth to emerge. The more I heard the voices of youth onstage, and watched them interact with one another and their artistic mentors, it was hard to overlook the fact that their openness, wisdom, and even artistic quality, frequently surpassed those of adult artists. The saying was on to something.

The youth right now are undeniably spitting more truth than the adults right now, evident whether one looks to the nationwide walkouts held in protest of gun violence (and adult legislators' ongoing inaction on it), to youth protests on local issues such as budget allocations for more jail cells and police stations, or simply to local stages to witness the openness with which youth performers confront issues many adults find challenging to sort through — publicly tackling queer identity, gender, social justice, race, mental health, economic inequalities, gentrification, friendship and community, and more.

Though most of us don't have a shot at being teenagers again (even if we wanted to), we can all come out for youth artistry on stage this season, with many events to pick from. Below are some upcoming youth-oriented theatre options, plus some visual art and spoken word, that are standouts this season. 
This Weekend Only

Through Saturday: ACT presents its eight top picks from the annual Young Playwrights Program to present this weekend (Thursday-Saturday, 3/29-3/31), staged by top local directors and casts.  The Festival, held in ACT's Bullitt Cabaret, features eight short plays in two showcases on alternating days.  This year's festival includes a piece with a non-binary lead character, plus other plays grappling with gender identity, family history, grief, cultural identity, domestic violence, and bullying.  The depth of issues coupled with the talent bringing the pieces to life — directors include Claudine Mboligikpelani Nako, Kathy Hsieh, Eddie DeHais and others, and an exceptional cast of local actors — make this year's showcase a must-see.  More information here:
http://www.acttheatre.org/Tickets/OnStage/2018YPF.  (Note that showcases alternate — so to see them both you can either go Thursday and Friday nights or, better, make a day of it and see both on Saturday afternoon.)  

Also through Saturday: This is the second and closing weekend of Sincerely Yours, an innovative musical out at Village Theatre's First Stage in Issaquah (down the street from their main theatre). Seven teenage playwrights, all of them female, worked with support from a writing mentor (Tony Curry), composing mentor (Adam Quillian), and dramaturg (Sonja Lowe) to create a story of historical fiction set after World War II. The show is in musical form and features 14 characters, also all female. The pieces are designed to explore women's experiences immediately after the war, including newfound voids of career (as men returned and took on their old jobs, at the expense of women who had worked in their places) and, often, voids in family (for women whose husbands and other family members never returned from war).  Show nights are tonight and Friday, and two shows on Saturday. Ticket info here:
https://villagetheatre.org/issaquah/kidstage-sincerely-yours.php.


Next Week and Later This Spring  

On April 7th, the Northwest African American Museum (NAAM) hosts a celebration of youth curators in this year's exhibit, "My Take: No Place Like Here," featuring work from youth photographers exploring the Central District.  The series trains youth in museum curation, and this year's exhibit is in partnership with Youth in Focus (youth photography) and MOHAI. The celebration is free and begins at noon, with refreshments served.  Details on the Facebook event page, here:
https://www.facebook.com/events/205177160087068/.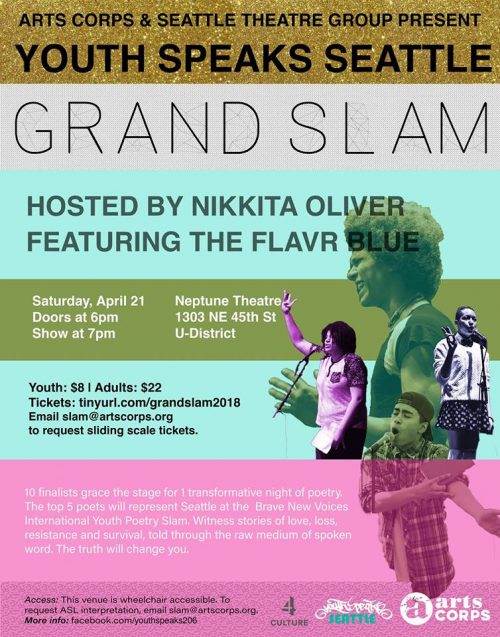 On April 21st, Youth Speaks (always said with an echo — "youth speaks!") holds its big annual showcase, the Grand Slam, where all the local semi-finalists compete for the right to represent Seattle at the national slam.  The Grand Slam usually packs Town Hall, but will be held at the Neptune Theater this year while Town Hall's First Hill building is renovated. If you think the youth slam is just kids horsing around or having emo poetry hour, you're in for a surprise treat.  These youth bring it, and many of these Grand Slammers could hold their own in a slam battle against the likes of luminaries Nikkita Oliver and Ebo Barton — and, hint hint to the organizers, we'd love to see that show too, please and thank you.  See the Facebook page for more details and ticket link: 
https://www.facebook.com/events/155970965120745/.  (Hint: buy ahead at the Paramount to avoid Ticketmaster fees, but it usually sells out so don't wait for the door.)

Late this spring, catch the performances from Intiman Theatre's high school technical/creative training program, which expanded this year to include two schools (Franklin and Rainier Beach).  The program aims to advance equitable representation in all areas of theatre, not strictly in the on-stage roles to which theatres often limit their focus.  Students learn under theatre masters to develop skills in everything from sound and lighting design to set building to ticketing. The programs culminate in shows held in the high school theatres, and which are open to the public.  Find coverage of last year's program here:
http://www.cityartsmagazine.com/technical-theatre-training-begins-franklin-high-school/.


Youngstown Center Programming
The Youngstown Cultural Arts Center is an artistic community center of sorts, located on Delridge in West Seattle.  The center hosts Arts Corps (and its annual summer Arts Liberation & Leadership Institute), Totem Star (youth recording), and Reel Grrls (youth filmmaking), among others.  Last weekend, the Intersections Festival took over Youngstown for four days, hosting seven showcases (plus two workshops and a podcast recording) on gender and gender identity, sexuality, race, and more. (See a review of the Festival's first night and more about Youngstown HERE!) 
The Intersection Festival's final showcase featured all youth performers: all-female improv troupe (She)ila, comedy duo Duover, and Theatre of Possibilities ("TOP"), a theatre troupe for people with autism and their ally peers. Duover had great comedic timing, and its members also participated in the Young Playwrights Program. TOP gave a both hilarious and thought-provoking performance on the pressures placed on autism-spectrum people to conform, which in turn prompted questions on why society values small-talk and politeness above genuine connections.  
That festival may be over, but Youngstown is a good bet for youth showcases and events year-round, or to get involved as a youth artist or mentor.  Facebook is the best way to track the Center's upcoming events or keep up with its tenant organizations, which are listed here.
In conclusion … The youth right now are bringing much truth to justice, identity, and politics on the streets; how stirring it is to watch them bring that same passion through arts on stage. Seattle provides many opportunities to do so, and adults (and youth too) shouldn't snooze on that chance.
Tags: ACT, Northwest African American Museum, Sincerely Yours, The Youngstown Cultural Arts Center, Village Theatre's First Stage, Young Playwrights Program, Youth Oriented Theater Seattle, Youth Speaks