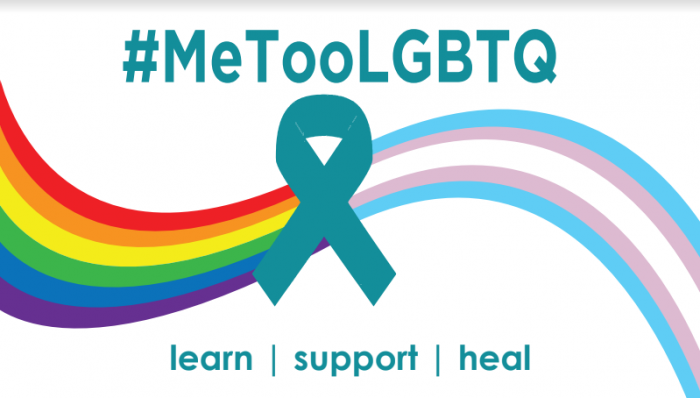 This is how you create important community events that reach out to members of the LGBTQ public and deal with important issues. LGBTQ community Pride is more than parades, festivals, corporate funding and blandly produced events.
San Diego's LGBT Community Center (something Seattle can't apparently ever successfully do despite being one of the largest and richest LGBTQ communities in the world…) is teaming up with San Diego LGBT Pride (oooooh! A SOLO community Pride non-profit that actually does important things year round that don't involve begging for money!) for a one day conference to help improve aid to LGBTQ victims of sexual violence. #MeTooLGBTQ  explores the facts that 40% of gay men and 44% of lesbians and 47% of transgender people have experienced sexual violence that has NOT involved rape and many of these people do not get the help they need to deal with the effects of any kind of sexual assault.
More info on the San Diego event scheduled for April 28th (pass the word to friends/family in the San Diego area) and here's hope that Seattle can one day address such issues in a similar manner.
Note: It's also pretty cool that San Diego Pride actually puts out real press releases! Something pretty much EVERY Seattle LGBTQ non-profit is apparently incapable of doing! Because, you know, it's sooooooooo hard to do!!!!! And, why bother? People will just learn about their projects and events through the power of OSMOSIS!!!! Or, maybe magic!!!! Or, the huge reach of their social media!!!
(Insert sarcasm emoticon HERE!!!!)
#MeToo LGBTQ CONFERENCE IN SAN DIEGO FOR VICTIMS OF SEXUAL VIOLENCE 

SAN DIEGO, California (

March 29, 2018

) – Several local LGBTQ-serving organizations will be hosting a conference to increase culturally competent services in San Diego County for victims and survivors of sexual violence who identify as LGBTQ.

The one-day conference entitled #MeTooLGBTQ will be held at The San Diego LGBT Community Center, located at 3909 Centre St., San Diego, CA 92103, on 

Saturday, April 28, 2018 from 9am to 5:30pm.

 

"While the topic of sexual assault has recently been getting more media attention, what still needs to be addressed is the historic lack of LGBTQ compotent services and care for survivors," said Fernando Lopez, Executive Director of San Diego Pride. "As a survivor myself, it's been rewarding to work with diverse and dedicated professionals from The San Diego LGBT Community Center, Center for Community Solutions, California Association of Marriage and Family Therapists – San Diego Chapter, North County Lifeline, and 211 San Diego to better meet the needs of survivors in our community. It is this sort of strength in unity that our community needs more of."

Nationwide, approximately 4 out of 10 gay men (40.2%) and half of bisexual men (47.4%) have experienced sexual violence besides rape at some point in their lives, compared to 1 in 5 heterosexual men (20.8%). A large majority, 61%, of bisexual women and 44% of lesbians have experienced rape, physical violence, or stalking by an intimate partner, compared to 35% of heterosexual women. And 47% of our transgender siblings experience sexual assault in their lifetime.

"Bisexual, queer, transgender, and gender non-conforming people experience higher rates of sexual assault yet seek services less often than straight, cisgender women. Center for Community Solutions recognizes the concerns that so many LGBTQIA+ survivors have about coming forward: "Will I be believed, understood, and respected?" CCS approaches our work with survivors of sexual assault and intimate partner violence with cultural humility. Our hope is that providers in San Diego County will join us in learning about and providing appropriate services to LGBTQIA+ survivors," said Verna Griffin-Tabor, Chief Executive Officer of Center for Community Solutions.

Registration is now open to victims/survivors of sexual violence, to interested community members, as well as to mental health professionals and service providers who are looking to create change. Five continuing education units are included with paid registration for mental health and clinical providers. Two workshop tracks will allow attendees to participate in interactive trainings, receive valuable resources, and hear from a panel of LGBTQ survivors of sexual violence.

"As an organization providing hundreds of hours of individual, couples, family, and group therapy to members of the LGBTQ community each month, we regularly hear about the challenges people face accessing resources and care after experiencing a sexual assault," said Director of Behavioral Health Services Heather Marino-Kibbee. "Stigma, shame, and the fear that providers will be neither LGBTQ-competent nor affirming, often deters people from accessing care when they need it most. The Center is excited to join with CCS, Pride, service providers, and community members for a day of learning, coalition building, and dialogue about responding to sexual assault in our LGBTQ community."

Partnering Organizations include San Diego Pride, The San Diego LGBT Community Center, Center for Community Solutions, California Association of Marriage and Family Therapists – San Diego Chapter, North County Lifeline, and 211 San Diego.

###

Founded in 1974, 

San Diego LGBT Pride

 is a 501(c)3 nonprofit organization whose mission is as follows: Fostering pride, equality, and respect for all lesbian, gay, bisexual, and transgender communities locally, nationally, and globally. 

www.sdpride.org

Center for Community Solutions (CCS)

 is a 501(c) 3 nonprofit corporation that provides prevention and intervention services for sexual assault and intimate partner violence survivors of all genders, sexual orientations, and relationship styles. Our services are free, confidential, multilingual and include a 24/7 hotline, crisis intervention, advocacy, counseling, legal assistance, emergency shelter help, and community education and outreach. We assist more than 21,000 San Diegans each year and operate the only Rape Crisis Center in San Diego. For more information, visit 

www.ccssd.org

The 

San Diego LGBT Community Center

 is the nation's second oldest and one of the largest LGBT community centers. In its 45th year, The Center provides life-saving and life-changing programs and services to San Diego's LGBTQ community. Last year, The Center provided over 73,000 direct service visits to San Diego community members, and through its events, activities and advocacy, touched the lives of thousands more. For more information, visit 

www.thecentersd.org
Tags: #MeTooLGBTQ, San Diego LGBT Community Center, San Diego Pride, Sexual Assault, Sexual Violence LGBTQ