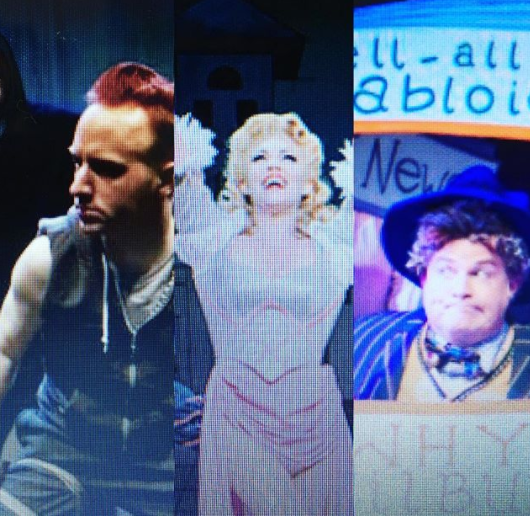 Again. I'm behind. Soooooo, we're gonna play the ole "Ketchup" (or, "catsup" if you so prefer…) Game and (hopefully) quickly review three recently opening Seattle theater productions.
Good News:  I liked all of 'em!!!
Review: Year of the Rooster by Olivia DuFault. Produced by MAP Theatre. Directed by Peggy Gannon. Fight Choreography by Stacey Bush. Scenic/Projections Design by Suzi Tucker. Costume Design by Julia Evanovich. Lighting Design by Levi Plumb. Sound Design by Joseph Swartz. Props Design by Jessamyn Bateman-Iino. With Shane Regan, Lantz Wagner, Brandon Ryan, Mia Morris, Zenaida Smith. Playing April 13th through May 5, 2018 at 18th and Union/Capitol Hill.
MAP Theatre's recent quirky and endearing production is a RAAAAAAL quirky and mostly endearing play called YEAR OF THE ROOSTER and surprisingly it's about just that…roosters.
Well, actually it's about the rather unpleasant sport of cockfighting where roosters are bred to be big, mean and angry as well as prone to ripping the eyeballs out of everyone who gets in their way, mostly other psychotic roosters but occasionally any sentient being who might annoy them like a hypocritical religious figure, a telemarketer who calls at dinner time or anyone with the last name of Trump.
"Rooster" is a fun, juicy Southern Gothic kind of tale set in Oklahoma and populated by brash, trash talking Okies of the blue collar persuasion. Being from the Midwest, I can attest that such beings do exist though for theatricality they are a tad bit exaggerated here. It's kinda like the funny old cartoon show King of the Hill…it's all based in reality but with a heightened sense of realism.
A tad over the top.
Our hero is a schmo-ish loser named Gil Pepper who is a gawky nerd living at home with his Big Mama and working a terrible job at Mickey D's and unable to get very far with the co-worker he has a crush on. The only thing that makes Gil happy is cockfighting and he's especially excited he is now in possession of a champion young rooster named Odysseus Rex who seems poised to win a lot of fights, win Gil big bucks in prize money and lift himself out of his depressed state of being.
Despite a fierce rivalry with another more successful cockfighter named Dickie Thimble (this play has GREAT character names!), Gil's life does turn around as Odysseus has success as a champion fighter but tensions with both his Mama and his Rival lead Gil down a path of….problems.
Yeah, this plot sounds a bit crazy (trashy Okies in trailers/cock fighting/southern stereotypes) but it's also hellaciously fun! Olivia Dufault's script is very, very funny and the dialogue and characterizations are spot on. The first act is better structured than the second (it gets a bit choppy and contrived in Act II) but all in all, it's a smartly funny play that's well staged by MAP co-founder Peggy Gannon.
The dialogue and characters are well done but the ensemble of five actors are really what seal the deal for Year of the Rooster. Brandon Ryan, who has the corner on sweetly befuddled depressed schlub roles in Seattle is, as usual, just terrific as Gil, alternately self-deprecating then brash then wistfully hopeful that his life can approve.
The other four actors are sublimely good and just reveling in their larger than life characters. Mia Morris is great as the whiny mother (and her work with a dog puppet is delicious) and Zenaida Smith is great as the fierce co-worker/manager who also a yen for Gil but has her own plate of anger issues to deal with, and Lantz Wagner is insanely great as the mouthier than thou rival/bully/blowhard Dickie Thimble and then there's the greatness of Shane Regan as…the freakin' ROOSTER and while I normally shudder when actors play animals, Regan does a superb job of channeling his inner psycho rooster and it's one of the great human/rooster performances of the ages.
Yeah, cockfighting IS gross but Olivia DuFault's fiendishly over the top script and this terrifically directed/acted production make Year of the Rooster a BIG must see.
Review: Kiss Me, Kate Music & Lyrics by Cole Porter. Book by Bella and Samuel Spewack (based on Shakespeare's "Taming of the Shrew"). Produced by The 5th Avenue Theatre and with elements from the production by Shakespeare Theatre Company (Washington D.C.) Directed by Alan Paul. Music Direction by Joel Fram. Choreography by Michele Lynch. Scenic Design by James Noone. Costume Design by Alejo Vietti. Lighting Design by Paul Miller. Sound Design by Justin Stasiw. With Ben Davis, Cayman Ilika, Clyde Alves, Robyn Hurder, Allen Fitzpatrick, Allen Galli, Sarah Russell, Jeff Steitzer, Ty Willis, Richard Ziman, Con O'Shea-Creal, Richard Peacock. April 6th through April 29, 2018 at The 5th Avenue Theatre.
As for the 5th Avenue's current production of Cole Porter's other beloved musical full of hits that is not Anything Goes, aka KISS ME, KATE it's also a big must see mostly do to the 5th Avenue's gorgeous production (which is in partnership with Shakespeare Theatre Company of Washington D.C. who originally produced this version and are responsible for the the superb designs, staging by Alan Paul and three two of the 4 leading actors). It's a glossy, richly hued old fashioned night of musical theater with more emphasis on gorgeous design, gorgeous songs and elaborate production numbers that feature some terrific choreography and dancing than on coherence of plot.
Because, you really don't go to Kiss Me, Kate for the plot (which has its charms as it's a musical about the opening night of a musical about Shakespeare's Taming of the Shrew). You go to see deliciously danced/sung stagings of Cole Porter classics like:
Another Op'nin', Another Show
So in Love
Tom Dick or Harry
I Hate Men
Too Darn Hot
Brush Up Your Shakespeare
and, the title song, Kiss Me, Kate
And, since this great cast/production team have the talents to pull it off, it's quite glorious thanks to the charms of the three two actors from the original D.C. production (Clyde Alves as Bill/Lucentio; Robyn Hurder as Lois/Bianca) plus the wonderful Ben Davis as the conniving male lead, Fred Graham/Petruchio) but also the input of Seattle's own fantastic Cayman Ilika, in the female lead as Lilli/Katherine 'the Shrew' with terrific comedic support from veteran actors Richard Ziman, Allen Galli and Allen Fitzpatrick. NOT to mention the astonishing choreography from Michele Lynch; the dance numbers ARE the chief highlight with "Tom Dick or Harry" really sizzling with Robyn Hurder and her trio of suitors (Clyde Alves, Con O'Shea-Creal and Richard Peacock) being a major thrill not to mention the two big act opening numbers ("Another Op'nin', Another Show" and "Too Darn Hot" with the Company) both burning down the 5th Avenue.
It's a musical theater treat of a show that's not very frequently revived due to the size of the cast, the design demands and the need to have performers who are triple threats as actors/singers/dancers.
Seize this opportunity to see Kiss Me, Kate at the 5th Avenue.
Review: Naked Mole Rats Gets Dressed: The Rock Experience. Based on the book by Mo Willems. Script and Lyrics by Mo Willems. Music by Deborah Wicks La Puma. Produced by Seattle Children's Theatre. Directed by Linda Hartzell. Music Direction by Tim Symons. Choreography by Marianne Roberts. Tap Solo Choreography by Greg McCormick Allen. Scenic Design by Jeffrey Cook. Costume Design by Cathy Hunt. Lighting Design by Andrew D. Smith. Sound Design by Chris R. Walker. With Richard Gray, Greg McCormick Allen, Lisa Estridge, Duncan Frost, Kate Jaeger, Vickielee Wohlbach. March 22 through May 13, 2018 at Seattle Children's Theatre/Seattle Center.
FINALLY, I saw a very cute family show at Seattle Children's Theatre a couple weeks ago…it's their charming adaptation of the popular children's book NAKED MOLE RAT GETS DRESSED (subtitled: The Rock Experience) and it's about exactly that…a naked mole rat decides he wants to break out of the mold of being like every other naked mole rat and….wear some natty clothes!
Yes, it's family geared to the under 10 crowd but at less than an hour, its charms don't wear thin for the over 10 crowd largely due to the cleverness of its construction and the charm of the characters and actors playing them. It's quite obviously a "lesson" about respecting differences and embracing them (uh, spoiler: eventually the other naked mole rats embrace their clothes loving friend, Wilbur J. Mole Rat, Junior) and all's well than ends well!
It's aided by clever designs (especially Jeffrey Cook's scenic work and Cathy Hunt's "naked" costumes) and cute songs by the original book author, Mo Willems (lyrics) with music by Deborah Wicks La Puma. There's also a very professional cast of Seattle actors in all these roles with Richard Gray adorable as Wilbur and Greg McCormick Allen, Lisa Estridge, Duncan Frost, Kate Jaeger and Vickielee Wohlbach in fine support.
I thoroughly enjoyed the hour I spent with these naked mole rats; I'm guessing your 8 year old kid/cousin/niece/nephew/inner child will too.
(Visited 1 times, 1 visits today)