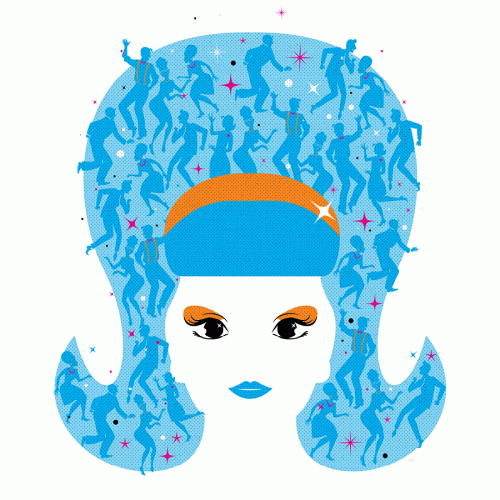 We very much approve of the just announced casting for Village Theatre's next big production of HAIRSPRAY, the Broadway hit musical based on the very queer film by John Waters. Opening May 10th and running through July 1st at Village's mainstage in Issaquah before heading to Everett for a July 6-29 run, the popular with gay audiences hit will play through Pride Season in the greater Seattle area.
Starring as Edna Turnblad, the hefty and loving mom of main character Tracy Turnblad and the role originated by drag icon Divine in the original 80s film, will be popular Seattle musical comic actor Nick DeSantis in a role that is traditionally cast with a man playing a female role in drag. Joining DeSantis as Edna's joke shop owning husband Wilbur, will be another popular veteran actor, Peter Cook. 
This production will also be the final one to be directed by Steve Tomkins as Village Theatre's longtime artistic director who steps down as Village head in June. Seattle area actor/director/educator Timothy McCuen Piggee will co-direct this production. Piggee has some experience with drag themed stage works; he's starred as a drag diva in two major Seattle productions including his much beloved turn in ACT's "The Legend of Georgia McBride" in May/June of 2017.
Full list of cast/crew and more info on this eagerly awaited production below. And, you can snag tickets HERE!
You Can't Stop the Beat as Hairspray Swings Onto the Village Theatre Stage

 

The smash hit musical will be the last show directed by Steve Tomkins in his tenure as Village Theatre Artistic Director.

 

                             Issaquah Run: May 10 – July 1, 2018

                             Everett Run: July 6 – 29, 2018

 

ISSAQUAH, WASH. –Village Theatre is closing out their season with an all-new stage production of the Broadway hit musical, Hairspray. Tracy Turnblad is a big girl with big hair and an even bigger dream: to dance her way onto national TV, dethrone the reigning teen queen, win the affections of the local heartthrob, and integrate a TV network… all without denting her 'do! The Tony and Drama Desk Award-winning Best Musical teach us to look past skin color and size in the fight for equal rights. "What excites me about this show," says co-director Timothy McCuen Piggee, "is that we get to tell stories that humanize in a world that constantly works to dehumanize. This play is really clever because it offers the opportunity to examine issues like racism, sizeism, homophobia, and bias. This show is thoughtful and courageous and I'm excited to bring it to life with such a strong team of individuals."

Hairspray will be the last show for co-director Steve Tomkins as Village Theatre's artistic director. "I've been ready and excited for this day for a long time. Hairspray is one of the funniest and most delightful musicals ever. As we've been working, we've discovered all the depth and layers involved in this show. It takes place in the 1960s, but the message is relevant and perfect for today." After 25 years of dedicated leadership, Tomkins announced his plans to retire last October. With the Opening of Hairspray, Tomkins has directed 64 Mainstage productions, many of which he also choreographed, and helped to propel Village Theatre forward by ensuring that programming is accessible and appealing to audiences from all walks of life. Together with Executive Producer Robb Hunt, Tomkins has helped cultivate the organization into the largest fully producing theatre in the Pacific Northwest, with five buildings in two cities, 20,000 Season Ticket holders, and an annual operating budget of $13.2 million.

Making her Village Theatre debut as Tracy Turnblad is Callie Williams. Joining her are Nick DeSantis (Les Misérables) as Edna Turnblad, Jason Kappus (National Tour of Jersey Boys and Legally Blonde) as Corny Collins, Shaunyce Omar (My Heart is the Drum, Chicago) as Motormouth Maybelle, Beth DeVries (Les Misérables) and Tori Grasham as mother and daughter duo Velma and Amber Von Tussle, Ethan Carpenter (Disney's Newsies) as teen heartthrob Link Larkin, Becca Orts (Mary Poppins, Funny Girl) as Penny Pingleton, Charles Simmons(Dreamgirls) as Seaweed J. Stubbs, Belle Pugh and Jayden Terry-Olson as Little Inez, Peter Cook (Cabaret) as goofy dad Wilbur Turnblad, John X Deveney as Mr. Pinky, and Christine Riippi as Prudy Pingleton. Rounding out the ensemble is Tate Busby, William Dean, Alexandria Henderson, Carly Squires Hutchison, Jordan Jackson, Stephanie Anne Johnson, Elena Joyner, Claire Marx, John David Scott, Jimmy Shields, Jasmine Jean Sim, Chandler T., and Imani Woodley.

Joining co-directors Steve Tomkins and Timothy McCuen Pigge are choreographer Crystal Dawn Munkers, music director R.J. Tancioco, scenic designer Carey Wong, lighting designer Michael Gilliam, costume designer Alex Jaeger, and resident sound designer Brent Warwick.

Hairspray is onstage in Issaquah May 10 – July 1, 2018 before moving to Village Theatre's Everett location from July 6 – 29, 2018. For more information or to purchase tickets, visit the website at https://villagetheatre.org/hairspray.php.

About Village Theatre

Based in Issaquah, WA, with operations in Everett, WA, Village Theatre is a leading producer of musical theatre in the Pacific Northwest. Producing entertaining, quality productions since 1979, Village Theatre has grown into one of the region's best-attended theatres, with approximately 20,000 Subscribers and 220,000 projected total attendance each season. Through its Village Originals program, Village Theatre is nationally recognized for its contribution to the development of new musicals, having supported the development of over 160 new works to date. Village Theatre also takes pride in nurturing tomorrow's audiences through its Youth Education and Outreach programs, KIDSTAGE and Pied Piper, serving over 58,000 young people and their families annually.
(Visited 3 times, 1 visits today)