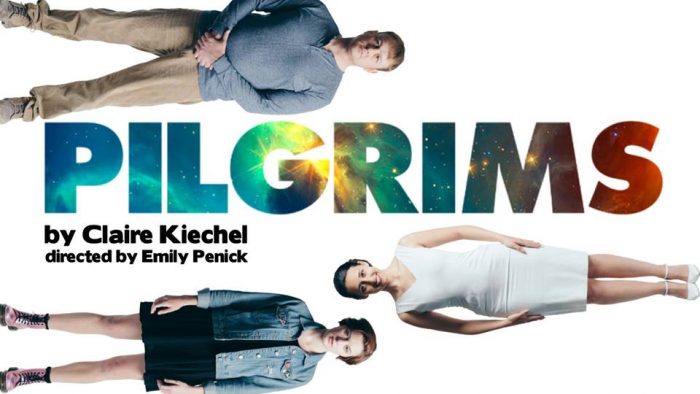 As I walked into LTD, the Fremont bar a few doors down from West of Lenin [WofL] where Forward Flux's Pilgrims is opening this Friday, May 4th, I looked for Mabel.
Mabel is Emily Penick's beautiful black lab rescue and Emily is the director of Pilgrims. LTD is the only dog friendly bar near WofL, so I'm looking for Mabel, because I haven't seen her in over a year and Emily & I recently saw each other in NYC while she was visiting for… well… you'll see. I find her (Mabel) at the end of the bar waiting to be petted and with her, Emily, vibrantly and newly red headed, waiting to order us tequila.
---
Rachel Delmar: So. What inspired this?
Emily Penick: I was sick of being blonde.
Rachel Delmar: Have you been red before?
Emily Penick: Briefly, like, ten years ago.
Rachel: Me too. It is always a fun few weeks… And it sounds like you've been having some fun in the rehearsal room directing the last few weeks too. Tell me what's going on. Tell me about Pilgrims.
Emily: Pilgrims is this Sci-Fi psychological thriller about a soldier and a young woman who travel from Earth to a new planet that America is colonizing. And there is also an awesome robot.
Rachel:  And time period wise where do you see this? Near future?
Emily: It's about a hundred years in the future.
Rachel: This is now your second time working on this piece. That's one of the things I'm most curious about- is the process from last year's workshop to now.
Emily:  Last year was the final workshop before the world premiere in Chicago. So, Claire [Kiechel, the playwright] was doing a lot of Skyping into rehearsals and rewrites based on what she was seeing and hearing. It was a lot of fun.
Rachel: Have there been changes since the premiere in Chicago?
Emily: She did do some pretty awesome rewrites between our workshop and the premiere. So this script that we are working on right now is different than what I directed before in some very cool ways.
Rachel: Besides the script obviously being different what design, cast, etc. changes are different from last year?
Emily: Last year, we basically slapped together a minimal spaceship because it was a workshop so we didn't have the budget for a full production. And I was very proud of it.
But I took what I learned from the piece, the workshop, and this feeling of entrapment – or the feeling of these two characters being trapped in a small spaceship cabin together and I actually had a little bit of an epiphany after talking to a French clown [I giggle] who spoke to me about an exercise at Lecoq in which they have 7 actors on a little platform the size of a door —
Rachel: So. You're saying Jack would have survived with Rose in this exercise?
Emily: Yes!!!
And so my epiphany was after talking to this clown was 'Oh! I could take the feeling of these people being trapped and literally put this entire story on a very small platform.' So I asked Wesley if I could do the set design as well as the stage direction & choreography and he said, 'hell yes'. So I designed this dangerous little pedestal that has a lot of sci-fi LED lights incorporated. Justin Duffiance, our Technical Director, has built it beautifully. And Lily McLeod is lighting the shit out of it. And we will have some projection design as well by Joanna Aponte. So, taking the relationship between the characters and making that into a special metaphor in the set design is a really fun step forward that I'm enjoying torturing the actors with in this iteration. And then the other big thing is while the actor who played the robot, Jasmine, [Alaji Marie] in the workshop is the same, the two lead characters are different actors. [Meghan Dolbey & Chris Shea] And this script is full of so much suspense, mystery, and unanswered questions that it just keeps giving. It has become very tailored to these new actors & they are embodying it in completely different ways, even though so many of the words are the same. It's a whole new play, now that there are two other humans in those roles.
Rachel: So. Why did you want to do it again? What is it about this play that you want to keep digging into?
Emily:  Well, part of what I love about this play and what I wasn't done exploring was how capitalism and colonialism fetishize power, violence, and legacy. And I think that is very… very topical right now. What culture deserves to take over another culture. How the dominant culture just takes whatever it wants. I wasn't done with that story yet. Also, it's so scary. It's a scary piece. In terms of the story. It goes to some really shocking places but it is also a scary piece for an artist. As a director I feel in awe of the actors in the rehearsal room because they are going to the darkest places that humanity can go in order to explore these really important themes. And they're doing such an amazing job.
I tend to want to work on things that scare me a little bit.
Rachel: So, for people who saw the workshop, why should they come back for this round?
Emily: It's Waiting for Godot with sex and violence and colonialism. The story has evolved. The writing has changed. The actors make an entirely different show. The design is badass and it is an actual full production. We also have a brand new sound designer to the theatre. He comes from film and video games, Ryan Scott. This is his first theatre production – and his aesthetic coming from film and video games is perfect and makes it sexy and dangerous. So, you'll be experiencing two designers you've never seen before. AND! Nova Dobrev, our costume designer, is doing a robot costume with light up elements.
Rachel:I still want the shoes that light up.
Emily:  Me too.
Rachel: So, besides, the current political climate, why do you think this play needs to be done now?
Emily:  What this play does so beautifully is sets up what a perfect soldier is and what a perfect young woman in our society is and then begs the question what happens when the soldier is broken due to trauma in the battlefield and the girl is broken due to trauma in her life and how do they heal their different and/or similar traumas. I feel like so often in plays we see a horrific act or see the damage a horrific act has had on a character and that's the end of the play. Oh. They suffered. The End. And we don't really see the aftermath or the rebuilding from the suffering. And the opening yourself up to new love and new relationships. So I feel like we get both sides of that coin in this piece. And I think that's because Claire is very brave about diving into the darkest experiences that young women have in our society right now. And frankly, always had. But, shedding a very naked light on it. That is a story worth telling.
Rachel: To shift a little bit – talk to me about Forward Flux a little bit. What are you to Forward Flux, what is it to you, why are y'all making the choices you're making…
Emily: Fuck yeah.
What is Forward Flux [FF] is to me – it is a creative home full of artists who are risk takers and medium pushers and really socially conscious and asking the hard question on stage and off and I'm part of FF as the Creative Director because FF can accomplish what I've seen so many theatres of so many different sizes say they want to do but for whatever reason haven't been able to fully execute yet. And that is telling stories by playwrights who are women, and POC, and queer folks and it's having audiences that are young, comparatively speaking, and diverse and engaged and it's not an accident – FF is – when you look around an audience or a cast or a creative team there is a reason why there is youth and different perspectives – it's because it is woven into the fabric of the company. It's not an afterthought. And that's really important to me. Also a big part of my spine as an artist is championing emerging female playwrights and supporting a really robust workshop process for new work so this project – getting to helm the final workshop and now the West Coast Premiere of Pilgrims has been amazing.
And the other big part of my year, being a part of Forward Flux has been championing and launching this THREE NEW AMERICAN PLAYS commissioning  project. And I was so thrilled to use the knowledge that I gained working at other theatres to craft a two year commissioning developing and producing process that will bring 3 brand new plays to the Seattle stage in 2019 that will tell stories of what it means to be in America right now from the voices that need to be heard.
Rachel: Brand new plays?
Emily: Yes. Part of the invitation for 3 new American plays was we had prompts. And we asked for pitches. Pitches for plays that have yet to be written. We culled that down to a batch of semi finalists after we had a continent wide submission process and then 9 finalists and on April 23rd we will announce 3 commissionees. (Go here to see who made it to the final 3).
Rachel: AHHHH!
Emily: And they are amazing.
Rachel: That is so exciting. Anything else you want to give away as to your illustrious career and secret projects?
Emily: I'm directing Mickey Rowe in a nouveau Vaudeville piece (Editor's note: that show is The Fool and read an interview with Mickey Rowe over HERE!) that will have a showing in Seattle and then be a part of the Oregon Shakespeare Festival's Green Stage. I'm assisting an amazing Broadway director on a small new play in NYC which is under development right now and I just finished choreographing a workshop at New Dramatists. I'm assisting on a workshop of Qui Nguyen's new musical War is Fucking Awesome. And I have several workshops in NYC, Minneapolis and here over the coming months. And I'm choreographing Amal [One of Forward Flux's Fall shows].
Rachel: I can't wait for that one. I openly sobbed, at the salon reading last year. I'm going to need my own private box to cry in for the actual production.
Emily: It's a glorious script and really surprisingly uplifting about human connection even though it has its sadness.
Rachel: I think that was what affected me so much. All of the uplifting stuff – oh, humanity isn't the worst…But it is.
Emily: It's the worst in this play [Pilgrims]. We need to hold a mirror to the shit we're doing. And getting turned on by it frankly.
Rachel: How big is your missile?
Emily: Right?! Yeah.
Rachel: Yup.
Emily: Yeah.
---
So, go see Pilgrims produced by Forward Flux running at West of Lenin Friday May 4th – 19th.  Visit fowardflux.com for more details. And follow Emily Penick at EmilyPenick.com. Because she'll be doing the shit you wanna see.

Interview was conducted on April 19th 2018 at LTD in Fremont by Rachel Delmar. Photos are courtesy of Forward Flux taken by Joe Moore.
Tags: Emily Penick, Forward Flux, New Plays Seattle, Pilgrims (Play), West of Lenin