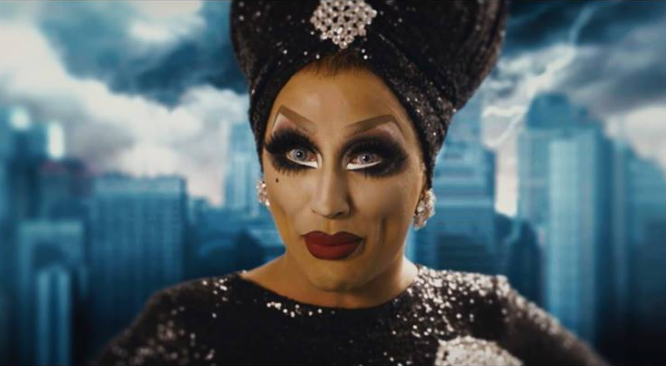 Seattle is one of the few cities to get a week long run of beloved RuPaul's Drag Race Season 6 winner BIANCA DEL RIO'S brand spankin' new film, HURRICANE BIANCA 2: FROM RUSSIA WITH HATE which has just been released to a handful of cinemas across the country as well as for home viewing.
Five Senses Reeling is presenting the Seattle screenings of the film starting Thursday, May 17th with a special appearance from one of the hunkier co-stars from the movie, MATTHEW CAMP in attendance at Northwest Film Forum, 1515 12th Ave on Capitol Hill.
The film then screens 13 more times over the next week with the final show on Thursday, May 24th!
More info and snag tickets HERE for a screening and go HERE to buy a ticket to hang out with Matthew Camp on May 17th.
ALSO, do not forget that Bianca herself WILL BE IN SEATTLE on Thursday, June 21st during Seattle's Pride Week for "National Treasures Starring Bianca Del Rio, Lady Bunny, Sherry Vine & Jackie Beat"  (barely) (a)live at the Egyptian Theatre on Capitol Hill! This starstudded bee-atch fest of snarky awesomeness will be a comedic treat! (If you like snarky insult comedy…if you don't, it ain't for you…) Get tickets for that show HERE!!!!!
Hurricane Bianca 2: From Russia With Hate info:
Thu May 17: 7.00pm
Fri May 18: 4.00pm, 7.30pm
Sat May 19: 2.30pm, 4.30pm
Sun May 20: 2.00pm, 7.15pm
Mon May 21: 3.00pm, 7.00pm
Tue May 22: 3.00pm, 7.00pm
Wed May 23: 3.00pm, 7.00pm
Thu May 24: 7.45pm

Matt Kugelman
US
2018
1h 25m

About

* Special Screening Night on May 17th with guest star from the movie, Matthew Camp *

After winning over the staff and students of Milford High School, chemistry teacher Richard Martinez aka Bianca Del Rio (Roy Haylock) sent her nemesis Vice Principal Deborah Debbie Ward (Rachel Dratch) to jail in a flawlessly executed plan. When Debbie is released from jail, she conjures up a scheme to do away with Bianca Del Rio once and for all, by luring her on a dangerous journey to Russia to accept a teaching award and cash prize. Filled with laughs, celebrity cameos and Americas drag superstars, Hurricane Bianca: From Russia with Hate is packed with surprises and unlikely partnerships that spark friendship and acceptance.

National Treasures Starring Bianca Del Rio, Lady Bunny, Sherry Vine & Jackie Beat info:
Bianca Del Rio, Lady Bunny, Sherry Vine and Jackie Beat… all together on the same stage for one night in Seattle!

All fabulous drag queens in their own right, each of them bring something a little bit special to this 2 hour show!

Bianca Del Rio is the ultimate insult comedian, she is a fixture in the New York City club scene, and was the winner of the sixth season of Ru Paul's Drag Race.

Lady Bunny is a nightclub DJ and has released disco singles such as "Shame, Shame, Shame!" and "The Pussycat Song".

Jackie Beat is an accomplished singer-songwriter and has starred on screen, in and out of drag. Jackie is the lead singer of the Electroclash band Dirty Sanchez.

Sherry Vine is the creator and host of She's Living for This, and is also known for incredible parodies of Madonna, Britney Spears, Rihanna, Adele, and Lady Gaga!

For one night only, these four ladies will be serving up some incredible #dragqueenrealness!

Run time approximately 2 hours.

Age guidance:

No under 14s will be permitted into the theater, all under 16s must be accompanied by an adult. Adult themes/language throughout.

***FINE PRINT*** ALL SALES ARE FINAL. NO REFUNDS. Please no flash photography or video/audio recording of any kind. Seattle seating is open seating within reserved sections.  Cast subject to change based on availability. VIP Meet & Greet will take place 2 hours prior to the show time. Digital meet & greet photographs will be available within two business days of the show. Platinum VIP Keepsakes including custom VIP lanyards and autographed posters will be available during the meet and greet. Five Senses Reeling LLC is not responsible to supply any commemorative keepsakes once the purchaser has left the venue. Please be sure to collect your keepsakes while at the theater.
(Visited 1 times, 1 visits today)