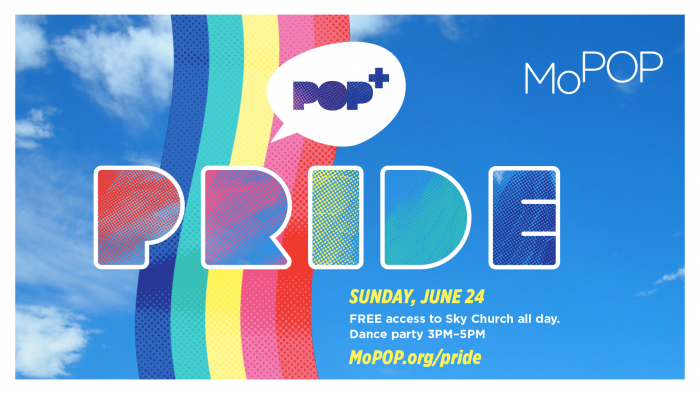 The Museum of Pop Culture, aka MoPop, aka the museum formerly known as EMP is getting all Pride-y for Seattle's big Sunday LGBTQ Pride celebrations by hosting POP + PRIDE all day at their Seattle Center location which is of course adjacent to the official Seattle PrideFest party over in the center of the park.
The museum is open from 10am and the gorgeous SKY CHURCH space will be open for FREE for the day and will show videos from LGBTQ music artists.
From 3pm to 5pm, there will be a DJ dance party with DJ Dos Leches from TUF Collective/Darqness. There will also be a "participatory PRIDE art project just outside of Sky Church where folks can share pop culture moments/movies/tv shows/comics/video games that fill them with pride."
 Other details:
LGBTQ MUSIC SPOTLIGHT

Watch music videos by artists in the LGBTQ community all day on our massive Sky Church screen.

DANCE PARTY

Make your way to Sky Church after the parade for a DJ dance party from 3:00pm–5:00pm.

LGBTQ GALLERY GUIDE

Museum guests can travel through the museum with a gallery guide that highlights LGBTQartists' contributions to pop culture.

IT GETS BETTER

In partnership with ItGetsBetter.org, join us in JBL Theater to hear stories from famous LGBTQ community members like George Takei, Ru Paul, and Tegan and Sara as they share a message of hope and remind us all that it does get better. Included with museum admission.
SOOOOOOO….to be clear. The Sky Church and DJ party is a FREE event. If you wish to access the rest of the museum including the LGBTQ Gallery Guide mentioned above, you will need to buy admission tickets TO MoPop! Which of course includes the amazing Marvel Universe exhibit currently on display. 
More info:  https://www.mopop.org/pride.
(Visited 1 times, 1 visits today)