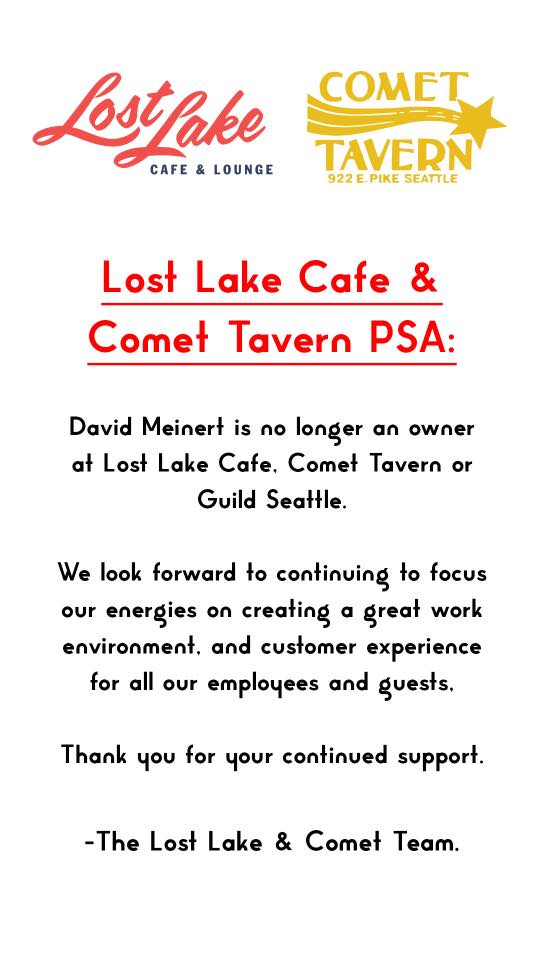 This afternoon, Comet Tavern posted this image on its Facebook wall indicating that beleaguered co-owner DAVE MEINERT no longer had an ownership stake in the iconic Pike Street tavern or its adjoining Lost Lake Cafe or in Guild Seattle, the restaurant/nightlife partnership that Meinert was a part of that also includes Grim's/The Woods and Queer/Bar. 
Meinert was accused last month of sexual misconduct charges, including rape, in a scathing article by journalist Sydney Brownstone in a piece on KUOW's website. The story, posted on July 19th, immediately caused an uproar with many calling for Meinert to remove himself from all his Seattle business interests or risk facing boycotts of all the businesses he owns/has a stake in.
The story not only raised questions about Meinert's problematic relationships with women, but it also called into question Meinert's relationship with The Stranger, Seattle's alternative weekly newspaper which has long been seen as a Meinert ally despite Meinert's opposition to Seattle's $15 an hour minimum wage. Sydney Brownstone, the journalist who broke the story on KUOW, had been a reporter at The Stranger up to two months before the breaking of the article on another media outlet. Media personality/editor Dan Savage quickly posted on The Stranger a piece that backed away from support of Meinert and vaguely laid out The Stranger's involvement with the story:
When we received a tip that Meinert had been accused of sexual assault and sexual misconduct by more than one woman, the story was immediately assigned to Sydney Brownstone. Then I recused myself, because Meinert was a friend; another editor—the editor to whom the tip was given—was also recused, as they were close to one of the alleged victims. Sydney left the paper before the piece could be completed and it was ultimately published by KUOW.
On July 25th, Lester Black reported on The Stranger's website about Meinert's crumbling business empire including information that Meinert was banned from Guild Seattle's offices and all properties controlled by Guild. Queer/Bar's Joey Burgess stated that Meinert was no longer part of the bar's ownership.
Today's announcement from Lost Lake/Comet/Guild Seattle does not address Meinert's involvement with other area businesses. Meinert had been a partner in Big Mario's Pizza but left that partnership earlier this year. And, he is the sole owner of the popular Belltown dive diner The 5 Point. 
It does make clear that Meinert is out of the Guild Seattle group, which does include Queer/Bar, (an advertiser on SGS).
(Visited 4 times, 1 visits today)