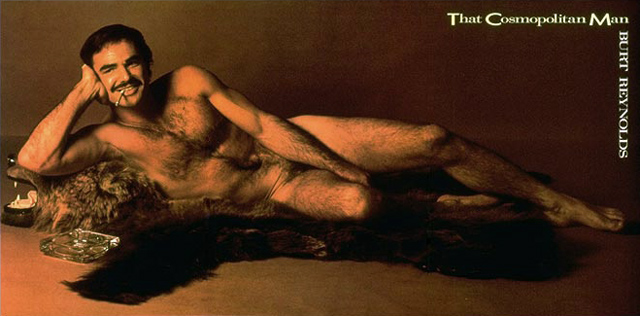 Hollywood icon/leading man BURT REYNOLDS passed away today at age 82 after years of illness.
The number one box office star in the Seventies and early Eighties, mostly in lowbrow comedies and action films, he had millions of fans worldwide who admired his talents as a suave leading man and his innate masculine sexuality almost fully on display in a celebrated photo spread in Cosmopolitan magazine, an image that Facebook is bizarrely censoring as "inappropriate" despite the fact no genitals/buttocks are displayed and no sex act is being performed.
Fuck Facebook and their ridiculous censorship which is frequently sexist.
Celebrate the life of Mr. Burt Reynolds who has gone on to the Burt Reynolds Dinner Theater in the sky.
A toast! (to Burt….not fucking Facebook. Which sucks.)
Tags: #FuckFacebook, Burt Reynolds, Facebook Censorship, Facebook Is Homosexist, Film Icons