September 6, 2018

•
by
Michael Strangeways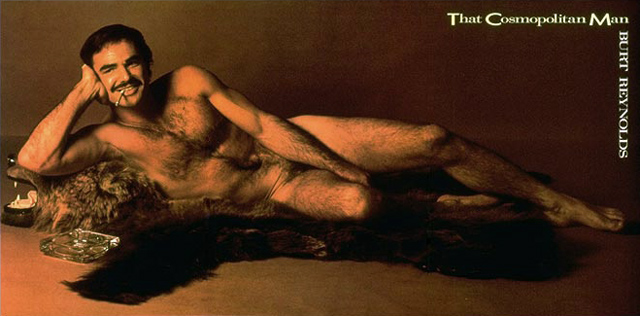 Hollywood icon/leading man BURT REYNOLDS passed away today at age 82 after years of illness.
The number one box office star in the Seventies and early Eighties, mostly in lowbrow comedies and action films, he had millions of fans worldwide who admired his talents as a suave leading man and his innate masculine sexuality almost fully on display in a celebrated photo spread in Cosmopolitan magazine, an image that Facebook is bizarrely censoring as "inappropriate" despite the fact no genitals/buttocks are displayed and no sex act is being performed.
Fuck Facebook and their ridiculous censorship which is frequently sexist.
Celebrate the life of Mr. Burt Reynolds who has gone on to the Burt Reynolds Dinner Theater in the sky.
A toast! (to Burt….not fucking Facebook. Which sucks.)
(Visited 15 times, 1 visits today)
As the Editorial Director/Co-Owner, Michael Strangeways writes, edits and does about a million other jobs for Seattle Gay Scene, Puget Sound's most visited LGBTQ news, arts and entertainment website now celebrating its 14th year as a media outlet. A semi-proud Midwesterner by birth, he's lived in Seattle since 2000. He's also a film producer who would like you to check out the Jinkx Monsoon documentary, "Drag Becomes Him" now available on Amazon.com. In his spare time, he gets slightly obsessive about his love for old movies, challenging theater, "otters", vodka, chocolate, "I,Claudius", Lizzie Borden, real books made out of paper, disaster films, show tunes, Weimar era Germany, flea markets, pop surrealistic art, the sex lives of Hollywood actors both living and dead, kitties, chicken fried steak, haute couture and David Bowie. But, not necessarily in that order.
Related Posts
We haven't had a Nooner in AGES! It's about time,
...