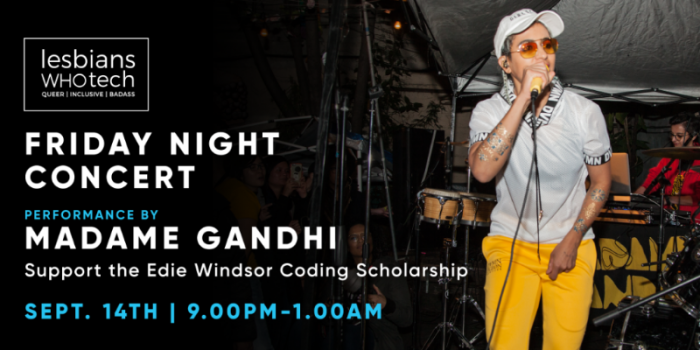 Mea Culpa.
I thought this event, a cool sounding summit/concert for the LESBIANS WHO TECH networking group, was a local Seattle area thing.
Instead, the event which happens September 12 – 14 (uh, next week)is  in NEW YORK CITY….it's still a cool sounding event and since I spent TIME whipping this up, I can still encourage you to go or spread the word to east coast "lesbians/allies who tech" so THEY can go!
Maybe Seattle ought to do something similar? Goddess knows we have a LOT of lesbian womyn who tech the hell outta this town…
More poo:
Join 3000 of your Lesbian, Queer, Trans and GNC friends and badass activist + musician Madame Gandhi for the first-ever Lesbians Who Tech + Allies Summit Concert to benefit the Edie Windsor Coding Scholarship! Madame Gandhi is headlining and will rock the stage for her 4th summit, both as a speaker and performer this year.

This event is open to the public, so grab your boo, your bestie and get your tickets now. We will sell out! #HOWWEDO

The concert will feature performances by:

Madame Gandhi :: Kiran Gandhi — better known by her stage name Madame Gandhi — is an electronic music artist and activist based in Los Angeles. Having gained recognition as the former drummer for M.I.A. and Kehlani and as the iconic free-bleeding runner at the 2015 London Marathon, Madame Gandhi now writes music that elevates and celebrates the female voice.

Mila Tina :: Carolina Fuentes, aka "Mila Tina," is a professional drummer/percussionist, as well as an audio-visual artist, and music producer. Her performances are played on an original standing arrangement of drums that she designed herself. This arrangement combines traditional drum pieces with Latin percussion instruments, such as her lead drums; the timbales. Mila Tina also incorporates lighting effects and empowerment-themed video design. Mila Tina's performance is truly a multi-sensory experience, with art you can hear, see and feel.

About the Edie Windsor Coding Scholarship

The Edie Windsor Coding Scholarship fund makes it possible for new, incoming gender nonconforming and LGBTQ+ women to kickstart careering in technology.

Learning how to code is more than education — It's economic opportunity. It's the promise of a career with a six-figure salary. Our community, like many underrepresented groups, are turning to coding schools because they are more accessible than four-year computer science degrees.

We named our scholarship after a LGBTQ and technology legend, Edie Windsor, to recognize her heroic victory over the Defense of Marriage Act (DOMA) — and to celebrate her technical leadership as a computer programming pioneer at IBM. In love and work, Edie Windsor is one of our community's greatest role models. We want to be a part of telling her story, so that future generations of technical queer women can know her and to help inspire future generations of LGBTQ technical women.
Everything You Need to Know About the Lesbians Who Tech + Allies New York Summit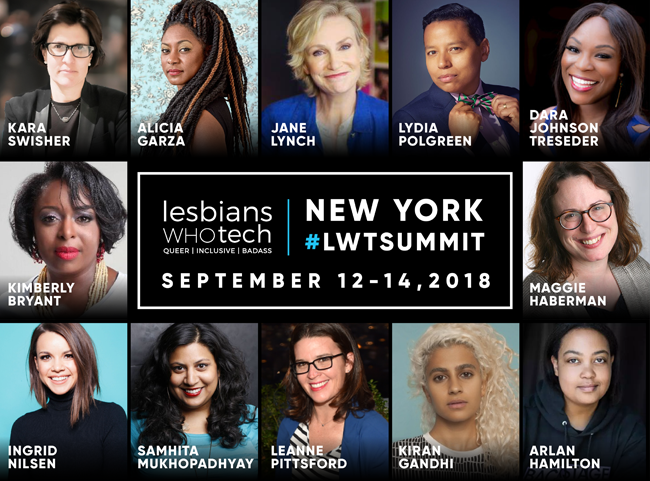 Tags: #LWTSUMMIT, Edie Windsor Coding Scholarship, Lesbians Who Tech, Lesbians Who Tech Concert, Lesbians Who Tech NYC Summit 2018, Madame Gandhi, Mila Tina