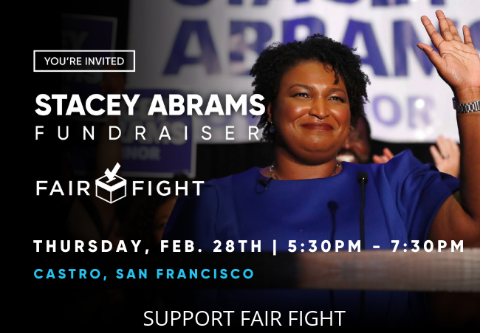 Here's an idea…hop in the car/train/plane to bop down to San Francisco next week to see the amazing up and coming Democratic Party SuperStar STACEY ABRAMS and support her new initiative, FAIR FIGHT in a big fundraiser event produced with the Lesbians Who Tech networking group.
In case you forgot, Ms Abrams was the Georgian politician who fought a fierce battle for the Georgia governor's seat last fall. She lost that fight but her charisma and strength instantly made her a new leading light for the Democratic Party. 
Widespread voter suppression was an issue in the Georgia election and Abrams has vowed to fight for fair voting practices and access for everyone. She has created the advocacy group FAIR FIGHT, to fight for election reforms all across the country.
Ms Abrams, long an ally of the LGBTQ community, will be in San Francisco on Thursdays, February 28th to raise awareness and funds for the new group. If you're able to physically join in, great but you can also donate if you can't actually show up.
More info on the event via Lesbians Who Tech:
As most of you know Stacey Abrams and her team ran a phenomenal and hard fought campaign and they did that in the face of voter suppression at an alarming scale. Instead of giving up, she immediately launched Fair Fight to advocate for election reform and engaged in voter education to secure the voting rights of all Americans. But she cannot do it alone.

Join us on Thursday, February 28th to support Stacey Abrams & Fair Fight. We will discuss how we can work together to protect our constitutional right to vote. 100% of the proceeds raised go directly to Fair Fight.

Stacey will outline her vision and strategy and answer questions you have about how we can work together to solve this problem. I am personally thrilled to be supporting Stacey Abrams and Fair Fight. There is no candidate I believe in more. She is brilliant, hard working, resilient, and humble. She joined us at Lesbians Who Tech + Allies years ago, and instead of speaking and running out, she stayed all day. Stacey took notes, connected with our community, and learned how she can be an ally and advocate for the work we do. And I know she will continue to fight for the rights of all Americans, whether it's issues like economic opportunity, job creation, or protecting our constitutional right to vote.
(Visited 3 times, 1 visits today)