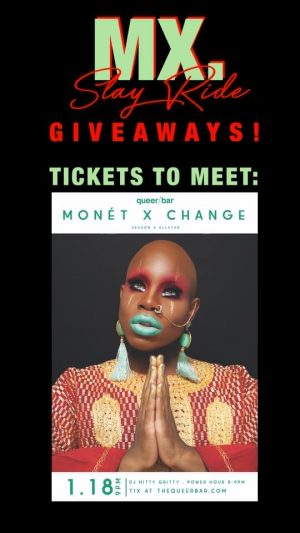 Queer Bar is celebrating its 2nd Xmas with a big night of gifts for folks who stop by…first of all, their weekly MX. drag cabaret show hosted by La Saveona Hunt is FREE tonight, Friday, December 21st…NO COVER! (21+ w/ID)
ALSO they're giving away 12 great prizes including VIP tix for some huge upcoming shows with Trinity Taylor and Monet X. Change.
AND, tix to next week's big New Year's Eve Party, too. (you can also buy those tix, HERE!)
ALSO/ALSO you can enjoy the arrival of SUNSET FRIED CHICKEN to the Queer Bar kitchen.
Yum.
More poo:
TONIGHT IS THE NIGHT!!! Queer/bar invites you, our amazing patrons, to celebrate the holi-gays with a FREE Mx. Show starting at 9:30pm hosted by La Saveona Hunt, starring Stacey Starstruck, Visage LaRue, & Andrew Scott. As our way of saying "thank you" for your patronage, we'll be giving away 12 fabulous prize packages throughout the show, including:

– 1 free MX show – Cover starts at 11pm
– 15 sunset fried chicken sandwiches
– 1 pair of meet & greet tickets for Monet (1/18)
– 1 pair of meet & greet tickets for Trinity (2/1)
– 1 pair of meet & greet tickets for Carson (2/8)
– Booth for 5 for emotional queen (12/29)
– Booth for 5 for queer/burlesque (1/5)
– $50 queer/bar gift card
– 2 tickets to queer/bars new you NYE party
– 2 tickets to queer/bar pride festival 2019
– 2 tickets to see Mean Gays
– 4 tickets to the next Make-Out Party (1/12)
Come enjoy some free holiday cheer alongside an AMAZING Sunset Fried Chicken sandwich and a tasty cocktail. There's no place like queer/bar for the holidays!

4pm: Doors Open
4-6pm: Happy Hour
8pm: FREE RuPaul's Drag Race Viewing Party
9:30pm: FREE Mx. SLAY-Ride Show w/ special prize giveaways
11pm: Dance Party w/ DJ Nitty Gritty ($5 cover after 11)
1:30am: Last Call @ Queer Bar
(Visited 1 times, 1 visits today)