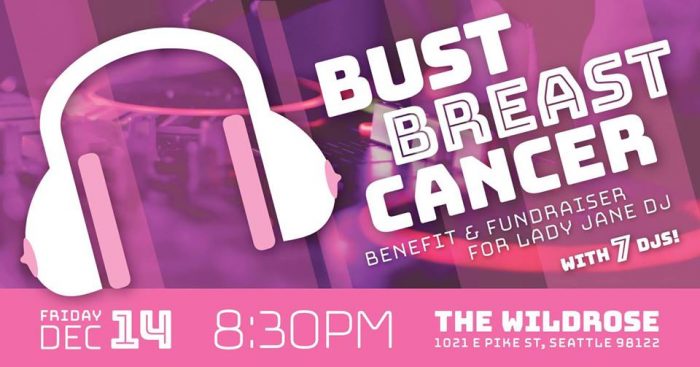 This Friday night there's a benefit you really need to check out….it's a BUST BREAST CANCER night at The Wildrose and it's a benefit and fundraiser for one of our community members. 
DJ Lady Jane, a popular Seattle area DJ is fighting Stage Three Breast Cancer and undergoing weekly chemotherapy. She could use a bit of help, so her sister DJs and the crew at The 'rose are rallying around her with a night of great local djs and a raffle to raise some money for Lady Jane.
A bit more info on the event and do try to stop by and help out.
👊 BUST BREAST CANCER! 👊
Benefit & Fundraiser for DJ Lady Jane
💥 with 7 DJ's!! 💥 ((Plus a Special B2B Set!))

🔥 CHECK OUT THE LINEUP 🔥
Julie Herrera *B2B* LeGaspi *B2B* Aundrea
DJ Lady Jane
DJ Mixxtress
DJ Blyssful
JOY

Friday, Dec 14th @ 8:30pm
@ The WILDROSE

Come dance, have a drink, connect with friends & win some cool prizes! **We will be selling tickets & having a raffle to win stuff**
$ BRING CASH TO BUY YOUR TICKETS $
—————————————————————————–
Mary Jane Mancilla (DJ Lady Jane) is battling stage 3 breast cancer & currently undergoing weekly chemotherapy — She has been a DJ in our Seattle community for MANY years *and* is a beautiful, kind soul with a big heart!
She needs the communities support right now, so please come out on Friday, December 14th to show her some love!

~ Joy, Shelley, DJ Jay Hines
(Visited 5 times, 1 visits today)