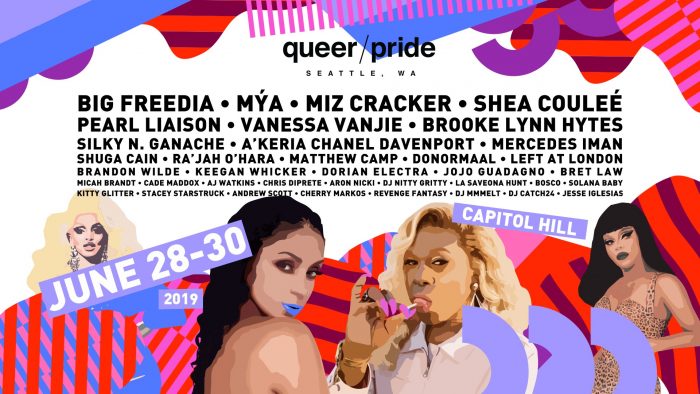 And, we're off.
Local businesses and organizations are all starting to announce talent lined up for Seattle's LGBTQ Pride celebrations happening in June of 2019, with the focus on the last weekend of the month, June 26th through June 30th. And, as this is the 50th anniversary of the Stonewall Uprising which ignited the LGBTQ rights movement, you can expect area producers to really up their games. 
Hopefully.
And, of course Seattle's QUEER BAR on 11th Avenue in the heart of the city's queerest neighborhood, the Pike/Pine corridor of Capitol Hill is leading the way with today's big announcement of headliners for their "queer/pride festival" (queer/bar prefers lower case…which is cool and I j'adore them, but as a writer/editor/proof reader, it drives me up the wall…also looking at you e.e. cummings. And, k.d. lang. ) They're also opening up pass sales, with a variety of packages available for general admission as well as VIP options.
AND, naturally queer/bar isn't playing around for Pride 2019 as they announce the "Queen of Bounce," Big Freedia and Grammy-Award winning singer, songwriter and dancer, Mýa. will be the star attractions for their 3 day festival which will take over 11th Avenue between Pike and Pine, just as they did in 2018.
Local Seattle talent also announced: singer, songwriter and poet, Left at London and rapper DoNormaal.
And, naturally, there will be  RuPaul's Drag Race stars including fan favorites Shea Couleé and Miz Cracker and Vanessa Vanjie as well as performers from the upcoming Season 11 of RPDR which begins next week (February 28th) including Silky Nutmeg Ganache,  A'Keria Chanel Davenport, Shuga Cain and Rajah O'Hara.
Oh, and obviously the cast of queer/bar's weekly drag show MX. will be onstage for the entire weekend as well as other locals like Cherry Markos and Arson Nicki (in DJ mode.)
From the press release:
Headlining queer/pride is Big Freedia. Known as the "Queen of Bounce," Freedia is a New Orleans-based rapper and ambassador of Bounce music, a vibrant twist on hip-hop, characterized by call-and-response lyrics over rapid-fire beats. Freedia is often attributed with bringing Bounce out of New Orleans and into the mainstream music scene.
"We are excited to bring Big Freedia back to Seattle," said Joey Burgess, owner of queer/bar. "Big Freedia's authenticity and fierce talent have pushed people to reconsider their assumptions about music, queer culture and gender. She is an icon and role model for the LGBTQIA+ community, inspiring and empowering us to be proud of our true selves. Big Freedia embodies queer/bar's inclusive values, and the honor of having her on the queer/pride festival stage speaks to our mission of creating a safe and fun gathering space for our diverse LGBTQIA+ community."
Headlining queer/pride festival with Big Freedia is Grammy-award winning and internationally known singer, songwriter, dancer, actress and producer, Mýa. She recently celebrated 20 years in the music industry by releasing her 9th album, T.K.O. Mýa is also an activist and philanthropist and has raised money for numerous causes including breast cancer research, homeless LGBTQIA+ youth and Africare, an organization addressing health, economic development, women's empowerment and youth engagement in Africa.
Drag performance has become an integral part of Pride celebrations across the globe and queer/pride festival is proud to present a stellar lineup of drag artists from RuPaul's Drag Race including the iconic season 10 contestant (and the upcoming season 11) Vanessa Vanjie, season nine top four contestant, Shea Couleé, season 7 top three contestant, Pearl Liaison and season 10 contestant Miz Cracker. Additional season 11 contestants will also be performing throughout the 3-day festival. Joining the drag race queens is the resident queer/bar MX. cast.
3-day general admission passes are available online (advance sale only) at $75 each. A limited number of VIP passes are also available online (advance sale only) and are $199 each. Single day general admission tickets will be available for sale at the gate only for $30 each and are only valid for the day of purchase. Attendees have the opportunity to meet their favorite performers by purchasing one or more of five Meet & Greet packages. Each of these small-capacity private events will include the opportunity to meet a selection of artists and include a professional digital photo.
The full lineup for queer/pride festival includes:
Music
Mýa
Big Freedia
Left at London
DoNormaal
JoJo Guadagno
Drag/Performance
Miz Cracker
Shea Couleé
Pearl Liaison
Brooke Lynn Hytes
Vanessa Vanjie
Silky N. Ganache 
A'Keria Chanel Davenport 
Shuga Cain
Rajah O'Hara
Mercedes Iman
Cherry Markos
Resident queer/bar MX. cast:

La Saveona Hunt
Bosco 
Solana Baby
Kitty Glitter
Stacey Starstruck
Andrew Scott
DJs
Dorian Electra
Bret Law
Brandon Wilde
Catch24
DJ Nitty Gritty
DJ MMMelt 
Arson Nicki
Go-Go performers & Influencers
Matthew Camp 
Keegan Whicker 
Cade Maddox
Revenge Fantasy
Micah Brandt
AJ Watkins
Chris Diprete
Jesse Iglesias 
For tickets and more information, please visit the official queer/pride festival website at http://queerpridefestival.com/ and on Facebook at https://www.facebook.com/queerpridefestival/.
(Visited 2 times, 1 visits today)