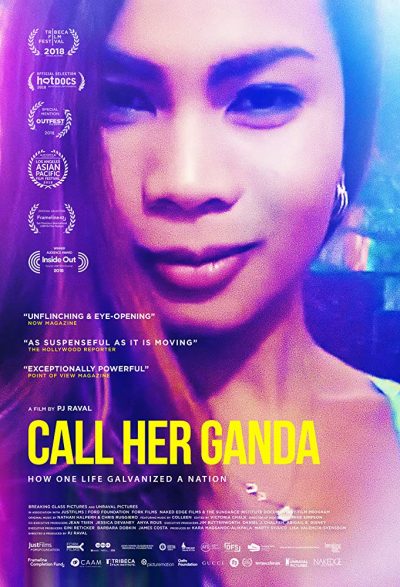 It opens tonight (Thursday, February 21st) with their sold out Gala Opening Screening of ORIGIN STORY at Broadway Performance Hall on the Seattle Central College campus at the corner of Pike and Broadway on Capitol Hill, but the 2019 Seattle Asian American Film Festival is going all weekend long with dozens of screenings including several with LGBTQ themes. 
LGBTQ films/programs include:
SAAFF 2019 – Leitis In Waiting @ Broadway Performance Hall. Friday, February 22, 2019. 6pm to 8pm
Directed by Dean Hamer, Joe WIlson, Kumu Hinaleimoana Wong-Kalu
United States / 2018 / 62 minutes

Meet Joey Mataele and the Tonga leitis, an intrepid group of native transgender women fighting a rising tide of religious fundamentalism in their South Pacific Kingdom. A devout Catholic of noble descent, Joey organizes an exuberant beauty pageant presided over by a Tongan princess, provides shelter and training for a young contestant rejected by her family, and spars with American-financed evangelicals threatening to resurrect colonial-era laws that would criminalize the leitis' lives. With unexpected humor and extraordinary access to the Kingdom's royal and religious leaders, her emotional journey reveals what it means to be different in a society ruled by tradition, and what it takes to be accepted without forsaking culture and tradition.
This one isn't LGBTQ specific, but certainly nail salons are of interest to both bio and drag queens…
SAAFF 2019 – Nailed It @ Broadway Performance Hall. Friday, February 22, 2019. 8:30pm to 10:30pm. 
Directed by Adele Pham
United States / 2018 / 60 minutes

Why do Vietnamese dominate the $8 billion dollar nail salon industry? For mixed-race Vietnamese filmmaker Adele Pham, it is a deeply personal question. Diving into 40 years of Vietnamese American history, Adele confronts her cultural conflicts and discovers her place within the community by peeling back the layers of this niche trade seen by everyone, but known to few.

Watch trailer: https://vimeo.com/255047496
A program of short films, some with LGBTQ content including:

SALAMAGAN
Elisa Oh / United States / 2017 / 12 mins
Ana's biggest fear is coming out to her Filipino Catholic mother. But when they need help cleaning a hoarder's house, Ana enlists her secret girlfriend for the job.

SUNSET, SUNRISE
Bruce Hsin-Ta Chiu / United States / 2018 / 12 mins
Lily, a traditional Chinese woman, will do anything to change her son, Bao, from being gay. But her drastic measures may cost her more than just her relationship with her son.

KHOL (OPEN)
Faroukh Virani / United States / 2017 / 12 mins
**Faroukh Virani will be in attendance for a Q&A after the screening.**
When his father passes away, Vijay is forced to return home after a ten year long estrangement and open up to his mother about his sexuality.

SAAFF 2019 – For Izzy @ Northwest Film Forum.  Saturday, February 23, 2019. 4pm to 6pm
Directed by Alex Chu
United States / 2017 / 84 mins

Dede, a photojournalist and recovering addict, moves in next door to Laura, a young woman with autism. As the pair form an unlikely friendship, Dede assembles a documentary, using animation and found footage to tell a story of getting sober, of family and friendship, and of love and forgiveness.

Watch trailer: https://vimeo.com/242500679

CO-PRESENTED BY
OCA-Greater Seattle
Asian Counseling and Referral Service (ACRS)
SAAFF 2019 – Call Her Ganda @ Broadway Performance Hall. Sunday, February 24, 2019. 11am to 1pm.
Directed by PJ Raval
United States / 2018 / 98 mins

When Jennifer Laude, a Filipina trans woman, is brutally murdered by a U.S. Marine, three women intimately invested in the case–an activist attorney (Virgie Suarez), a transgender journalist (Meredith Talusan) and Jennifer's mother (Julita "Nanay" Laude)–galvanize a political uprising, pursuing justice and taking on hardened histories of US imperialism.

Watch trailer: https://youtu.be/6YwQtgBRhZQ

CO-PRESENTED BY
API Chaya
GABRIELA Seattle
Official Pride ASIA

A collection of films centering the Queer API experience.
IN THIS PROGRAM
MAYBE
Kat Cole / United States / 2018 / 10 mins
**Kat Cole, Myhraliza Aala and Delayne Medoff will be in attendance for a Q&A after the screening.**
After an unexpected encounter in Waikiki, a young girl explores her sexuality in secret, causing new rifts with her religious Filipino family.
ZERO ONE
Nick Neon / United States / 2018 / 24 mins
**Nick Neon, Darlene Javier, Essie Lee will be in attendance for a Q&A after the screening.**
Jimmy Park is the last place he wants to be, back home to celebrate the New Year in NYC. He's visiting for the first time in years and fears he has nothing to show for his time living in Seoul. Over a family dinner, old tensions come to a head when he confronts his homophobic sister. On New Year's Day, Jimmy will learn that the first step to finding your path is admitting you're lost.
THE MUTE
Pham Thien An / United States / 2018 / 15 mins
On rainy night in Saigon, a young woman desperately searches for love.
SHARE
Barna Szász, Ellie Wen / United States / 2018 / 13 mins
An 18-year-old Instagram influencer attempts to reconcile his identity online with his identity in real life.
EVERYTHING'S GREAT!
Linnea Ritland / Canada / 2017 / 22 mins
**Linnea Ritland, Natalie Backerman will be in attendance for a Q&A after the screening.**
An awkward 20-something lesbian bounces between a not-relationship relationship and her alcoholic-dad-soaked home life, seeking stability in others — but eventually finding it in herself.
TAIWAN! LET'S GET MARRIED!
Larry Tung / Taiwan / 2018 / 18 mins
**Larry Tung will be in attendance for a Q&A after the screening.**
In May 2017, Taiwan's Constitutional Court ruled in favor of legalizing same-sex marriage, setting a two-year deadline for the legislature to make it a reality. But that was only the first step on the long quest to make Taiwan the first country in Asia to legalize same-sex marriage.
CO-PRESENTED BY
Official Pride ASIA
—
ABOUT SAAFF
The Seattle Asian American Film Festival (SAAFF) is the only film festival in Seattle to provide a space for Asian American voices, perspectives and histories by screening independent films that reflect the diversity and richness of the city's Asian American community. For more information about SAAFF, visit seattleaaff.org.
(Visited 2 times, 1 visits today)