Here's info about an important new documentary, CALL HER GANDA about the murder of Jennifer "Ganda" Laude, a trans Filipina woman murdered and her family's efforts to seek justice:
GABRIELA (General Assembly Binding Women for Reforms, Integrity, Education, Leadership, and Action) and filmmaker PJ RAVAL are coming together to screen the critically acclaimed and award-winning documentary CALL HER GANDA across the United States to bring attention the life and case of the murdered Jennifer Laude and her family's struggle for justice.

Screenings will take place in five cities throughout the nation – NEW YORK, SAN FRANCISCO, LOS ANGELES, OAKLAND and SEATTLE – on Thursday, October 11 – the four-year anniversary of Jennifer Laude's death. Details below.


Please join GABRIELA across the nation on Thursday, October 11th for Justice for Jennifer Laude: Call Her Ganda Screening & Forum. Jennifer Laude was a 26 year-old trans Filipina woman who was brutally murdered by US marine Joseph Scott Pemberton on October 11, 2014. On this four-year anniversary of Jennifer Laude's death, join GABRIELA for a community forum and screening of Call Her Ganda – a documentary that sheds light on the life and case of Jennifer Laude and her family's struggle for justice.

Jennifer's death is one example of the violence committed against Filipino women, as their rights, safety, and Philippine sovereignty are sacrificed for unfair military defense agreements between the US. Such human rights violations and violence against women, children, and the LGBTQIGNC+ community will only continue to worsen in the Philippines.

GABRIELA asks you to join us as we honor our sister Jennifer Laude and let us RISE against transmisogyny and violence against women, RESIST U.S. militarization, and UNITE for the liberation, safety, and self-determination for all women!  See the list of screenings below and how to RSVP.  Admission is free.

A FILM BY PJ RAVAL

#justiceforjennifer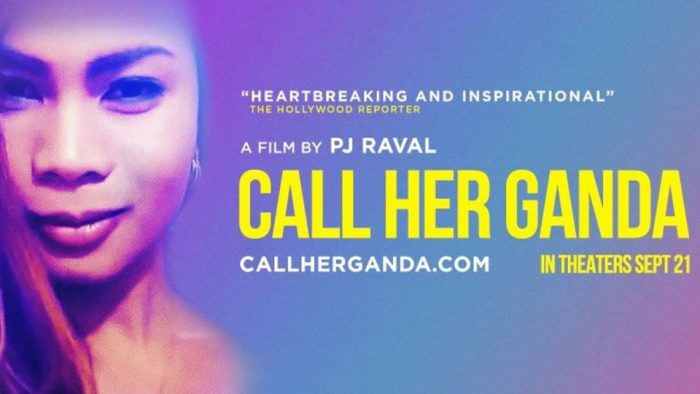 The film screens in Seattle this Thursday, October 11th at: Filipino American National Historical Society (FANHS), 810 18th Ave, Rm 100.
More info on the screening:
Join Gabriela Seattle as we host Seattle's first screening of Call Her Ganda, followed by community discussion.

Doors open at 6:30pm. Movie starts at 7:00pm.

Jennifer Laude, a 26 year-old Filipina transwoman, was brutally murdered by U.S. Marine, Joseph Pemberton on October 11, 2014. Her tragic death is just one example of the widespread violence committed against Filipinas because of unequal military and trade agreements between the U.S. and the Philippines.

On the four-year anniversary of her death, we will screen and discuss Call Her Ganda, which beautifully honors the life of Jennifer Laude, while also showing a movement of Filipinos who are determined to fight U.S. Imperialism and for justice for Jennifer.

Call Her Ganda trailer and a short clip:
Trailer: http://bit.ly/CHGtrailer
Clip: http://bit.ly/CHGclip
Tags: Call Her Ganda, Free Film Screenings, Seattle Filipino Community, Social Justice Film, Trans Issues, Trans* Film