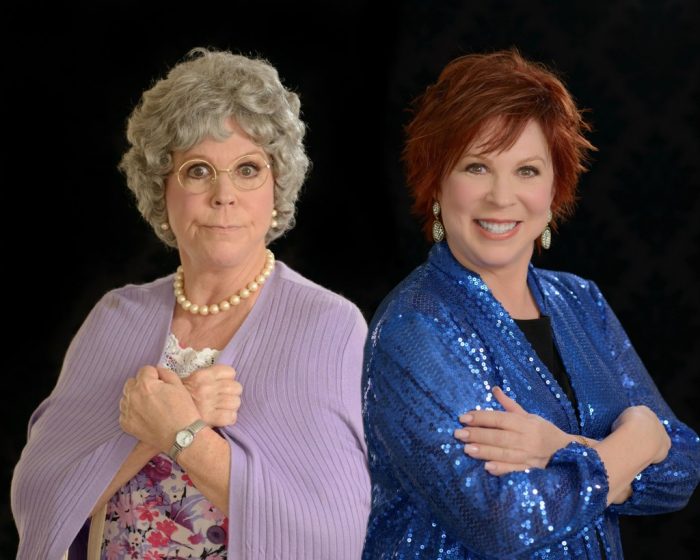 Miss Fireball herself, VICKI LAWRENCE is bringing her two woman show to Federal Way's Performing Arts and Events Center on Saturday, May 4th.  And, we say two woman because you get the lovely Ms Lawrence but you also get the cantankerous old biddy Mama Thelma Harper that she created on The Carol Burnett Show over 40 years ago and went on to play in a cheesily beloved sitcom in the 1980s called Mama's Family as half of the double bill for the stage show called "Vicki Lawrence and Mama: A Two Woman Show".
We j'adore Vicki Lawrence and we j'adore Mother Harper..though we prefer the mean, vindictive old bitchy Mama featured on "The Family" sketches on the Burnett show to the sweetened up version of Thelma on the syndicated Mama's Family show. The original Mama reminded us of a nasty aunt or two. Mama 2 was too corny for our taste, though we enjoyed the stupid silliness of it all….and, the tight pants worn by her grandson Bubba on the show.
Lawerence, who has also hosted her own talk show and game show over the years, has long toured the country with her duo act…it paid the bills between TV gigs! But, now the actress/comedienne has a hot new TV show starring in Fox's The Cool Kids, the Friday night sitcom about a quartet of seniors living in a retirement home that also stars Martin Mull, David Alan Grier and Leslie Jordan.
Vicki Lawrence is also famed as a One Hit Wonder! Her 1973 hit "The Night the Lights Went Out in Georgia" hit #1 on the Billboard Charts and earned her a gold record.
Tickets still remain for her appearance in Federal Way…go HERE to snag them. 
Makes a great early Mother's Day treat!
We'd go but have NO WAY to get to Federal Way…do you need a passport?
Tags: Federal Way's Performing Arts and Events Center, Mama Thelma Harper, Mama's Family, The Cool Kids, Vicki Lawrence