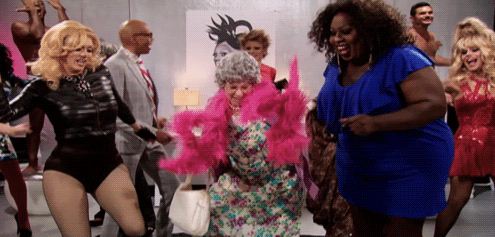 No, it's not Mama Tits…our OTHER favorite Mama, Mrs. Thelma Harper aka actress Vicki Lawrence is popping by "RuPaul's Drag Race: All-Stars" tonight, Monday October 29th in BOTH her personas. Mama will be popping up to help out with one of the challenges and the lovely and talented Ms Lawrence will be a guest judge!
The original "Family" sketches on "The Carol Burnett Show" are priceless bits of comedy and while the follow-up, syndicated sitcom wasn't quite as brilliant, it still holds a special place in our hearts. (The sitcom wasn't as good because they mostly "de-bitched" Mama who was definitely a monster in the original sketches…)
Pandora and Mimi got the boot on last week's premiere episode of RPDR:AS….who's going home this week? Remember that the contestants are playing as TEAMS, at least for now. (We suspect the team thing will last for the first four weeks then switch to them playing as singles…) Based on performances so far, we're going to go out  on a limb and GUESS (really, we don't know who gets the boot this week!) that it will either be BROWN FLOWERS (Tammie Brown and Nina Flowers) or YARLEXIS (Yara Sofia and Alexis Mateo) who goes bye bye.
You can tune into Logo tonight at 9pm to find out, OR, visit one of the many local establishments who throw "Drag Race" party events. Lobby Bar has the official Logo viewing party but you can also check it out at The Grill on Broadway and R Place who have the advantage of having TWO contestants on hand this week…Raven and Jujubee are in town and at R Place to comment on their performances.
(Oh, and Logo throws up the new episode on their website AFTER its original airing…usually around 11pm or midnight…)
Do it!
We'll also have our recap up tomorrow.
(Visited 1 times, 1 visits today)