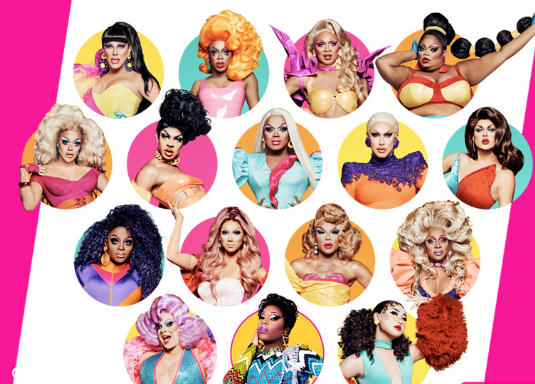 We're down to the final four contestants on Season 11 of the Emmy Award winning, RUPAUL'S DRAG RACE with the reunion episode set for this coming Thursday, May 23rd on VH1 and the Big Finale on Thursday, May 30th. This has been a VERY controversial season with fans foaming at the mouth at some of the twists and turns and with many not that happy over some of the final contestants which include:
A'Keria C. Davenport
Brooke Lynn Hytes
Silky Nutmeg Ganache
Yvie Oddly
One of those four will be crowned the winner of Season 11 but whoever wins, you'll get to see most of the contestants when Voss Events brings the Season 11 cast to Seattle's Moore Theatre on Monday, June 3rd (LESS than TWO weeks away!!!) as part of their exclusive and official "RuPaul's Drag Race Season 11 Tour" which begins on May 26th in Los Angeles, then heads to San Diego, San Francisco, Vancouver and Calgary in Canada, then Seattle as the first leg of its North American Tour. (They're taking the rest of June off so the gals can earn some Pride $$$$, then go back to continue the tour in July…go to the Voss Events website to see the entire tour and to snag tickets for your area!)
Per the Facebook invite, the Seattle line-up is scheduled to have Asia O'Hara as host and "Season 11 favorites including A'keria Davenport, Brooke Lynn Hytes, Honey Davenport, Ra'jah O'Hara, Silky Nutmeg Ganache, Soju, Vanessa Vanjie Mateo and Yvie Oddly" but obviously the line-up is always subject to changes. 
Most of the floor seats are gone for this show (but a few remain towards back/sides) and there are still a few great seats left in the first balcony. Go HERE to grab your tickets for the Seattle show….AND, remember that this is at The Moore so it's open to the under-21 crowd to attend!
ALSO remember that Voss is producing the RUPAUL'S DRAG RACE: WERQ THE WORLD TOUR 2019 which will tour Europe this summer then head to the States in the fall including a Wednesday, September 25th stop at Seattle's Paramount Theatre with host Michelle Visage and a whole slew of divas from past seasons (Aquaria, Kameron Michaels, Asia O'Hara, Kim Chi, Naomi Smalls, Violet Chachki) plus queens from Season 11 as well. Grab Seattle tix for THAT show over HERE!
(Visited 19 times, 1 visits today)