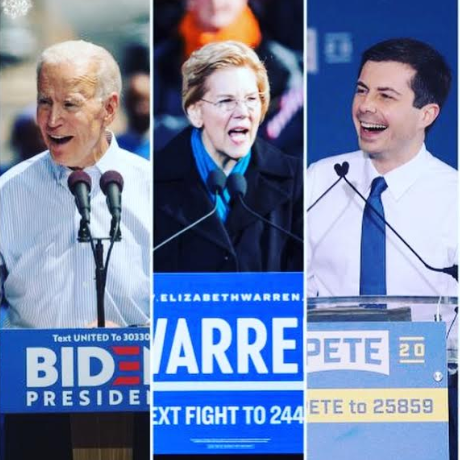 Former Vice President "Uncle Joe" Biden, Senator Elizabeth Warren, Mayor Pete Buttigieg, Senator Kamala Harris, Former Secretary of Something or Another Julian Castro and Amy "the Klob" Klobuchar have all agreed to participate in an LGBTQ focused town hall of 2020 Democratic presidential candidates in a forum produced by the HRC Foundation with CNN as the broadcast partner. The event is scheduled to take place in Los Angeles on October 10th.
The poo from via press release:
HRC Foundation announced CNN as the exclusive broadcast partner for the organization's LGBTQ-focused town hall for Democratic presidential candidates this fall. The evening will constitute the largest-ever audience for a Democratic presidential town hall devoted to lesbian, gay, bisexual, transgender and queer (LGBTQ) issues and will mark the first time in history that a major cable news network will air a presidential event devoted to issues of importance to the LGBTQ community. The Human Rights Campaign is the world's largest LGBTQ civil rights organization, representing more than 3 million members and supporters.
This historic town hall event, entitled Power of Our Pride, will take place on Thursday, October 10 at The Novo in Los Angeles, California. The event is set to take place on the eve of the 31st annual National Coming Out Day, a celebration of coming out as lesbian, gay, bisexual, transgender, queer (LGBTQ) or as an ally. The first National Coming Out Day was held on October 11, 1988 on the first anniversary of the National March on Washington for Lesbian and Gay Rights as a way of celebrating the power of coming out and promoting a safe world for LGBTQ individuals to live truthfully and openly.
CNN will air the event exclusively live during prime time on CNN and CNN en Español, across mobile devices via CNN's apps for iOS and Android, and via CNNgo apps for Apple TV, Roku, Amazon Fire, Chromecast and Android TV. For reference, CNN's July Democratic Presidential Debate drew more than 10.7 million viewers.
Six candidates have confirmed their participation in this historic event: former Vice President Joe Biden, Mayor Pete Buttigieg, former Secretary Julian Castro, Senator Kamala Harris, Senator Amy Klobuchar, and Senator Elizabeth Warren.
"For nearly 40 years, the Human Rights Campaign has fought to realize a world in which LGBTQ people are safe, equal and free in every aspect of our lives," said HRC President Alphonso David. "Today, at a time when our most basic civil rights and democratic values are under attack, our work has never been more urgent. We are eager to hear from this field of Democratic presidential candidates about how they plan to win full federal equality, defend the fundamental equality of LGBTQ people, and protect the most vulnerable among us — both here in the United States and around the globe — from stigma, institutional inequality, discrimination, and violence."
HRC President Alphonso David added, "This town hall comes at a critical time in our fight to achieve equality for lesbian, gay, bisexual, transgender and queer people (LGBTQ) in this nation. Today, in 30 states, LGBTQ people remain at risk of being fired, evicted or denied services because of who we are. Thirty-five states have yet to ban the dangerous and debunked practice of 'conversion therapy,' which is harming our young people. Hate crimes are rising, and more than 100 transgender people — most of whom are transgender women of color — have been killed in the United States in the last five years. Although the federal government should be protecting all residents, the Trump-Pence Administration is directly attacking our community by banning transgender troops from serving our country openly, undermining health care services for people living with HIV, and seeking to erase LGBTQ people from protections under law."
Over the last two years, the Trump-Pence Administration has rescinded key protections for transgender students, appointed two new conservative justices to the Supreme Court, banned transgender troops from serving openly in the military, and has repeatedly sought to allow discrimination against LGBTQ people in healthcare, housing, public accommodations and other aspects of life under the guise of "religious freedom." Despite campaigning on a promise to be a "friend" to the LGBTQ community, President Trump designated Mike Pence as his vice president, and has refused to advance bipartisan federal civil rights legislation — the Equality Act — which overwhelmingly passed through the U.S. House of Representatives this spring.
These issues are of crucial importance to LGBTQ voters and allies. Today, there are an estimated minimum of 10 million LGBTQ voters nationwide — along with millions of parents, siblings, friends, colleagues, and allies — who will play a decisive role in the 2020 election. Since 2016, HRC has identified more than 57 million "Equality Voters" nationwide who prioritize LGBTQ-inclusive policies, including marriage equality, equitable family law, and laws that would prohibit discrimination on the basis of sexual orientation and gender identity.
In 2018, LGBTQ voters cast ballots in higher numbers than the general population. LGBTQ voters cast more than 7 million ballots in all — a turnout of roughly 70 percent, compared to a turnout of 49 percent among the general population — and comprised 6 percent of the entire electorate.
In order to participate in the town hall, candidates must meet the fall DNC debate eligibility criteria: 2 percent or more support in four separate national or state polls and 130,000 unique donors with a minimum of 400 individual donors across 20 states. The last day for qualifying polls to be released or for qualifying donors to be counted will be September 25th. Candidates must submit their qualification criteria by 11am on September 26th.
The HRC Foundation last hosted presidential town halls in 2004 and 2008. In 2004, the HRC Foundation's town hall included Sen. John Kerry; Rep. Dennis Kucinich; Sen. Carol Moseley Braun; Gov. Howard Dean; Sen. Joe Lieberman; Rev. Al Sharpton; and Sen. Richard Gephardt. And the 2008 town hall included then-Senator Hillary Clinton, then-Senator Barack Obama, Sen. Mike Gravel, Rep. Dennis Kucinich, former Sen. John Edwards and Gov. Bill Richardson.
(Visited 2 times, 1 visits today)