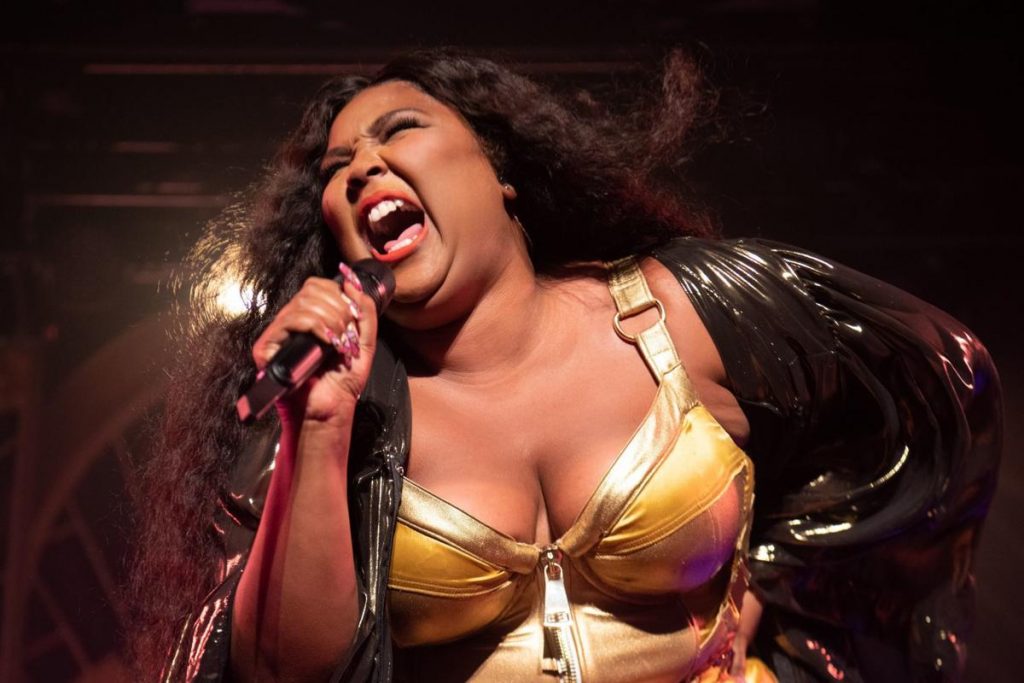 The year has come to a close. The decade is complete. Trump is officially (if in name only) impeached. And queer culture remains vocal and visionary.
Those voices and visions have come through in large part via this year's most creative music releases. And in case you didn't get enough queer music recommendations from your friends' particularly gay Spotify Wrapped posts on Instagram, there are bushels of LGBTQ+ singers who released amazing new music you may not have heard. From pop to punk, rap to reggae, blues to ballads, queer recording artists rounded out the decade with perspective and power.
In no particular, here are 20 of the best songs by LGBTQ+ musicians in 2019. (And check out the full Spotify playlist here.)
Juice by LIZZO
If 2018 was the year of Janelle Monáe, 2019 was unequivocally Lizzo's time to reign supreme. Her star has been steadily rising, but "Juice" launched her to internet fame at the beginning of the year. She followed the massive success with even more popular videos for songs like "Truth Hurts" and the previously released "Good As Hell." And while Lizzo is vocally passionate about being a big femme flutist of color, she has refused to label her sexuality for the media. She simply recognizes that her attractions are fluid, a distinctly queer mindset that echoes in the artist's lyrics. We stan.
Everything (Todd Edwards Radio Edit), by Sam Sparro
You may remember the Australian artist from earlier releases like "Black and Gold" and "Cottonmouth" in the late 2000s. And though Sparro's musical releases since then have not garnered the same popularity, the gay singer and songwriter has released two studio albums and several EPs in the last decade. His collaboration with Todd Edwards was a brilliant choice and has put Sparro back on the musical map.
I Remember, by Betty Who
We watched. We waited. We eagerly anticipated. And finally, the uber-queer-friendly artist Betty Who (indirectly) came out last year as having "been in relationships with both men and women." While she has not labeled herself publicly as bisexual, pansexual, fluid, etc., LGBTQ+ fans rejoiced that such a talented voice can be referred to as a member of the community that has loved and supported her since the release of her gay anthem "Somebody Loves You" in 2012. Her electropop work is heartfelt, uncomplicated, and catchy af.
I Want It All, by Eli Lieb
Face? Elfin. Voice? Angelic. Songs? Grade A content. With his first full-length album released in 2011, Lieb has maintained a modest-yet-steady career through the decade. The openly gay Iowa native has collaborated with other queer artists like Steve Grand and Brandon Skeie, and has won two American Music Producers Awards for his song "Safe in My Hands." Lieb's is a career to watch, with "I Want It All" showcasing his tender vocals and earnest lyricism.
Paratrooper, by KC Ortiz
Alabama born and Chicago bred, Ortiz is an underground rap phenomenon on the move. Her Soundcloud and YouTube presence features her 90s-reminiscent hip hop, but the devoutly religious singer and rapper got her musical start in gospel choirs. She has had a mountain to climb as an openly trans woman of color in the hip hop scene, but Ortiz continues to write and produce new bops that speak to relatable emotions—and humanity's shared need to body roll in front of our bathroom mirrors.
Ur the Only One, by Shawnee
Shawnee's music can't be pegged into any one genre. Her timeless singer/songwriter sensibilities mix well with country western vocal styles, while some of her many singles blend roots from rock, soulful R&B, and traditional Native influences true to the artist's Indigenous Canadian heritage. Shawnee identifies as two-spirit, a member of the Mohawk nation, and a huge Melissa Etheridge fan, as evidenced in her acoustic guitar and authentically raw vocals.
Superstore, by Alextbh
Malaysia has never had an openly queer pop star. Until now. Alextbh's collaboration with Sevdaliza and his massive SoundCloud presence has propelled the singer into international Spotify success and YouTube fame. This is particularly meaningful for an LGBTQ artist who is producing openly queer music in a country where the rape and murder of queer/trans folks are common, and where LGBTQ businesses are being shut down by the government. Alex's expressive voice and songs are an act of revolution and a beacon of hope to fellow queers in unsafe circumstances.
Icy, by Kim Petras
The newest crowned Princess of Pop is a charismatic trans woman from Germany who (let us celebrate) released an entire EP album themed for Halloween. While she has drawn some criticism for collaborating with Dr. Luke, the infamous record producer who reportedly abused Kesha, Petras also partnered with icons of the queer community like Sophie, Max, and Elvira herself. We can only hope Petras distances herself from Dr. Luke and continues to release well-produced, well-written pop mainstays.
Baby Boy, by Kevin Abstract
It's not easy for an out gay man to take space in the rap genre. But Kevin Abstract, the Texas-born frontman of the rap collective Brockhampton, is claiming his title as the newest queer male rapper on the scene. "Baby Boy" remains one of Abstract's most genuine odes to lost love and post-breakup loneliness, and we look forward to more solo releases from the talented artist.
Cántalo, by Ricky Martin
He lived la vida loca. He shook his bon bon. He drank from the cup of life. And with his quintessential Latin pop album of 1999, Martin skyrocketed to fame. The former Menudo band member has spent the last two decades creating more English- and Spanish-language music, acting in the award-winning American Crime Story: The Assassination of Gianni Versace, and serving as a vocal anti-corruption activist who is credited with successfully influencing the social movement to unseat Puerto Rico's negligent (former) governor Ricardo Rosselló. Martin lives with his husband Jwan Yosef and their twin sons Valentino and Matteo, and remains active as a social figure and musician.
Khabberni Keef, by Khansa
Khansa's music went public with his single "Khayef" in 2017, and immediately became a topic of heated discussion. Many queer fans rallied behind the Lebanese singer and belly dancer, while Lebanese conservatives expressed outrage at the artist's gender-bending performances and sensual aesthetic—a good sign that you've truly "made it" as a queer artist. "Khabberni Keef" is an Arabic-language song about lost love.
Hurry On Home, by Sleater-Kinney
Corin Tucker and Portlandia actress Carrie Brownstein are the last two Sleater-Kinney band members of the original band that formed in 1994 in Olympia, Washington. Both are bi, both are Pacific Northwest locals, and both are badass guitarists and vocalists. The song "Hurry On Home" has one of the best lyric videos you'll ever see, and combines driving punk beats with heartbreaking, honest lyrics.
Wild and Lonely, by Melissa Etheridge
The reigning queen of lesbian musicians, Etheridge has been a queer music staple since her 1993 hits "I'm the Only One" and "Come to My Window." In the same year, Etheridge publicly came out as a lesbian—paving the way for Ellen Degeneres to follow suit four years later. Over the last three decades, Etheridge has released a total of 16 studio albums and remains one of the most popular voices of the heartland rock genre. Mama's still got it, y'all.
Erase Me, by Quinn Christopherson
Christopherson, an Alaska Native artist with Athabaskan and Iñupiat ancestry, began transitioning as a trans man in 2017. He wrote "Erase Me" to describe the unforeseen and unwanted privilege he began to acquire when people recognized him as a man. This single went on to win the 2019 Tiny Desk Contest from NPR, poising Christopherson for a prolific career as a singer/songwriter and as a poignant new queer icon.
Change, by Hercules and Love Affair
Since 2004, Hercules and Love Affair have been influencing dance music the world over. Openly gay founder Andy Butler brings a distinctly queer lens to the group's four studio albums and many EPs, with rotating group membership and a focus on disco, house, and techno genres. As evident in the group's namesake, classical mythology remains a common theme threaded throughout their discography, including in the single "Change," which borrows the theme of metamorphosis (so common in Greek myths) to describe someone's personal evolution after the end of a relationship.
Maybe You're the Reason, by The Japanese House
The indie pop world got a breath a fresh air in The Japanese House, Amber Bain's solo act. The English recording artist blends electro synth with sophisticated chord progressions, poetic lyrics, and a commanding voice. After her breakup with fellow musician Marika Hackman, Bain released her first ever studio album, Good at Falling. After gaining popularity all year with Bain's global tour, this nuanced record belongs in your heavy rotation.
Sugar Honey Iced Tea, by Princess Nokia
You know that Azealia Banks-shaped hole left in your heart now that the brilliant-yet-betraying rapper has bid "adieu" to the gay community? Fill that hole with the beats of up-and-comer Princess Nokia. Like Banks, Nokia is also bisexual, also talented, and also a New Yorker, but not aggressively trying to tear down other queers or women of color out of volatile insecurity. This Puerto Rican Princess survived the loss of her mother and an abusive childhood in foster care, growing up to become a firm feminist, an anti-racism advocate, and a champion for the LGBTQ+ community. And as she has grown as a community member, her musical style has evolved into a more complex, stylized demonstration of her artistry.
F9mily (You & Me), by Lil Nas X
Whether you wanted to or not, you've heard "Old Town Road." The country rap single exploded on Tik Tok in early 2019 with the advent of the "Yeehaw Challenge," then made its way to the Billboard Hot 100, breaking records for the most streams and the longest standing Number 1 track to top the chart. This made it impossible for the country music industry to ignore Lil Nas X's success, making him the first openly gay black man to win a Country Music Award and to land on the Forbes "Highest-Paid Country Acts" list. While popular and catchy, the song is… not the rapper's best work. But other singles like "F9mily" and "Panini" demonstrate his more versatile musical talent. At just 20 years old, X has plenty of "road" before him.
Little Bird, by Ah Mer Ah Su
Oakland native Ah Mer Ah Su started gaining notoriety in the music scene with her 2016 EP "Eclipsing," but her career blossomed with the full studio album "Star" in 2018. She speaks openly about her creative process, and her experience of navigating the world as a black trans woman. Ah Mer Ah Su has taken her repertoire to new heights with the 2019 orchestral album titled "Incandescent Body," showcasing her pure and hypnotic voice alongside strings-remixed versions of her previously released songs.
Let Somebody Love You, by Boy George
Before the word "queer" was reclaimed, before Ellen came out, before the LGBTQ+ community had mobilized for federal civil rights in the U.S., Boy George was delivering genderbending performances with the English band Culture Club and inspiring a generation of queers with "Do You Really Want to Hurt Me?" in the 1980s. Nearly 40 years later, Boy George is still creating uplifting, sensitive music to elevate his fellow gays and all broken hearts who struggle in these confusing, isolating times.
2019 is finally over, as is a tumultuous decade that saw global unrest and divisiveness. But this strife has fueled queer artists' activism, fury, and passion. Support these musicians and others as they continue to push us forward for the sake of resistance and LGBTQ+ unity.