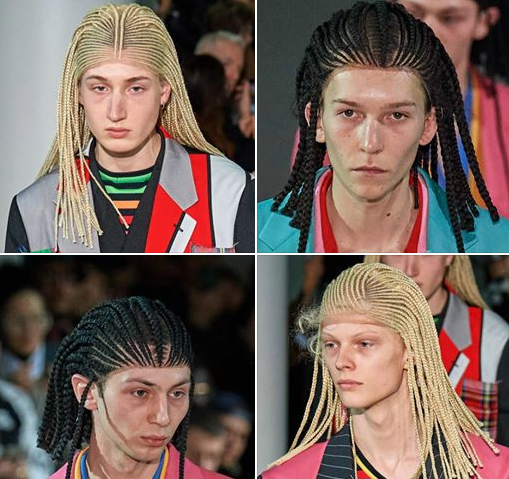 "No, gurl…no…"
Is what we'd have to say to iconic Japanese fashion designer Rei Kawakubo, the 78 year old founder/head designer for Comme des Garçons the ultra trendy/quirky/fun yet weird fashion house known for odd silhouettes and uses of atypical fabrics for their designs. We'd have to chastise the designer (or whomever on her team ok'd it) for last Friday's fashion fiasco at the Comme des Garçons Fall 2020 Menswear show in Paris.
The runway featured male models, mostly white, in an unfortunate series of funky cornrow style wigs, a hairstyle common for people of African descent. The wigs were also blatantly artificial…apparently designed to look "wiggy" and odd.
Needless to say, the look didn't go down well with the press, the public and seemingly with the models…many of them look uncomfortable, which is frequently a common look for surly male models but…take a look for yourselves. Most of them look very unhappy. (Oh, and don't take it out on the poor models who have ZERO say in what they wear on the runway. )
This isn't the first time this has happened. Both Valentino and Marc Jacobs were criticized 4 years for appropriating Black/African hair designs and fabrics to use on white models.
So far, no response from Comme des Garçons which isn't that surprising…it's a notoriously tight lipped house and Rei Kawakubo has never been known for being a chatty Cathy with the press.
Tags: Comme des Garçons, Cultural Appropriation, Rei Kawakubo