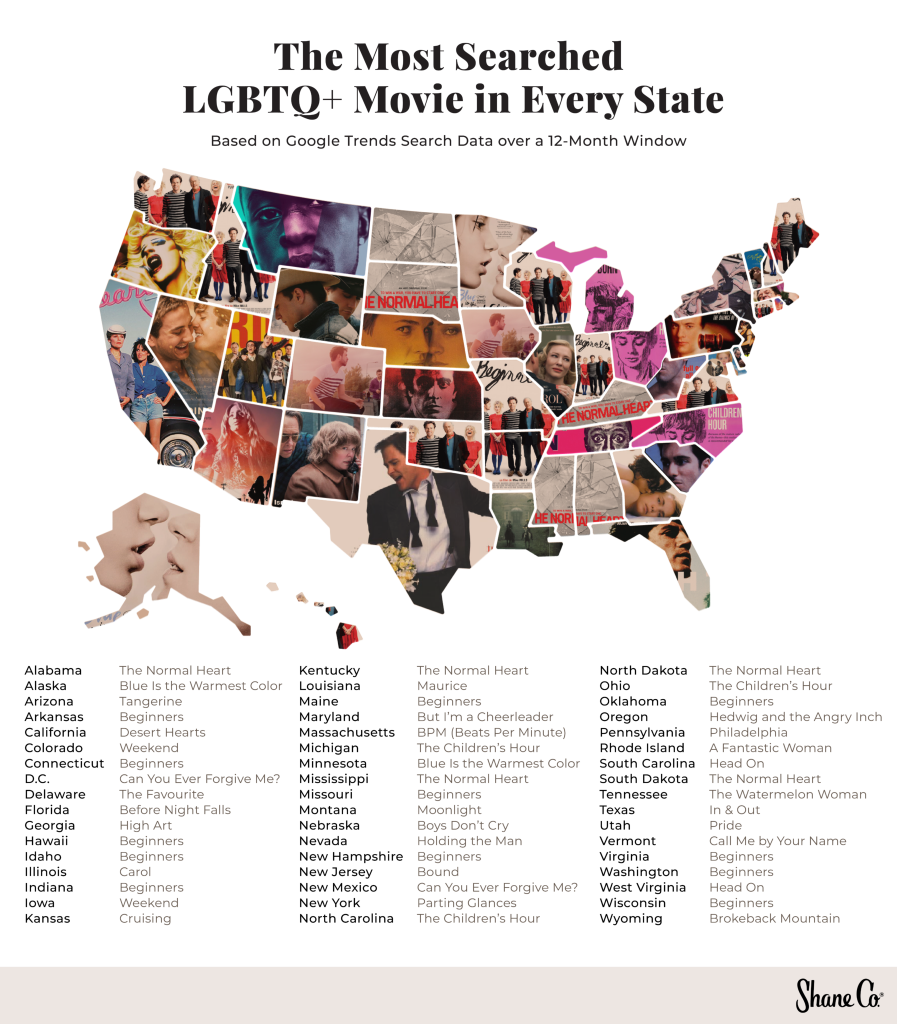 Beginners, the 2020 romantic dramedy starring Ewan McGregor as a son whose father, played by Christopher Plummer, comes out as a gay man after the death of his mother. The heart warming film won Plummer a multitude of awards, including an Oscar for Best Supporting Actor.
The film was the not only the most searched LGBTQ+ movie on Google for Washington State but also for 11 other states making it the most searched for film. It was followed by HBO's adaptation of Larry Kramer's play, The Normal Heart, which was directed by Ryan Murphy and starred Mark Ruffalo and Julia Roberts, in 5 states and a very odd choice: 1961's rather reactionary lesbian drama The Children's Hour in 3 states which features the usual tragic death of an LGBTQ character. (Ooooops! Spoiler!)
Reflecting the huge amount of LGBTQ+ films now available to watch online, over a dozen other films made the search list including non-English language films like the terrific French films, Blue is the Warmest Color (a lusty lesbian love story) and BPM (Beats Per Minute) which focuses on AIDS activism in 1990s Paris as well as a Spanish language film, Oscar winner A Fantastic Woman.
Other titles include dramas like Brokeback Mountain, Call Me By Your Name, Carol, and Boys Don't Cry as well as comedy classics like But I'ma A Cheerleader and In & Out and the beloved musical, Hedwig & the Angry Inch.
The survey was conducted by Shane Co., the jewelry store company who provided this information. Here's a lovely link to their blog where you can more info.
At Shane Co., we love to see our customers express themselves. This Pride Month and every month, we want to amplify the beauty of love in the LGBTQ+ community — a community that we're proud to support and celebrate!

To have some fun (and as an excuse to pore over our favorite flicks) we decided to see which movies should make our Pride binge list by checking out which LGBTQ+ movies were most popular nationwide.

Using Google Trends search reports, we were able to analyze the most searched LGBTQ+ movies in the United States. We organized our data findings geographically, so we could look at how favorite LGBTQ+ movies differed nationwide.

The data we found showed some interesting trends among the most searched movies. Read on and see if your Pride pick made the list. Then, get comfy with whomever you love and celebrate Pride with these popular movies!
(Visited 16 times, 1 visits today)