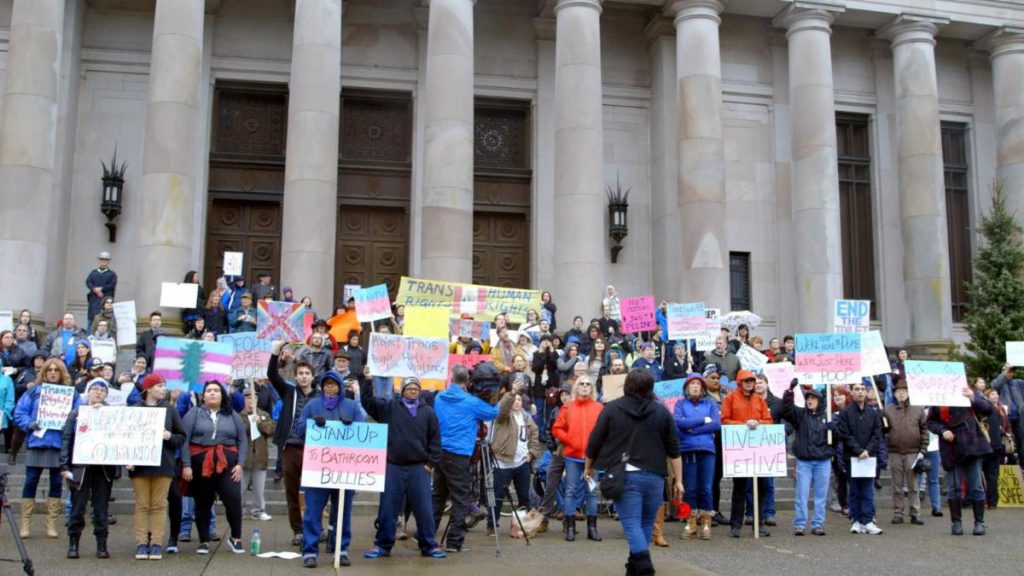 Three Dollar Bill Cinema will offer up several online way to celebrate LGBTQ+ Pride this week with films and programs they're partnering up with other community groups to present.
First up, this Thursday, is an online hosted screening of THE MOST DANGEROUS GAME, presented with TransPride Seattle, Northwest Film Forum and Seattle Sounders FC. More info:
THE MOST DANGEROUS YEAR, JUNE 25, 7:00 PM
In 2016 a small group of families with transgender kids joined the fight against a wave of discriminatory anti-transgender legislation that swept the nation and their home state. With the help of a coalition of civil rights activists and ally lawmakers, these families embarked on an uncharted journey of fighting for their children's lives and futures in this present-day civil rights story.

A co-presentation of Three Dollar Bill Cinema, Trans Pride Seattle, and Northwest Film Forum, with promotional partners Seattle Sounders FC

A recorded panel discussion follows this film. Featured panelists include: – Vlada Knowlton – Director/writer/producer- Aidan Key – Cast member/associate producer, founder Gender Diversity and Gender Odyssey– Laurie Jinkins – Cast member, Speaker of the Washington House of Representatives- Ve'ondre Mitchell – Cast member, Tik Tok influencer- Asaf Orr – Cast member, Senior Staff Attorney/Transgender Youth Project Director at The National Center for Lesbian Rights

The screening and panel discussion are sliding-scale $0-$25, pay-what-you-can, with proceeds split between non-profit charitable organizations Trans Pride (Gender Justice League), Three Dollar Bill Cinema, and NWFF's split of proceeds, which will benefit WA Black Trans Task Force.
On Saturday, June 27th, Three Dollar Bill will also team up with Trans Pride for a screening of Short Films by and for the transgender community. It's a free event and will run about 66 minutes. For more info (and a start time which hasn't been released yet) visit: https://threedollarbillcinema.org/pride for more details. The films will include:
HONOR BLACK TRANS WOMXN! Seyi Adebanjo & The NY Transgender Advocacy Group; 2019; USA; 6 min. What would it look like if Black Trans womxn were allowed to thrive? The Hands Off Trans Bodies Rally was held on May 24, 2019, because three Black Transgender womxn were murdered within eight days of each other. This is a call to action! www.seyiadebanjo.com/
BODIES LIKE OCEANS KC Cory; 2019; USA; 13 min. Closed Captioned Cory dives into this dreamy portrait of photographer Shoog McDaniel, a self-described "queer, fat, Southern freak," whose work with fat bodies in nature transgresses reality. From mountain-fed waterfalls to the clear blue and weightless world under the surface of a natural spring, BODIES LIKE OCEANS created by an all Trans and LGBTQ crew—finds beauty in new places.www.instagram.com/bodieslikeoceansfilm/
I AM SAMANTHA T Cooper; 2019; USA; 5 min. Open Captions Director Cooper gathered twenty-seven trans actors together to tell a universal human story about the journey to find identity, acceptance, and love by singing "I Am Samantha" by singer-songwriter Benjamin Scheuer, which was inspired by his friend Samantha Williams, whom he met randomly at a coffee shop in New York City. www.benjaminscheuer.com/
THE ROGERS Dean Hamer and Joe Wilson; 2020; USA; 16 min; English and Samoan, with English subtitles. This is an intimate glimpse of the first visible group of transgender men in the Pacific: the Rogers of Samoa. From the loneliness of family rejection and homelessness to the camaraderie of cooking, church, and dance, their stories reveal the challenges and possibilities of life in an island society rooted in tradition.
SHÉÁR AVORY: TO BE CONTINUED Abram Cerda; 2019; USA; 26 min. Closed Captions This coming-of-age story follows Shéár Avory, a 17-year-old aspiring social justice advocate in Los Angeles who navigates housing instability and familial dependency on their journey to adulthood. Shéár relies on their struggling mother for support during their medical transition, though she is not always able to offer it. This observational film aims to ask, what does coming into adulthood actually look like for a young black trans* femme in today's America?

FINALLY, on Sunday, July 28th, Three Dollar Bill teams up with MoPOP and Seattle Pride. For "A mix of fiction and documentary shorts that explores queering the cinema and our present moment as we celebrate LGBTQ+ lives through revolution, love, dance, and music." The films are:
WOMAN DRESS Thirza Cuthand; 2019; Canada; 6 min. Open Captions
Pre-contact, a Two Spirit person named Woman Dress travels the Plains, gathering and sharing stories. Featuring archival images and dramatized re-enactments, this film shares the director's family oral story, honoring and respecting Woman Dress without imposing colonial binaries on them.
MY HEART BREAKS – "THE PARTY'S OVER"
Clyde Petersen; 2019; USA; 4 min.
Filmed at Seattle's On the Boards, features multi-talented artist Clyde Petersen singing his soulful tunes, as local dance duo Dandy (Seattle artists Randy Ford & David Rue) move in tandem across the stage.
LADIES DAY
Abena Taylor-Smith; 2018; UK; 9 min.
Amma has resisted sharing her sexuality, but after a day at the salon filled with homophobic comments, she is empowered to embrace her true self.
STONEWALL: THE MAKING OF A MONUMENT Cheryl Furjanic; 2019; USA; 19 min.
Stonewall was a riot and a revolution for LGBTQ rights. Here comes a timely portrait of the historical importance of Greenwich Village to the LGBTQ rights movement.
GO GO, BOY
Oriana Oppice; 2019; USA; 6 min.
A young African American boy discovers his identity when he sets himself free by dancing in his bedroom to his very own beat.
DANCE DANCE EVOLUTION
Jules Rosskam; 2019; USA; 18 min.
"When I dance, that is my true gender." In Dance, Dance, Evolution six trans-identified people explore their relationship to dance over time. This short, joyful documentary looks at the ways in which the body in motion opens up the spaces between gender, race, and time, producing pleasure in indeterminacy.
(Visited 1 times, 1 visits today)