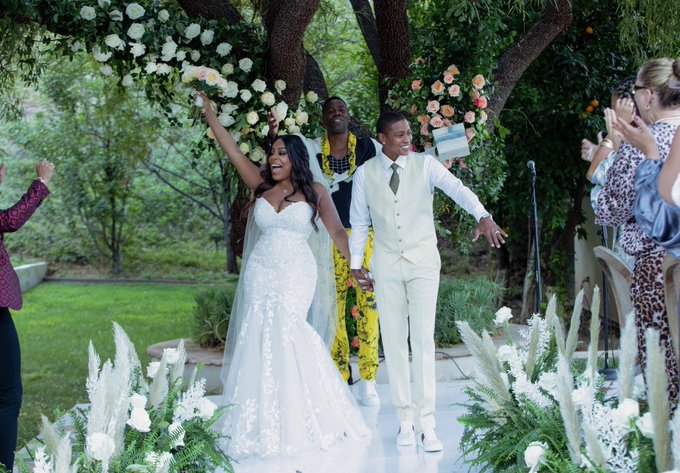 We love her.
Actor/Comedian NIECY NASH has delighted audiences for years now, primarily on television. She first came to be nationally known as part of the hilarious ensemble cast of the improvised sitcom RENO 911 then went on to win a Daytime Emmy hosting Clean House while also appearing in guest roles on television shows and in films. More recently, she has starred in the comedy Claws, about shady doings in a nail salon.
Privately, Niecy Nash has married twice…first to ordained minister Don Nash with whom she had three children and then after that marriage ended, she was married to Jay Tucker in 2011. Her divorce to Tucker was finalized in March of this year which brings us up to today and the rather surprising news that Nash married musician Jessica Betts over the weekend.
Nash broke the news via Twitter by posting a photo of the two at their wedding ceremony with Nash in a traditional white wedding gown and Betts dressed in pants, vest, white shirt and a tie. All that was stated on the post was: " Mrs. Carol Denise Betts", the hashtag "#LoveWins" and links to her new spouse and the photographer.
The news caught the Internet by surprise; no one was aware the pair were a couple though both had mentioned admiration of each other on their respective social media accounts.
Out.com which broke the news also noted that this was the latest " in the string of high-profile Black, sapphic women with love life updates". Actress Raven-Symone married Miranda Pearman-Maday in June and rapper Da Brat has confirmed she has been dating jesseca Dupart.
A heartfelt toast to the newest Lesbian Power Couple!
(Visited 3 times, 1 visits today)