Union Seattle, the very popular gay bar at 14th & Union made a startling announcement last week on their social media:

That announcement seems odd for multiple reasons. The venue, from the former owners of the also beloved Thumpers bar that was torn down in the name of gentrification over a decade ago, wasn't very old…it just opened a bit over two years ago. And, after a fire a few months, ago they spent time and money to get the bar back into shape.
Through the gay grapevine, (always ripe and bursting with fresh dish) we've heard the landlords handed Union a big fat rent increase, one they either didn't want to and/or couldn't afford to pay so they made the decision to pull up stakes and find a new, more affordable home. Of course, that's also a risky proposition in a city with very high rents for commercial as well as residential properties. Two other popular bars in recent years tried to make a similar move…Lobby Bar on Pike Street was forced out of their home and could never find a location that fit their budget or the needs of their clientele. And, Purr, the beloved bar owned by Barbie Roberts lost its longtime home on 11th Avenue (which Queer Bar took over) and made a disastrous move to the Montlake neighborhood of Seattle, where it failed to connect with its audience and quickly died.
But, Union might have lucked out to find itself in market with more wriggle room for negotiating rental agreements. Between the economic downturn caused by the ongoing Covid-19 pandemic and the frequent demonstrations and clashes with police protesting brutality in the Capitol Hill neighborhood, there are currently quite a few available spots for nightlife venues. After Union announced they were moving, rumors circulated they might be moving to the old Stout location at 11th & Pine next door to Queer Bar…or, even the Bill's Off Broadway spot at Harvard & Pine. Both were recently vacated and up for grabs.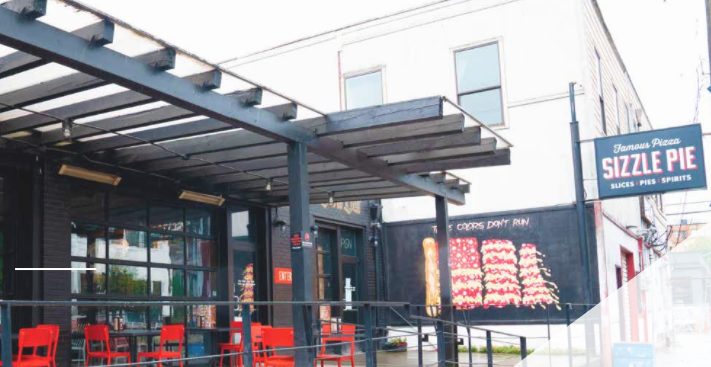 But, the winning guess seems to a move just down Union Street for Union Seattle which is awesome because they won't have to change their name to "Pineleventh" or "PineVard". The scuttle butt is that their new home will be at the old Sizzle Pie/Po Dog location at 1009 East Union Street only a couple blocks from their current spot. It's a superb location with a great layout and an ideal spot for a gay bar.
Now, while it's true that Sizzle Pie and Po Dog both failed there, you can blame Sizzle's death on terrible service (the slowest staff I've ever encountered in a pizza joint) and Po Dog had a problematic ownership situation that pretty much collapsed a once promising local food/drink empire. Not to mention that the re-gentrification of that part of the Hill has changed that area…it's now a vital part of the entertainment district of Pike/Pine/Union corridor.
Note this is rumored speculation from not just me but all sorts of gossipy little birds including a few little wrens chiming in that they'e "on the know" that this is the real deal. We'll soon see! (We're actually excited about the move because we were never in love with the flow of the current Union…the layout just wasn't organic. In our opinion.)
In the meantime, go enjoy the old Union while you still can.
(Visited 2 times, 1 visits today)