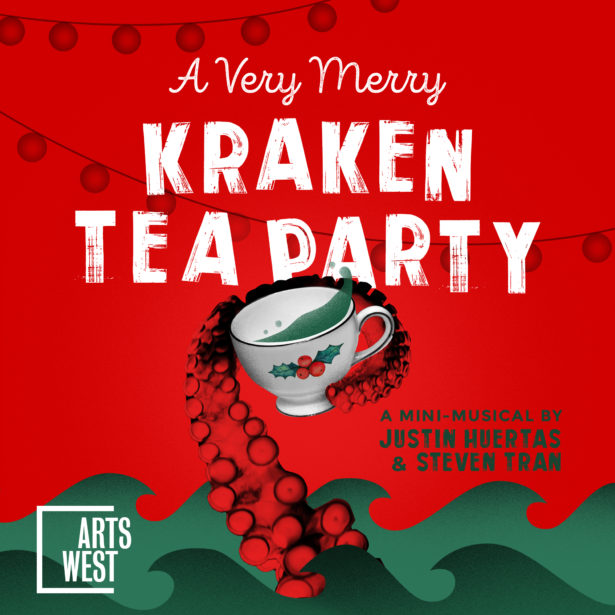 Theater nerds are all pining for shows to see, preferably LIVE shows onstage with an audience but…that's still not happening for awhile unfortunately so we'll have to make do with terrific new shows being done virtually and watched from the safety of our own homes.
The winter holiday season calendar is normally very full of the usual annual treats like Dina Martina's Xmas Show and various draggy (or blandly traditional if you so prefer) versions of The Nutcracker or A Christmas Carol as well as one off, family friendly works on various area stages.
The fine folks out at ArtsWest Playhouse in West Seattle normally treat us to something like that; a musical treat that can be enjoyed by all. Of course Covid-19 has shut down any plans to do so live but they've come up with a great new solution. A brand new mini-musical that is a sequel to a popular hit from last year, The Last World Octopus Wrestling Champion.
The new work is called A VERY MERRY KRAKEN TEA PARTY and it's the same team from "Last World Octopus…" including its original writer and composer Justin Huertas along with musical director/arranger Steven Tran and director/ArtsWest artistic director Mathew Wright co-directing this new digital work along with Huertas.
Also back are four of the actors from "Octopus": Rachel Guyer-Mafune as Lee and Christian Quinto as Lee's brother Todd with Tyler Rogers as Todd's love interest David and Porscha Shaw as Lee's love interest, Nia.
Yes….it's a VERY gay show!
The plot of the new show picks up its story NOW a few months after the story of the first show concluded and incorporates the worldwide Covid-19 pandemic into its plot. From the press release:
Featuring five new songs from powerhouse playwright/composer/lyricist Justin Huertas, A VERY MERRY KRAKEN TEA PARTY follows the characters of Justin's 2019 ArtsWest hit THE LAST WORLD OCTOPUS WRESTLING CHAMPION. As winter hits, the octopus Nia and Lee formed together has mysteriously separated and both have come ashore just as Todd and David are getting ready to celebrate their first Christmas together. With a new problem to solve, and with (mom) Grace away on tour in Thailand, all try to figure out how to celebrate holiday love with each other while they remain apart.
"One of the beautiful things about the way Justin writes is that, even though he writes stories that have extraordinary given circumstances, he writes deeply human stories within that context," said Artistic Director and THE LAST WORLD OCTOPUS WRESTLING CHAMPION director Mathew Wright. "I'm so excited that Justin has chosen to revisit the world and characters he created in OCTOPUS and find out what happens to them during the holidays – and amidst a global pandemic!"
"We learn from so many stories that love is the bow wrapped around the neatly wrapped Christmas gift, but what I've learned over the years is that love is also the wrapping and the box-the very act of tearing the present open in anticipation of the unknown is also love," said creator Justin Huertas. "I was excited to bring these characters that I love so well back to the page and imagine what happens after their Happily Ever After. Setting it in present day 2020 also allowed me to explore what it means to connect at a time when connection is at its most challenging."
A VERY MERRY KRAKEN TEA PARTY will be released digitally on November 27, 2020 at www.artswest.org. Tickets offered at varied price points to accommodate patron accessibility ($10 – $100). Available now online only at www.artswest.org.
(Visited 1 times, 1 visits today)