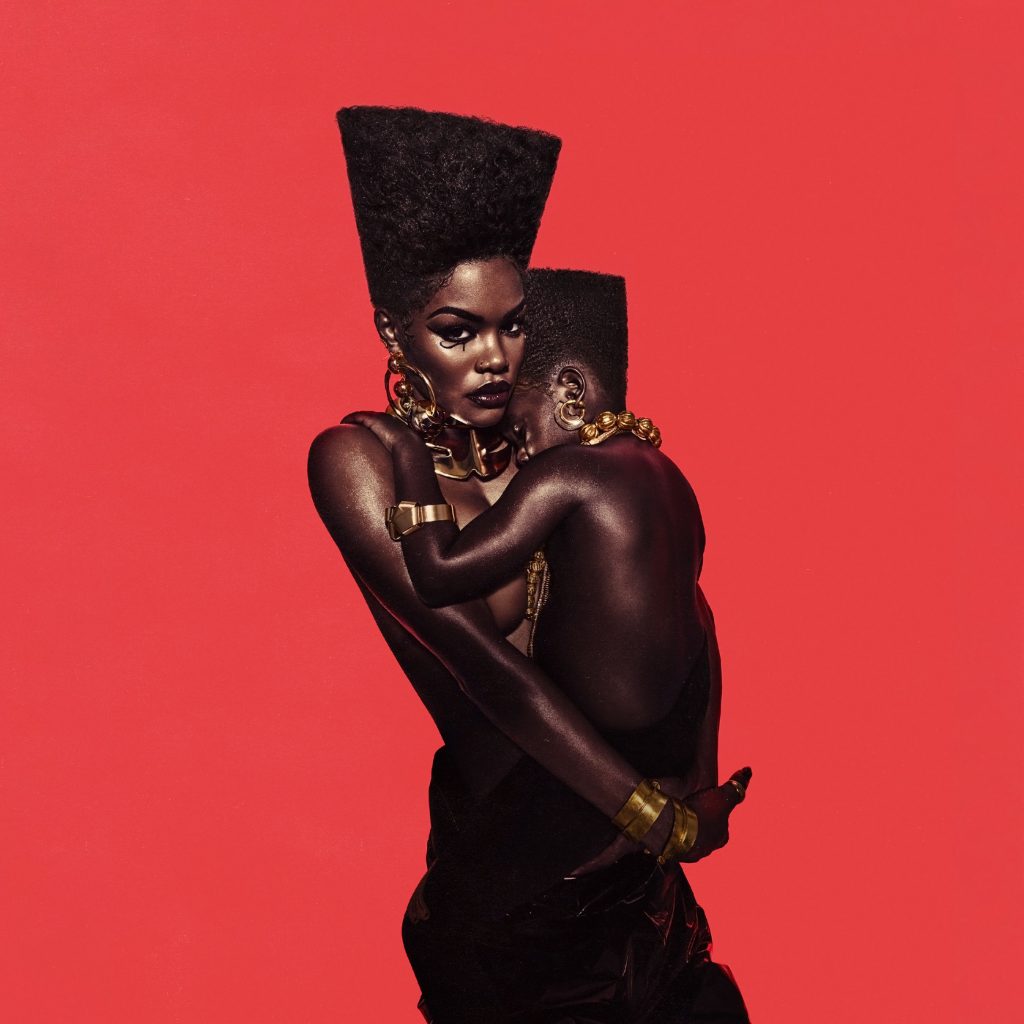 Welp.
2020 was…
…2020…was…
…
*sighs*
*swigs whiskey*
*crushes cigarette into the radioactive rubble that used to be society*
…
Well, you were there.
After a harrowing, traumatic year for the entire globe, we all deserve a little peace, a ton of empathy, and as much joy as we can scrape together from this blast crater.
For many of us, the saving grace we could rely on was experiencing new albums and EP releases throughout the year. As cops rained down tear gas and got away with the murder of Black and Brown Americans; as an uncontrolled pandemic robbed many of us of our jobs, homes, loved ones; as our elected leaders endlessly sabotaged us; thankfully, there was no shortage of music in these dark days.
Some of our favorite LGBTQ+ artists took that zeitgeist of anxiety, heartbreak, stir-craziness, and fear, and channeled it into some of the most beautiful and inspiring music we've heard in years. It was a time of creativity borne out of necessity, both in music production and in low-budget video shoots from home.
Here are 20 of the best songs created by queer artists during the clusterfuck decade that was the year 2020.
Stayaway (Now, Now Remix) by MUNA
Electro pop is in good hands with Naomi McPherson, Katie Gavin, and Josette Maskin. Hailing from L.A., all three bandmates are queer women, and all of them tore it up with the original recording of "Stayaway" last year. Minneapolis rock duo Now, Now took that deep dark cut and added some shimmer and snazzy synth percussion. The resulting remix turned out to be the perfect precursor to what would become a global lockdown.
Cabin Fever by Jaden
Jaden Smith's star has been rising for the past 15 years, and doesn't seem to be slowing down anytime soon. The Malibu-based artist followed in his parents' footsteps (shout out to Will, Jada, and "the entanglement") by starring in films like The Pursuit of Happyness and in TV series like The Get Down. And while he initially broke into the rap scene like his father, Jaden followed his talents and paved his own musical path with more emo rap and alternative hip hop. He's a quietly creative queer musician, and his new album Cool Tape Vol. 3 gave us "Cabin Fever," a glimpse into the cheerful side of the otherwise lonely realities of social distancing.
Midnight Sky by Miley Cyrus
In an overly saturated internet, Miley seems to win every battle to remain relevant. She has crafted a time-tested pop career with the usual headline-grabbing phases of breakups, sexually assertive music videos, tender family moments, shedding her Disney Channel past, and coming out as pansexual in 2015. Her newest album, Plastic Hearts, is easily one of her best, with standouts like "Midnight Sky," as well as duets with Dua Lipa, Billy Idol, and Stevie Nicks. Get on board.
mercy by Joy Oladokun feat. Tim Gent
Arizona native and self-identified queer woman Joy Oladokun has released one of the most tender, heartfelt albums of the year with her new record in defense of my own happiness (vol. 1). Drawing on her creative inspirations like Tracy Chapman and Peter Gabriel, Joy created this beautiful collab track with rapper Tim Gent that was featured on Grey's Anatomy. "Mercy" serves as a sad and timely reflection on the economic and social devastation that COVID-19 wreaked on 2020, and Joy cements herself as an artist to watch.
Still by Teyana Taylor
Warning: this video depicts disturbing footage of George Floyd's murder at the hands of former cop Derek Chauvin.
After collaborating with Pharrell Williams, Kanye West, Kehlani, Usher, and more, Teyana has recently become more popular in her hip hop career after opening up about her more fluid sexuality. She welcomed her second child in 2020, and also gave birth to The Album, arguably her best record to date. It's rich with incredible songs and featured artists, but perhaps the most meaningful track is "Still." What might have been construed as a heartsick song about unrequited love is deepened with the accompanying music video, in which Teyana grieves George Floyd, Breonna Taylor, Tony McDade, and too many more Black Americans killed by police in 2020 (and before).
Mess by Brandon Colbein
2020 was rife with breakup songs. But Brandon Colbein—also known as Brandon Skeie—penned a particularly poignant one. The Californian singer/songwriter is best known for his 2016 single "So Bad," but has continued to write increasingly powerful works. Sung with an agile voice, a befuddled mind, and a heavy heart, "Mess" makes for a great addition to your cry-into-a-pillow-until-you-get-over-your-ex playlist.
Wings by Ryan Cassata
Ryan has been on the music scene since he was a teenager in New York. At that time, his music came second to his public speaking engagements as a young trans man, speaking about body dysmorphia and trans identity on Larry King Live, The Tyra Banks Show, CNN, HuffPost Live, and more. Now at 27 years old, his usual emotion-driven songwriting has matured, as has his production level, culminating in two (!) new albums last year: The Witches Made Me Do It and Rebels & Ghosts, the latter of which features the acoustic heartbreak ballad "Wings."
Supernova (tigers blud) (PVRIS Remix) by Kat Cunning
Is there a more perfect name for a queer artist than "Kat Cunning"? The multitalented non-binary recording artist, model, and actor was born in Oregon and now lives in New York. They have typically released music in EP and single format, but tracks like "Supernova" take up enough space all on their own without a full studio album. This remixed version with PVRIS is a great anthem for quarantine dance breaks in your kitchen.
Only Time Makes It Human by King Princess
Even before her appearance on Saturday Night Live, Brooklyn-born King Princess was picking up steam and stardom with singles like "Pussy is God." But after that SNL performance in November 2019, the young genderqueer trailblazer launched into the public eye with the incredible debut studio album Cheap Queen. In 2020, that same album got a deluxe version reissue, followed by some great nod-to-the-nineties singles like "Only Time Makes It Human."
M.B.D. by GodIsMikey
Originally from Queens, NYC, GodIsMikey is now based in Atlanta and pumps out the hard-hitting hip hop we need. He's been received very well in the local scene, but we're ready for some safely vaccinated herd immunity and mask-only venues so this rapper can finally tour in 2021 and celebrate his debut album Cult Classics.
Give Great Thanks by Dorian Electra
Listen. Sometimes we all need a sensible ditty about bondage and punishment sex. And Dorian Electra, a genderfluid performer from Houston, delivers in "Give Great Thanks," one of many experimentally produced tracks from their album My Agenda released in 2020. Their album features queer legends like Pussy Riot, the Village People, Gaylord, and more.
Yum Yum Big Slurp by Michete
Like Dorian Electra, Michete gave us another sex-positive banger with "Yum Yum Big Slurp." Michete is a trans, casual electro-rapper and performer from Seattle, and she has never shied away from the raunchy, the real, and the ridiculous. For example: the lyrics, "Skinny-ass bitch got a body like Bellsprout."
Name a better poetic stanza from 2020. I'll wait.
Dance M.F. (feat. Imani Coppola) by Tituss Burgess
If you're a theatre stan, you likely know Tituss Burgess and his nimble tenor voice from Broadway stage productions of Jersey Boys, The Little Mermaid, and Guys and Dolls. And if you've logged onto Netflix sometime in the last five years, you'll recognize him from his Emmy-nominated role on The Unbreakable Kimmy Schmidt. But Tituss also enjoys a dabble in the studio, and has released two solo albums and several EPs, the latest of which delivers this delightful dance bop in partnership with Imani Coppola.
Video Games by Trixie Mattel
You know the formula. [Drag queen] competes on RuPaul's Drag Race. [Drag queen] is prompted by producers to give a catchphrase soundbite in a confessional interview. The show finally airs and [drag queen] immediately releases a terrible single based on this catchphrase. [Drag queen] is not a vocalist and said single is garbage, but [drag queen] lip syncs this song to death while on tour anyway. And then? We all forget about it. But Trixie (out of drag known as Brian Michael Firkus) is one of the only Drag Race winners who can actually carry a tune. This Wisconsinite is a hilarious comedian, but also a skilled guitarist, country singer, and autoharp player. Her 2020 cover of Lana Del Rey's "Video Games" is arranged beautifully, and perhaps better than the original.
Here's to the Next Time (2020 Remaster) by Elton John
One might be surprised to see a legendary singer, composer, and performer from the 1970s show up in a review of 2020 music. But while this knighted queen could sit back and live off the royalties of his decades' worth of hits, Sir Elton John continues to perform and record new music. Day-one fans and new listeners alike enjoyed the remastered mega release at the very end of 2020: a compilation of previously underplayed songs and unreleased recordings called Jewel Box. One such gem in this collection—"Here's to the Next Time"—was originally released in 1992. But this stripped-down demo version sparkles with a sensual acoustic glow.
Dreaming by Green Day
Formed in 1987 by lead singer/guitarist Billie Joe Armstrong and bassist/back-up vocalist Mike Dirnt, Green Day has been a pop punk staple for the last three decades. Billie, who came out as bi in 1995, has one of the most distinctive rock voices of our time, and recently reimagined Debbie Harry's vocals on "Dreaming" by Blondie from 1979.
Lento (feat. Tainy) by Lauren Jauregui
At just 15, Lauren competed on The X Factor U.S. in 2012 as a solo artist. While she didn't win that year, she came back the following year as a member of the new band Fifth Harmony, and the girl group placed third in the competition. The Cuban American Miami native enjoyed success with the band, came out as bi in 2016, and since 2018 has pursued a fruitful solo career. "Lento," a mixed Spanish/English song about a passionate night, is one of Lauren's most successful singles to date and heralds what will likely be a long career in pop and Latin music.
This Hill by serpentwithfeet
Baltimore native Josiah Wise's feathery falsetto pairs perfectly with the delicate production choices that ornament his studio albums, EPs, and singles. It's no wonder that this openly gay performer and songwriter, now based in Brooklyn, is in high demand for collaborations with artists like Bjork, Kelela, Ellie Goulding, and Ty Dolla $ign. While his other 2020 singles were a bit more popular, "This Hill" positions itself as a significant, topical reflection on such a devastating year.
Where Love Goes by Kai Mata
While Americans struggled with police brutality, racial unrest, economic turmoil, deportations, and a deadly pandemic, Indonesia battled all of these and more. The so-called "Family Resilience Bill" of Indonesia included sections that, if passed, would give the state oversight into gender roles, maternity leave, and the jurisdiction to force LGBTQ folks to seek "cures" for non-heteronormative sexual orientations and gender identities. Kai Mata, a queer musician from Jakarta, has challenged this bill publicly and with the support of her family. Her simple vocals and her acoustic guitar are as earnest and steadfast as her political opinions. Thankfully for us, she shares them all freely.
Life Goes On by Rob.Green
Singer, songwriter, and sexpot Rob.Green has mostly carved a space for himself in the R&B world with singles and an EP. And in a year of social distancing and serious lockdown orders, the UK-based performer's recent video "Life Goes On" has become a digital time capsule of sorts, showcasing life in lockdown from the perspectives of multiple individuals and their homes. The song's driving African-inspired beat and fervent vocals convey uplifting optimism while mirroring the urgency we all shared to end the year as quickly as possible, in the hopes we would come out in one piece.
While 2020 was bleak, there is one saving grace: It's finally over.
Whether you were blissfully unaware of so much hardship, or were privy to it long before 2020, this year has ripped off the façade of stability and exposed all the work yet to be done for racial justice, economic reform, healthcare access, immigration protections, LGBTQ+ rights, and so much more.
And while we move forward to accomplish that work together, we can rest assured knowing musicians are still creating, showing us how to feel all these feelings. Check out this exact playlist on Spotify, and support these artists and others as you venture into 2021—stronger, wiser, and with more compassion.
Tags: Best Music of 2020