January 20, 2022

•
by
Michael Strangeways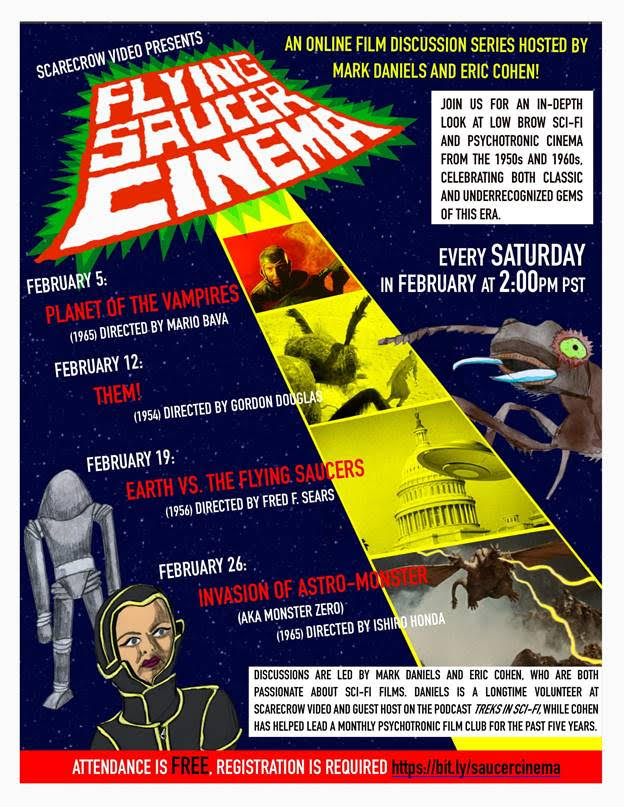 Scarecrow Video is a gawdamned Seattle treasure and we need to thank our lucky stars every DAMN day that it exists! It's one of the last homes of physical home video available to the public and while you might ask "why in the Age of the Cloud do we need physical media?" I'll respond with "Because it's awesome and what if your freaking and stupid magic 'cloud' collapses and goes away…then WHAT will you do to watch 55 year old Japanese monster movies? Well….? Answer me, ya greasy punk!!!"
And, after I'm done channeling some sort of dementedly gay version of Clint Eastwood (well, gayer…I keed! I keed! Clint is a real he-man with the 18 ex wives/girlfriends to prove it!) I'm going to suggest you enjoy Scarecrow Video's pcoming Saturday online film series that celebrates 4 delightful science fiction classics from the Golden Age of fun, flying saucer movies, the 1950s and 60s.
(Yes, after all the grousing about physical media, this is an ONLINE event but…well, blame Covid! It's the root of most of our problems.)
EVERY THiNG you should know about "FLYING SAUCER CINEMA"!!!!
Scarecrow Video continues our online programming with a brand-new film discussion series. Flying Saucer Cinema presents an in-depth look at lowbrow sci-fi and psychotronic cinema from the 1950s and 1960s, celebrating both classic and underrecognized gems of the era.

Discussions are led by Mark Daniels and Eric Cohen who are both passionate about sci-fi films. Daniels is a longtime Scarecrow volunteer and guest host on the podcast "Treks in Sci-Fi," while Cohen has helped lead a monthly psychotronic film club for the past five years.

The Zoom sessions are free and open to all, but we ask participants to watch the films in advance of the events. Registration is required. To register and learn more about film viewing options, visit:

Events are on Saturdays at 2:00 pm PST and include:


FEBRUARY 5: PLANET OF THE VAMPIRES (1965) – DIRECTED BY MARIO BAVA
The spaceships Argos and Galliot are sent to the mysterious planet Aura to investigate distress signals. Suddenly both ships are pulled to the surface, where Captain Mark Markary and the crew of the Argos discover that the crew of the Galliot have killed each other. After horrific revelations, the remaining astronauts make a desperate bid to escape the nightmare world. Directed by famed master of horror Mario Bava, Planet of the Vampires is credited as the inspiration for the film Alien (1979) and still packs a punch.

FEBRUARY 12: THEM! (1954) – DIRECTED BY GORDON DOUGLAS
Two State Troopers find a little girl wandering in the desert unable to speak. The discovery of her dead family and multiple missing persons and mysterious deaths in quick succession leads Officer Ben Petersen and FBI Agent Bob Graham to team up to investigate the strange occurrences. With the help of Dr. Harold Medford and his daughter, they make a shocking – indeed, atomic – discovery of the cause of the strange incidents. It's a race against time – destroy them or be destroyed! Classic sci-fi that precipitated a slew of copycat radioactive monster movies in the same year that saw Godzilla ravage Tokyo for the first time.

FEBRUARY 19: EARTH VS. THE FLYING SAUCERS (1956) –DIRECTED BY FRED F. SEARS
Flying Saucers from a doomed star system invade Earth with plans of world conquest. Surrender is not an option, and Dr. Russell Marvin and his team race to develop a weapon to destroy the aliens before the earth is conquered. Quintessential classic sci-fi written by Curt Siodmak (The Wolf Man, Donovan's Brain), younger brother of noir director Robert Siodmak, and starring Hugh Marlowe (All About Eve, The Day the Earth Stood Still) with noteworthy special effects by Ray Harryhausen (Mighty Joe Young, The Beast from 20,000 Fathoms).

FEBRUARY 26: INVASION OF ASTRO-MONSTER (AKA MONSTER ZERO) (1965) – DIRECTED BY ISHIRO HONDA
Astronauts Glenn and Fuji are on a mission to the newly discovered Planet X. They are greeted by aliens called "Xiliens," who make an irresistible offer to the people of Earth: let them borrow Godzilla and Rodan to help defeat Monster Zero ("The one you call 'King Ghidorah'"), and in return they will provide a cure for all known human disease. But the aliens' duplicity is soon revealed as they deploy all three monsters in their quest to conquer Earth. Another blockbuster giant monster movie from famed director Ishiro Honda (Godzilla, Destroy All Monsters), this sci-fi coproduction of UPA and Toho Studios has everything a fan of Kaiju movies could want!

About Scarecrow Video
As with literature, storytelling is at the heart of film's ability to inspire empathy. Over a hundred years ago, we began using film to tell our cultural stories. Scarecrow Video is devoted to gathering and sharing as many of these cinematic stories as possible. With its vast collection of 140,000+ titles, Scarecrow is the world's largest video library. Scarecrow Video became a non-profit in 2014 to continue the founding vision of uniting people through film. But, much like public radio and television, Scarecrow Video will not be able to continue without the support of its community. Find out how you can help.
(Visited 2 times, 1 visits today)
As the Editorial Director/Co-Owner, Michael Strangeways writes, edits and does about a million other jobs for Seattle Gay Scene, Puget Sound's most visited LGBTQ news, arts and entertainment website now celebrating its 14th year as a media outlet. A semi-proud Midwesterner by birth, he's lived in Seattle since 2000. He's also a film producer who would like you to check out the Jinkx Monsoon documentary, "Drag Becomes Him" now available on Amazon.com. In his spare time, he gets slightly obsessive about his love for old movies, challenging theater, "otters", vodka, chocolate, "I,Claudius", Lizzie Borden, real books made out of paper, disaster films, show tunes, Weimar era Germany, flea markets, pop surrealistic art, the sex lives of Hollywood actors both living and dead, kitties, chicken fried steak, haute couture and David Bowie. But, not necessarily in that order.
Related Posts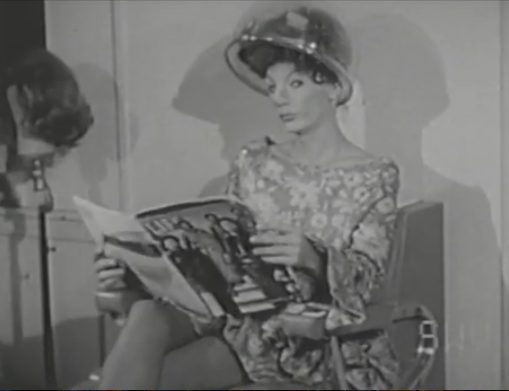 *Resist. Protest. Obstruct. Inform. • *Seattle Cinemaland • Adult Entertainment • Arts & Entertainment • Film • Film Events • Over 21 • Pornolicious • Queer Film • Seattle Queer Film
We've already mentioned in another post that Northwest Film Forum
...