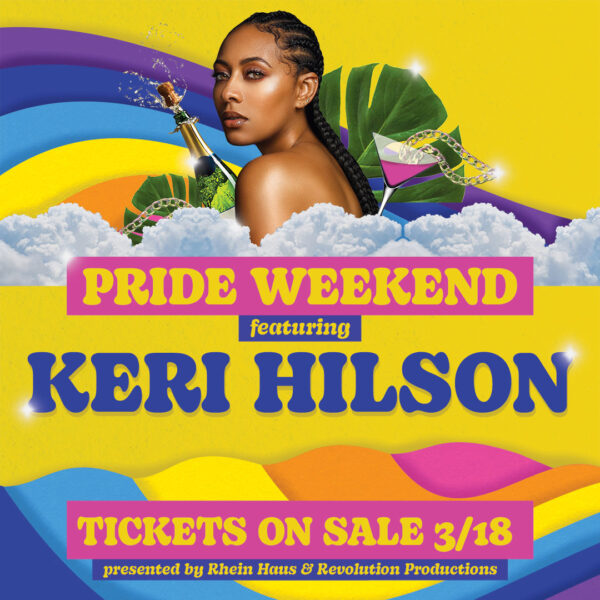 Oh, my stars! They just announce Pride stuff earlier and earlier, every year!
For 2022, the first out of the gate to announce an event and a line-up of talent for Seattle LGBTQ Pride Weekend event is….Rhein Haus, the German themed, mostly straight-ish but open to all mega bar/restaurant on 12th Avenue and near the Pike/Pine Corridor.
Rhein Haus has hosted many gay events over the last couple years, mostly produced by Revolution Productions who use events to raise money for various LGBTQ causes and particularly for gay softball teams. They've been putting on drag brunches with RuPaul's Drag Race stars for quite a long time. And, it's not the first time Rhein Haus has produced Pride events. The venue, which has LGBTQ staff/management, have put on large events during Pride weekends for several years. This year's festivities will happen on June 25 & 26, the official weekend for Seattle's 2022 LGBTQ Pride events.
For 2022, their headliner will be R&B singer/songwriter KERI HILSON. Several RPDR stars have been booked as well, including popular performers like Symone, Joey Jay, Trinity K. Bone't, Ra'Jah O'Hara, Blair St. Clair, Tatianna, Thorgy Thor, and Mayhem Miller. Local drag divas will also perform and several popular DJs have been booked as well.
Tickets go on sale on Friday, March 18th. More info from their press release below.
This is just the first of what we suspect will be many big Seattle LGBTQ Pride weekend events to be announced. Since large, in-person events were canceled in 2020 due to the Covid-19 pandemic and severely cut back in 2021, this will (hopefully) be the first year since 2019 to feature big, live events for Pride.
AND, we've heard rumors and been sent intel on OTHER events for this year's Pride, and it looks like it will be year of great bounty when it comes to entertainment options and choices.
Start saving up for all those pricy tickets, folks!!!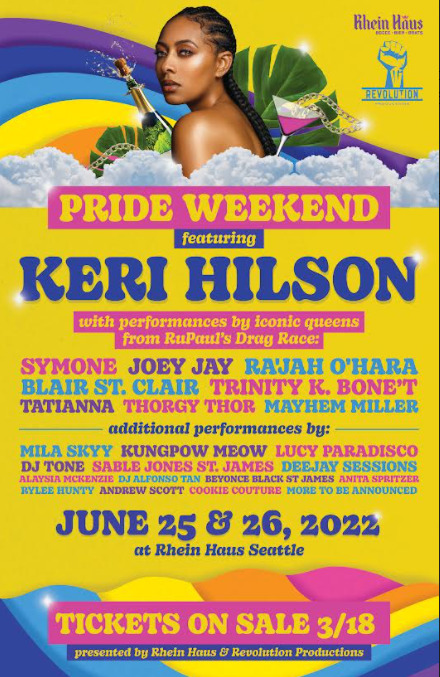 The Rhein Haus Seattle press release in full:
Rhein Haus Seattle announced today the lineup of performers for their Pride Weekend celebration scheduled for June 25 – 26 in Capitol Hill. Headlining the weekend is award-winning R&B singer-songwriter Keri Hilson, known for mega-hits like "Pretty Girl Rock" and "Knock You Down". General admission and VIP tickets go on sale Friday, March 18th at 10 a.m. PT.
Throughout the weekend multiple drag queens featured on RuPaul's Drag Race will perform including Symone, Joey Jay, Trinity K. Bone't, Ra'Jah O'Hara, Blair St. Clair, Tatianna, Thorgy Thor, and Mayhem Miller. Local Seattle and other visiting queens including Anita Spritzer, Mila Skyy, Kungpow Meow, Lucy Paradisco, Sable Jones St. James, Alaysia McKenzie, Beyonce Black St James, and more will also perform.
DJ Tone, DeeJay Sessions, DJ Alfonso Tan, and additional DJs to be announced will provide the soundtrack for the weekend.
The line-up for Saturday kicks-off with drag brunch from 12pm – 3pm. General admission tickets for the day will include entrance into Rhein Haus with access to the outdoor biergarten bars and drag queen performances throughout the evening. Stage tickets include access to the main stage events inside Rhein Haus, including a drag show and Saturday night's headliner Keri Hilson. VIP tickets will include stage front access and a VIP lounge with Keri Hilson and drag queen meet and greet opportunities.
Visit rheinhausseattle.com/pride for tickets and programming information. Follow on Facebook and Instagram to see lineup updates and more announcements.
ABOUT RHEIN HAUS
Opened in February of 2013, Rhein Haus is Capitol Hill's very own 10,000 square-foot slice of Bavaria. Owners Deming Maclise and James Weimann filled the renovated 1940's candy factory with burly bier hall antiques from across Europe to create a genuine feel and an outstanding space. Authentic Bavarian fare—house-made sausages and pretzels—are accompanied by 24 drafts featuring both European and Northwestern beers. In addition to the main dining room, an 80-seat bier hall, 53 bar seats, an intimate fire den, and two mezzanines encircle the five indoor bocce ball courts. An outdoor biergarten offers sunny seating, a fire pit, an additional bocce court, as well as another bar. Visit rheinhausseattle.com for hours, menus, and reservations.
ABOUT REVOLUTION PRODUCTIONS
Seattle Revolutions Productions is a Seattle based nonprofit event management company that focuses on hosting drag shows, sports tournaments, fundraisers and more to support local and national LGBTQIA+ organizations. Find out more at searevproductions.org.
(Visited 10 times, 1 visits today)